the Jersey Settlement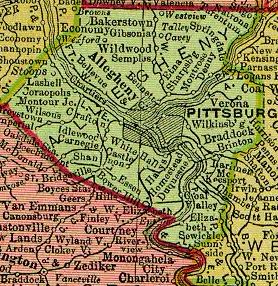 Starting in about 1766 a seemingly large number of folks from Monmouth County, New Jersey migrated to what is today Elizabeth, Pennsylvania (south of Pittsburgh, in the "tip" of the county). Mrs. Elizabeth J. Wall (Austin, TX) has mapped out a probably migration route. "They would have taken Falls Path and crossed the delaware River at Trenton which took them to Philadelphia. From there they would have picked up the Old Swedes Path also known as the King's Path which was laid out in 1684 which went through Darby to New Castle, Delaware. Then following a path or paths that would have taken them across northern Maryland crossing the upper Potomac River then on to Fort Frederick then to Will's creek (now Cumberland, maryland). They would then pick up Braddock's Road (Nemacolin's Path) to Will's Mountain. Here Braddock's Road turned north because he did not think he could get his wagons and artillery over the mountain before him. He went by the narrows of Will's Creek bringing him to Glades Path. Here the settlers would have turned west following Galdes Path which would take them through what is now Westmoreland County then through Forward Township to the Monongahela River.
Some might have followed Nemacolin's Path to the Monongahela Riven and then turned north. (See From Alexandria, VA to Fort Necessity, PA)
Allen Wall and his cousin John Sutton Wall wrote an aritcle for the Elizabeth Herald newspaper in 1888 - In Olden Times. Their section on the Jersey Settlement follows.
"In the central portion of Forward township is a locality known for a hundred years or thereabouts as the "Jersey Settlement." This is the oldest settlement within the limits of the township, and dates from the year 1766. In that year Thomas, William, Daniel, Samuel, and Benjamin Applegate, James and Walter Wall, all originally from Monmouth County, New Jersey crossed the mountains and settles here upon lands still largely owned by theoir descendants. They left their wives and children behind at their old homes. These two families were connected by intermarriage.
The year in which this settlement was made is well established in the traditions of both families. At this point I rely with confidence on the statement of James Wall, son of Walter the pioneer, frequently made to members of our family. James lived at the old homestead on the hill near Fallen Timber Run, and is doubtless wll remembered by many persons now living. He was very positive as to the date of settlement; in his later years when speaking of this matter it was his custom to fix the date by saying that he was four years only when his father came over the mountains. He was born in New Jersey in 1762, and died in September 1855. Having lived a remarkably long and useful life, he died respected and loved by his neighbors as a man of rare purity and integrity of character.
A part of our traditions would indicate that the Walls had previously settled for a short tim on the headwaters of the Potomac in Maryland from which point they joined the Applegates when they crossed the mountains into Pennsylvania. The followed the track or road made by the army of General Braddock, and reached the Monongahela at or near Redstone.
It will be observed that this settlement was made within the period when the Indians were complaining of the encroachments of the white men upon their lands on Monongahela and elsewhere; and when the governors of Virginia and Pennsylvania, through their subordinates, were making strenuous efforts to prevent the settlers from improving their lands and to expel them therefrom. As to the action of the Applegates and Walls during this trying and vexatious period, our traditions are silent. When we consider the fact that they lived near the garrison of Fort Pitt, the official headquarters at that tim, nad on the highway between that place and the east by way of Redstone and Cumberland, we may be sure that they were exposed to many annoyances and hardships at this tim. If they remained on their lands during this period, they doubtless kept very quiet and did not attempt to improve them further perhaps than clearing little patches for garden stuff near their cabins. Their food came mainly from the forest, which abounded in game and wild fruits. In the fall of 1768, after their homes had been purchased from the Indians, they felt secure in their new homes, and sent for their wives and children who joined them in the following spring. Then, after the rigors of winter had subsided, with freshened courage and new inspirations, they began the real work of clearing and improving their lands."
Other pioneers were now coming into the neighborhood. In the spring of 1768 Samuel Devore settled in the bend of the river; and before the close of 1769 the following persons had settled on lands now in Forward township: Donald Munro, who settled on the lands were Elizabeth now stands and afterwards sold them to Col. McKay, a part of which are in Forward; James Perry, Hugh Davidson; James HYalliday; James Dean, William McClure; Richard Parker; Philip Rodgers; Azariah Davis; Adam McConnell; John Reed; William Neily; Alexander Dunlap; Abraham Miller; Zacheus Wilson, Cornelius Thompson; James, Andrew, Jonathan and Stephen Pearse; and Joseph Warne.
My relative, Ezekiel Dey/Dye is known to have purchased land in 1789 ; Jean Mitchell to Ezekial Dey, dated 22 Mar 1789 ; Westmoreland County. Pennsylvania County Deeds, Book C page 405 ; County Clerk, Westmoreland Co. PA. (thanks to Regina Berry). Sewickley is a few miles west of Elizabeth and is where Ezekiel Dye is said to have owned a saw mill prior to migrating to Ohio. Elizabeth is approximately 284 miles due west of Cranbury, New Jersey. William Egbert (father of Sara Egbert (Paul), Ezekiel's second wife) migrated to the Jersey Settlement around 1790. Perhaps some of Ezekiels other relatives (John and Daniel Dye, for example) moved through this area on their was to Washington County, Ohio and Monroe County, Ohio, respectively. As noted below, this area was known as the Jersey Settlement for nearly 100 years. Much of what follows is from Marty Burns - member of theDyeSociety.
Early American Trails and Roads is a good reference for understanding migration routes during this time period. Did many of those from New Jersey enter Pennsylvania over the Braddock Road through Cumberland Gap?
The following is taken from various materials contributed by theDyeSociety
First to locate in Forward Twp, then part of Rostraver Twp and Westmoreland Co, Virginia, were the Applegates and the Walls, who migrated from New Jersey by way of Maryland in 1766. Veech (The Monongahela of Old, 1858, footnote on p107) relates that on Coxe's Run in Luzerne Twp, a "stranger, from the vicinity of Hagerstown, by the name of Applegate, had somehow got his leg badly broken in the woods, and in that condition was found by an old settler, who at once had him borne to his cabin, where every aid and comfort within reach was provided. But it being late in the fall, and the stranger knowing that the remedy for his misfortune was time and patience, was very anxious to be again among his family and friends. There was then no carriage road across the mountains, nothing but a pack-horse path. To convey him home, eight of the neighbors agreed to carry him on a sort of hammock, swung on two poles like a bier. This they did, all the way to Hagerstown! Four of the men were Micheal Cock, William Conwell, Thomas Davidson, and Rezin Virgin. "I believe this man is Jacob Applegate (1D3C1) who lived at that time in Berkeley Co., Va." Hugh Voress
An alternative for the first Applegate who settled this part of Pennsylvania is 5F1A. Thomas Applegate, Jr., born c1745; died 1808 in Louisville, Ky. He married Mary______, born ; died . There is no record of Mary except her name. Thomas was the first Applegate who went to the vicinity of Allegheny Co., Pa. with the Wall brothers about the year 1766. He probably brought back the news of the land when he returned and the westward migration began. Thomas received a warrent for 137 1/2 acres in Westmoreland Co., Pa. on July 10, 1786 which was transferred to Robert McFarland on Aug. 20, 1805. Thomas was the son of Thomas Applegate who was the son of Benjamin Applegate.
The original New Jersey migrants were followed by enough other New Jersey residents for the area to become known as the "Jersey Settlement" for nearly a century. Crumrine (History of Washington County) reports that a group of families from Morris Co, New Jersey, followed and settled in Amwell Twp, Washington Co in 1778. Tax roles for 1772 in Rostraver Township list Benjamin, Daniel, William, and Thomas Applegate; John, Oliver, Abraham, and Alexander Miller; as well as Joseph Pearce, John Pearce, James Peers, and Andrew Pearce as heads of families (Monongahela of Old, 1858, Veech, p204).
Members of the New Jersey group also filed claims against Yohogania Co, Virginia: Joseph Warner/Warne: 278 1/2 acres strict measure; surveyed 3/21/1786; patented 1/16/1788 to Joseph Warner/ Warne on warrant to accept dated 1/12/1788, "Warner/Warne's Delight" p11-543. Adjacent was a tract for twins Jonathan and Stephen Pearce for 252 acres, surveyed 3/21/1786; patented 1/21/1788 on warrant to accept dated 1/12/1788: "Stephen's Greene" p11-546. Adjoining Joseph Warner/Warne on another side was Andrew Pearce with 333 acres; surveyed 3/2/1788; patented 1/16/1788; on a warrant to accept dated 1/12/1788: "St Andrew", p11-545. Benjamin and Thomas Applegate were close by, as were James and Walter Wall.
The original Walter Wall migrated with an association arranged by Lady Deborah Moody, widow of a Wiltshire baronet, to Lynn, Massachusetts. In 1643 they moved to Gravesend, Long Island, and Middletown, New Jersey in 1657. Walter Wall purchased a large tract of land near Middletown, which became known as Wall's Mill, and later Van Meter's mill, where General Garret D Wall was born. General Wall served as a member of the US Senate. Descendant Jarrett Wall was said to be among those "resisting the unjust demands of the proprietary in 1700-01." Walter Wall who migrated with the Jersey settlement was a son of Humphrey Wall, and a grandson of this Jarret Wall. The Walls were related to Applegates.
Probable years of settlement for the New Jersey settlement members (History of Allegheny County, Penna. p94) are as follows:
1766-Thomas, William, Samuel and Benjamin Applegate, James and Walter Wall (descended from Walter Wall who came from England in 1635; Joseph Warne's daughter, Mary Jane, married David Allen, also descended from Walter Wall.)

Vorees has the following information about William : "He came to western Pennsylvania about 1768-70, probably with his brother(s). The first tax list of Rosstraver Twp., Bedford Co., Pa. in 1772 lists William and his three brothers, Benjamin, Thomas and Daniel. He is taxed 3.0 in 1773. He was listed as a "Ranger on the Frontier" Continental Line, 1778-83 and served in Hugh Goudy's Company. In 1783, the Westmoreland Co., return-transcript of property, lists William as possessing 300 acres of land, 3 horses, 5 head of cattle, 8 sheep, and 11 white inhabitants. In 1786, he was taxed 8.5 in Westmoreland Co., Pa. The 1790 census, lists males over 16 (2); males under 16 (1); females(all ages) 5. He received a patent of land formerly owned by James Dean. This tract was surveyed on Sept. 16, 1790 and was patented to William Applegate on June 23, 1794 and which was called, "Apple Orchard". In 1791, he was taxed 18.4 in Elizabeth Twp., Allegheny Co., Pa. On Apr. 15, 1801, William and his wife Sarah, now living in North Beaver Twp., Allegheny Co., Pa. transferred this property to sons Isaiah, William, and Robert. If he moved to Indiana, it is probable that it occurred after this property transfer. The 1830 census of Indiana lists a William Applegate, Sr. "

William was the father of Ruth Applegate who married John Dye (son of James Dey and Sarah Leack) of Middlesex County, New Jersey, Jemina Applegate who married Edward Evans (Rev War) and Catherine Applegate who married Robert Wright. All three daughters were married in Elizabeth, Pennsylvania (the Jersey Settlement).

1768-Donald Munro, Hugh Davidson, James Halleday, James Terry, Richard Parker, John Reed, Samuel Devore, Abraham Miller, William McClure, Philip Rodgers, Robert Smith, Cornelius Thompson, Adam McConnell, James Wilson

1769-William Neiley, Alexander Dunlap, Andrew Pearce (also Peairs as listed in Round Hill Presbyterian Church Cemetery Records 1786- 1952, Collection of Western Pennsylvania Historical Society) Joseph Warne, James Pearse

1770-David Williams, Moses Devore

1772-Azariah Davis, Henry Liming, Joseph Liming

1773-Robert Craighead

1774-Daniel Thompson, Joseph Beckett, Esq.

1777-Matthew McKinney, Richard Sparks (dau Mary Sparks m Garret Wall, their dau married an Allen), John Imbly

1778-Alexander Craig

1779-Zacharias Wilson
Any additional information on the Jersey Settlement will be appreciated and shared.