James Dey, son of James Hans Dey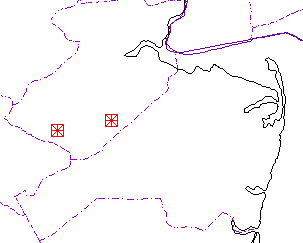 James Dey was born on July 12, 1706 in Staten Island, New York and died before October 12, 1784 in South Amboy, Middlesex County, New York. He married (1) Dinah Tiller who was born on December 2, 1703 and died before 1760. He was the son of James Hans Dey and Margaret Dey.
James Dey and Dinah had 9 children:
James J. Dey was born on September 15, 1728 in Matchaponix (eastern most X on the map to the right), Middlesex County, New Jersey and died before May 2, 1802 in South Amboy, New Jersey. He married Margaret Perrine on January 17, 1749/50 in Shrewsbury, Monmouth County, New Jersey, (southern X on the map below), some 12 miles south of Matchaponix. She was born on June 20, 1733 in Matchaponix, Middlesex County, New Jersey and she died after 1806.

They had 14 children.

Dinah Dey was born on October 25, 1730 in Monroe, Middlesex, New Jersey and she married William Hillyer on April 21, 1775.

William Dey was born on December17, 1732 and he married Hannah Perrine on July 1, 1756

Mary Dey was born on February 19, 1733/34 and married David Cronk

Peter Dey was born on September 10, 1736 and died before November 21, 1782, He married Sarah ____

Sarah Dey was born on September 20, 1739 in Union Valley, Middlesex, New Jersey and she married Amijah Merrill.

John Dey was born on December 28, 1741 in Monmouth County, New Jersey and he died on April 26, 1829 in Middlesex, New Jersey. He married Mary Baird. Tracking the descendants of these families is often complicated by the similarity of first names. This chart illustrates some of the difficulties. There were two David Baird Deys, each with a mother named Mary Baird. Thus, the names, without consideration of ages and family relationships, by themselves may lead to a misunderstanding.

Benjamin Dey was born on May 9, 1744 and died before 1782 as he is mentioned as deceased in his father's will (see below).

Tom Robertshaw provided a hand copied probate extract of the Will of Benjamin Dey

Benjamin Dye, Jan 28, 1794. Middlesex Co. Children: John, James, Mary, Dinah. Jan. 3, 1795, Middlesex Co. Wards, children of Benjamin Dye, of said county, deceased, make choice of John Dey as gaurdian.

Elizabeth Dey was born on March 11, 1746/47 and died on April 4, 1747
He married Margaret Mount Herbert Rue on November 25, 1760. She was married (1) to James Herbert of New Brunswick. His will is dated March 1, 1745/6 in which he names his sons Richard, Daniel and James and his wife Margaret as one of the executors (NJA 30:232).

She Married (2) Michael Rue and (3) James Dey.

A copy of the Marriage Bond

between Margaret Rue and James Dey follows:
Know all men by these presents that We James Dey of freehold in the county of Monmouth & Mathias Johnston of Middlesex County yeoman are holden & do stand fully Indebted unto his Excellency Thomas Boone Esqr Governor of New Jersey in the sum of Five Hundred Pounds of Current Lawful money of New Jersey to be paid to the said Thomas Boone Esqr or to his sucessors or assigns for the which payment well & trully to be made & done we do bind our Selves our Heirs, Executors Administrators & Every of them jointly severally and firmly by these presents sealed with our Seals and Dated this tweny forth day of November anno Domini one Thousand seven hundred and sixty. The condition of this obligation is such that whereas the above bounden James Dey - - - hath obtained license of marriage for himself of the one party and for margaret Rue of the aforesaid county - - - of the other party now if it shall not hereafter appear that they the said James Dey and Margaret Rue - - - have any lawfull Lett or Impediment of precontract matrimony & afterwards their living together as Man and Wife then this obligation to be void or else to stand & remain in full force and virtue.

Sealed & delivered in the presence of

Tom Leonard

James Dey
Mathias Johnson

James Dye's will is dated November 21, 1782 and he names his children, and wife Margaret and her children Richard, Daniel and James Herbert (NJA 35:120). From the pension record James Dey died on September 29, 1784. Margaret Dey died on October 8, 1817.

The Will of James Dey follows (hand copied from the New Jersey Archives, Colonial Documents, Calendar of Wills, by Tom Robertshaw):
James Dey, Nov. 21, 1782. South Amboy, Middlesex Co. Wife Margaret (nee Mount), use of plantation, except what I will to son, William, and that part that is reserved for my son Peter's widow.

Son, James, 5 (pounds). Son, william, the land he has in possession. To Sarah, widow of son, Peter, use of the land Peter had at his death, till her daughter, Elizabeth, is 21.

To my wife's grandson, James, the son of Richard Harbert, a horse. To my wife, Margart, my sons James, William, and John, and my daughter, Dinah, wife of William Hilyer, and Sarah, wife of Abijah Merrill, and Mary, wife of David Cook, and my granddaughter, Elizabeth, daughter of my son Peter, and all the children of my son, Benjamin, deceased, rest of estate. My wife's sons, Richard, Daniel, and James Harbert, the bonds I hold against them. Wife to have the goods she brought to me when married.

Executors-sons, James and William, and Kenneth Anderson, Jr.

Witnesses-Zebulon Clayton, Jacobus Compton, Ruth Anderson.

Proved Oct. 12, 1784. 1784, Oct. 4 Inventory 664 (pounds), 5 (shillings?) 6 (pence?), made by thomas cook and samuel Longstreet.
Use the RETURN key to Return to the previous page
Return to the Dye Lineage Page