Ancient Greek Philosophy
Philosophy 3383, Fall 2006
Dr. Cynthia Freeland
Unit Two Outline: Socrates and Plato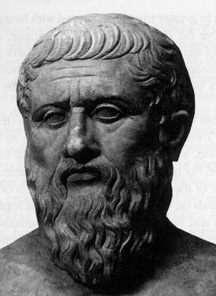 All readings are in Ancient Greek Philosophy, ed. Cohen, Curd, and Reeve
Most of Plato's texts are available on-line.
---

Thurs. Sept. 14
UNIT I Paper DUE.
The Sophists, Introduction to Socrates and Plato (80-96)
Socratic Ethics:Apology (pp. 115-140)
---

Tues. Sept. 19
Socratic Ethics (continued)
Love and Beauty: Symposium (pp. 282-330)
Discussion Assignment: Read one of the other speeches in Plato's Symposium and write a paragraph or two summarizing it; compare it briefly to Socrates' (Diotima's) speech. (You will need to find a copy of the Symposium at the library or in a volume of Plato's collected works. You can also read the Symposium on-line. Aristophanes' and Alcibiades' speeches are particularly recommended.)
---

Thurs. Sept. 21
Knowledge and Recollection
Meno (pp. 203-228)
Discussion Assignment: Discuss "Meno's Paradox" (Meno 80d): How, if at all, does Socrates respond to it? He refers to it as a "debater's trick" (80e). Is this fair, or not?
---

Tues. Sept. 26
The Soul and the Forms
Phaedo (pp. 229-81)
---

Thurs. Sept. 28 Phaedo (continued)
---

Tues. Oct. 3
Knowledge and Forms: Republic
Republic VI-VII (pp. 475-528)
Discussion Assignment: Do an illustration of one of Plato's three analogies about knowledge and reality (the Sun, the Cave, or the Divided Line) from Republic VI-VII. Be prepared to discuss your rendering and all three analogies in class.
---

Thurs. Oct. 5 Republic X (578-603)
Other themes in this work: The education and role of women; the banishment of poetry from the ideal state.
---

Tues. Oct. 10
Problems with Forms: Parmenides (pp. 604-613)
Plato Paper Topics
---

Thurs. Oct. 12
NO CLASS
---

Tues. Oct. 17
Unit 2 Paper DUE (note this is a new, changed date)
Plato's Cosmology
Timaeus (pp. 614-644)

---

Thurs. Oct. 19:
Plato's Cosmology (continued)
Discussion Assignment: Write about a comparison that interests you between Plato's cosmology and a presocratic cosmology. Your paper may include a pictorial rendering of an aspect of Plato's theory, if that seems appropriate.
---

Tues. Oct. 24
Begin Unit III, Aristotle
---
Back to Ancient Greek Philosophy Main Page
---

last updated October 8, 2006