Director
Anneliese Bustillo, M.A. (she/her)
Anneliese Bustillo began her position as the WGRC Director in 2019. Before this role, she served as the Assistant Director for Sexual Violence Prevention & Education at UH Wellness and the Assistant Director for Risk Intervention & Safety Education at Texas Tech University.
Prior to starting at UH, Anneliese worked with survivors of sexual assault and other forms of gender-based harassment. Once at UH, she was part of the team who developed in-person trainings for all 8,000+ UH employees on Title IX, reporting policies, and how to compassionately support survivors of sexual assault. With the WGRC, Anneliese hopes to address larger societal norms that contribute to the prevalence of sexual violence and gender inequity.

Anneliese holds a Bachelor of Arts from the University of Texas at Austin and a Master of Arts from The George Washington University. She is currently pursuing her Ph.D. in Educational Leadership & Policy Studies at UH. While at UT, she was named a Rapoport Service Scholar and an Archer Fellow. In 2017, Anneliese was a finalist for the Texas Tech University President's Excellence in Gender Equity Award and she was named the University's Ally of the Year by the Gender & Sexuality Association. Anneliese is a board member of New Leaders Council-Houston.
In her free time, Anneliese loves doing crossword puzzles, re-reading Harry Potter, and eating any cupcake she is given. 
---
Manager, Sexual Misconduct Support Services (SMSS) 
Devon Fan, MSW (she/her)
Devon Fan began her position as the WGRC Sexual Misconduct Support Services Manager in 2020. She received her master's from the UH Graduate College of Social Work in May 2019, where she completed internships at BakerRipley and Las Americas Newcomer School. Before enrolling in UH, Devon worked as a Customer Service Clerk for the Houston Public Library.
From 2015-2017, Devon served as a volunteer hotline advocate on the domestic violence and rape crisis hotlines at the Houston Area Women's Center (HAWC). While at HAWC, she provided resources, shelter access, information on intimate partner violence, referrals, and support services to 30+ survivors of domestic violence and sexual assault weekly. With the WGRC, Devon hopes to work with the UH community to further prevention and awareness of gender-based violence. In addition to being trained in Crisis Intervention, Devon also has experience in program planning and evaluation, asset-based community development, and civic engagement. 
In her spare time Devon enjoys taking care of plants, doing hot yoga, and watching Netflix.
---
Manager, Gender Equity Programs
Tiffany Galloway, M.Ed. (she/her)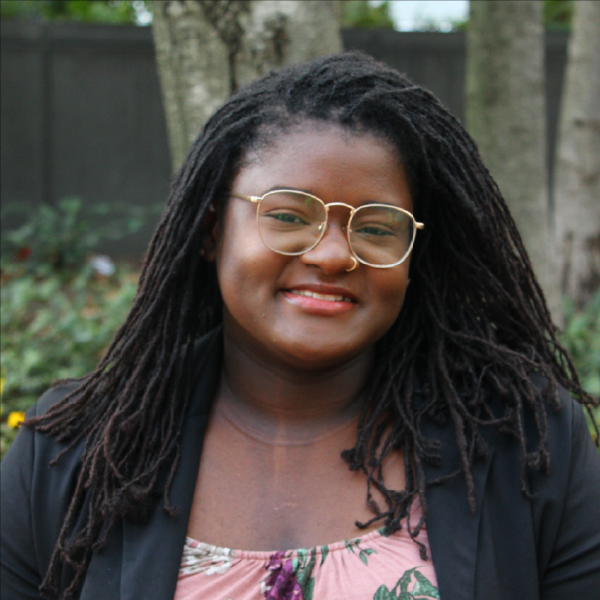 Tiffany Galloway began her position as the WGRC Gender Equity Program Manager in 2021. She is also a doctoral student at UH in the Higher Education Leadership and Policy Studies program. Her research interests surround support systems for Black women and trans and nonbinary students within higher education.
Before her role at the WGRC, she served as an academic advisor and an admissions counselor. She has a bachelor's degree in English and a master's degree in higher education with a concentration on college access and success, both from Temple University. With the WGRC, Tiffany hopes to bring more awareness about the ways in which intersectionality and equity go hand in hand in creating spaces for all students to thrive at UH.
In her spare time, Tiffany loves exploring the city, crocheting, trying new recipes and spending time with her cat, Lulu. 
---
Office Coordinator
Cheyenne Peer (she/her)
Cheyenne is thrilled to join the Women & Gender Resource Center August 2021. Her previous experience includes working with at-risk adolescents and families to achieve their goals and develop their skills. She helped to launch the PFLAG, GLOBAL, and GSA (Gay-Straight Alliance) chapters at Sam Houston State University. Cheyenne also has her Associates degree in Culinary Arts and continues to cultivate the love of food by making and writing her own recipes. Somedays you can catch her hosting trivia in local venues, being the best auntie to her four nieces and one nephew, or spending time at home earning the title of "Crazy Cat Mom" with her cats, Bombay and Brea.
---
Student Staff
Mary Ayisah-Eyeson

(she/her)

Major: Computer Information Systems and Digital Media