UH Students Spotlight Environmental Issues Through ECO Art Exhibit By Angela Jardina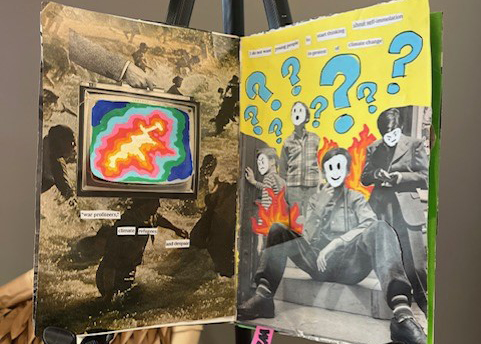 UH Students Spotlight Environmental Issues Through ECO Art Exhibit
In a culmination of a year-long effort to draw attention to environmental issues, the University of Houston's Environment Cougar Organization (ECO), alongside the Energy Coalition and the Division of Energy and Innovation hosted a visual art exhibit that showcased the creativity and environmental consciousness of Coogs across campus.
ECO president Johanna Verghese explained that following the success of the first phase of the initiative – a recycling competition aimed to promote sustainability on campus – the focus shifted toward capitalizing on activism through more unconventional mediums.
By using art as a medium for environmental issues, Verghese hopes to reach a wider range of people, even those that may not have any prior knowledge of issues surrounding environmentalism. "Art is incredibly important to any movement because it helps people find common ground and creates community," Verghese said. "Throughout the years, art has served as a uniting force under which people are inspired to take action against certain issues in all aspects of inequity."
The art competition drew several participants, who created various sustainable pieces via recycled material. The entry field included sculptures, paintings, clothing and even crochet.
"(Hopefully, visitors) had their eyes opened and minds broadened by the unbridled creativity and activism that our fellow peers have chosen to embody through their art," Verghese said. The winning entry was by Chloe Levy, who titled her piece "Climate Activist Dies After Setting Himself On Fire: An Interactive Zine." Levy's efforts resulted in a cash prize of $1500.
"This zine is tackling the collective inaction of society towards the topic of climate change, both past and present," Levy said of her entry. "The title is in reference to an April 2022 New York Times article, with phrases from the article pasted on collages of vintage LIFE magazine cutouts. My goal was to both use completely recyclable and aging materials. I wanted to create an opportunity for the audience to interact with the art, eventually damaging and changing the piece, just like how people have the ability to affect and change the climate crisis."
A pair of submissions tied for second place: "An Embedded Evil" by Ameera Faizal and "A Brown Earth" by Xochitl Haney. In third place was "Dream of Winter" by Emily Reijonen, and the popular vote winner was "Bag and Friends" by Megan Benavides. Amara Okoye's entry, "Mother Earth Eats Too," received an Honorable Mention.
For their efforts, Benavides earned a $1000 cash prize, and Faizal, Haney and Reijonen will receive an equal share of the remaining prize money.