Energy Advisory Board Spotlight - Alex Juden By Janet Miranda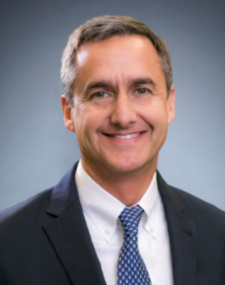 Alex Juden is secretary and general counsel at Schlumberger Limited, a position he assumed in April 2009. Juden is responsible for compliance with all requirements set by the New York Stock Exchange and the U.S. Securities and Exchange Commission. He is also the primary contact for the company's independent directors, oversees corporate governance and global legal functions, and provides legal advice to the executive leadership team.
He previously held various roles, including serving as director of compliance and general counsel for Schlumberger subsidiary WesternGeco.
Juden joined Schlumberger in 2000 as litigation counsel for Schlumberger Limited after working in several state and federal litigation firms in Texas. He also served seven years as a naval aviator in the U.S. Navy.
Juden holds a bachelor's degree in history and political science from Rice University, and a law degree from University of Houston Law Center.
The following conversation has been edited for clarity.
UH Energy: How did you get involved with the Energy Advisory Board, and what do you bring to your role?
Alex Juden: I work for Schlumberger Limited, which started as a French company, but now it's very much an international company. We have worked in Houston and in other locations in the United States for decades. When Schlumberger moved into the area in the 1930's, it had a lot of facilities down near the University of Houston, down the Gulf Freeway. In fact, it was formerly the site of Schlumberger's North American headquarters.
In 2013, we donated funds to UH to remodel the site, which they had bought in 2009. (The industrial park is now known as the Technology Bridge.) They've even kept some of the mid-century architecture details in the Schlumberger Building, which once housed the office of Pierre Schlumberger, the son of the company co-founder. I came onto the board after my predecessor left the company and there was an open seat for a Schlumberger representative.
UHE:
Your background is in law, and before that you majored in history and political science. Did you always want to go into the energy sector with that background?
AJ: I went to Rice University, and I graduated in 1982. I went to work interviewing people for the county to gather pre-trial information, because there weren't a whole bunch of jobs for history majors. I didn't want to go to law school, even though my mother wanted me to be a lawyer.
Instead of deciding right away, I joined the Navy, went through aviation school and learned to fly helicopters. One of the first jobs I got when I joined my squadron in Sicily (Italy) was that of the legal officer (which did not require previous legal training). What that meant was that when our sailors would get into trouble, we would have procedures where members were subject to the Uniform Code of Military Justice. Many sailors would take nonjudicial punishment, and I served as prosecutor for the commanding officer.
I enjoyed fact-finding and really trying to get to the truth. I realized that I did want to go to law school, and I specifically asked for orders to be based in Houston, because I wanted to practice in Houston. After serving as a Navy recruiter for two years, I entered the UH Law Center. I still don't know how people get through life without having gone to law school because it's like playing monopoly without knowing the rules. Life works through the law.
I was interested in maritime law since I was in the Navy, but I found that in Houston, if you do admiralty law, you end up doing oil and gas work, due to the offshore floating rigs, which are categorized as vessels.
UHE:
You graduated from UHLC, which puts a huge emphasis on energy law. Did that influence your decision to go to law school in Houston?
AJ: I was conscious that if I went to school in Houston, I would be making connections in Houston. I wanted to be connected and get to know the people, instead of taking a job blind, so the University of Houston was a natural fit.
It's a good law school with a great program. I knew I wanted to try cases. I didn't necessarily want to be a corporate lawyer; I wanted to be a trial lawyer. UH had a good program for that. When I got here, I found the professors to be great. Ultimately, it's the people that make any place. And, you know, the University of Houston, for me, was made by the people I went to law school with.
However, at the time I was not interested in energy law. I thought I would go into admiralty law, but like I learned, even that has elements of energy law, especially in Houston.
UHE:
Schlumberger is overhauling its business units as a result of low prices due to decreased demand because of the coronavirus. How does this affect your team?
AJ: There's been a real pummeling of the industry generally as a result of two things: coronavirus, which impacted demand, and there was already an oversupply due to the price war between Russia and Saudi Arabia. In March we had a massive price drop, which caused oil to go negative, producers had to pay people to take their oil, which sounds crazy.
Most of our cost is in compensation. We have had to reduce the number of people who work for us, and it has been tough, because we have good people who work hard, and we have had to make incredibly difficult choices. We've been careful about all our corporate spending, whether it's travel, leases, property, inventory, research and development.
We're being thoughtful about how we address each one of these. In my role as the general counsel, if you're releasing a number of people, you must do it in a way that it is humane and lawful. And so there's an element of that in my role. Obviously, another part is to make sure we have access to cash, through bond offerings. That falls under my responsibility. And there's the day-to-day legal issues and compliance issues that come up.
When you release a large percentage of your workforce some are going to be disgruntled. I've been I've been laid off, and it's not that much fun. It's hard not to be mad about it. There is a truth in the legal world – I say this to my bosses all the time, and I know they don't appreciate it – but my job is the most interesting, not necessarily the most fun, but it is the most interesting when times are bad. That's because you have the most complex, difficult legal issues when times are bad. And so, my job has been really interesting over the last the last few months, and frankly, I would like it to become less interesting.
UHE:
What have you learned as a result of this crisis?
AJ: Trust your values.
There are certain things you can control. There's your behavior and your choices. You get to determine those. You absolutely get to control them. What do I mean? Could I have predicted the coronavirus, the price war and oil price crash, and then the murder of George Floyd?
No, you can't predict these. You can't control these. But you can control how you respond to the events. Specifically, if you have consistent, articulated values, acting in a manner consistent with your values, choices and behavior become a lot easier with less second guessing.
If you're consistent with your values, you can weather pretty much anything, and right now we're in the middle of that 'pretty much anything.'
The last four months have also confirmed for me the truism that the only constant is change. Don't fall in love with the present, because it will change.
The normal of today isn't normal. It's just today. You've got to be willing to remain flexible, and it sounds counterintuitive, but the flexibility comes from the way you operate.
Be ready for radical change, plan for radical change. You won't get it exactly right, but you'll be better positioned if you have planned for it somewhat than if you haven't planned for it at all.
UHE:
What advice would you give to students who are thinking of going into the energy field?
AJ: I think the energy industry is probably most important industry in the world right now. The question is, what value does the world get from the energy industry? The answer is simple, but rarely discussed. The Oil & Gas industry provides accessible, low cost energy to billions of people, who without it, would have no energy at all. Is there a cost to it? Of course, there's a cost. There's a cost to everything.
And so, I would say to students, if you want to work in an industry that is vitally important to the world health, wellbeing and the future, the energy industry is the place to be. There is no more important industry in the world.
There's a reason why the Industrial Revolution changed the quality of human life. Our industry remains right in the middle of delivering that quality of life. Folks don't talk about this truth, but it is very important to recognize. If we just focus on the costs and not the benefits, we will wake up one day without the benefits, and that will be a dangerous, unhealthy, crumbling world. There's a cost to it, but that cost is consistently becoming lower through the incredible efforts of those working in the industry.
So, to your students I say: join the energy industry. One, you're needed, because a lot of folks are going to be retiring in the near future. And second, the world is going to need us desperately to continue to provide low cost accessible energy for billions as we transition from hydrocarbons over the decades to come.