Energy Advisory Board Spotlight on member Ajay Mehta By Janet Miranda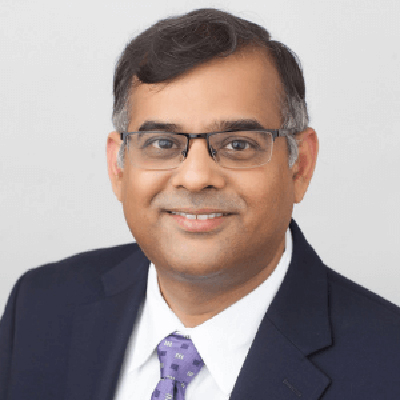 Ajay Mehta, general manager for New Energies Research & Technology at Shell, is one of 25 energy leaders who make up the University of Houston's Energy Advisory Board (EAB). The board brings together industry experts and leaders to advance energy education and research.
He joined the board in early 2019. Since then, he has participated in developing and executing plans to strengthen the university's reputation in Houston and beyond. For 23 years, Mehta has held a range of technical and leadership roles at Shell, from deep water research and development, production operations, and CO2 mitigation to project engineering and general management. He has also served as a Distinguished Lecturer for the Society of Petroleum Engineers.
Mehta holds a bachelor of science degree in chemical engineering from the National Institute of Technology in Karnataka, India, a Ph.D. in chemical engineering from the Colorado School of Mines and a MBA from the Massachusetts Institute of Technology.
The conversation has been edited for clarity.
UH Energy: How did you connect with the EAB? What do you try to bring to your role with the board?
Ajay Mehta: Shell has a long historical relationship with the University of Houston. The university has fantastic students who have become employees in the past and have done extremely well inside the company. But perhaps we have not had as strong interaction as I think we could have been having and should be having with UH, a strong university in our backyard.
I often tell folks that I meet at UH, 'Isn't it ironic that many of us spend more time on working with universities on the east and west coasts of the United States rather than with universities in our own backyards?' UH is in a strategic location, the energy capital of the world, to have deep relationships with industry. Although the focus has been on conventional oil and gas, UH is positioned to be a significant player in how the energy transition will unfold and the future of the new energy arena. This is what I have worked on as part of the board during my first year.
Conventional oil and gas is going to continue to remain a part of the energy mix for a while to come, but as renewables become a bigger part of the overall portfolio, how do we get some of the existing departments at the University of Houston System to start focusing on a slightly different problem? That's the strategic direction that I have brought to the EAB, and it's a direction UH wants to head into.
UHE: You've had experience in technical and business management roles at Shell. Do you have a preference between the two roles? What skills do you think are essential to be successful in both technical and leadership roles?
AM: When I started out in my career, I came in as a subject matter expert in the area of gas hydrates. I was very much interested in pursuing a very technical career at Shell. In fact, I spent a decade of my time in the research organization. I discovered that I love the technology angle, and I love the innovation and research angle.
However, I found that I enjoyed discovering how you unlock value using the technologies that have been there. And unfortunately, sometimes things get lost in translation, when you must translate very technical concepts. Some of these could be a breakthrough innovation, but they never see the light of day because of this miscommunication.
I became interested in how to become an effective messenger for taking the innovative technologies that come out of the lab and seeing them deployed in the business. I think this requires a slightly different approach, because you need to be able to take things that are very, very complex and difficult and relate that complexity in a way that other people can understand and see the value of what you're doing.
The ability to communicate complex information in a meaningful way depending upon what audience you're speaking to is an essential skill set to be successful in this space. And you've also got to really enjoy working with people. Because at the end of the day, people are what make things happen. Fundamental project management skills and communication skills are important in a technical space but also equally important in a management setting.
UHE: There is an ongoing transition to cleaner sources of energy, along with an expectation that energy needs will increase rapidly. How does Shell aim to become a global leader in cleaner power generation and meet the increasing global energy demands?
AM: We see our purpose as being able to provide more energy to keep with demand as well as providing cleaner energy. We emphasize these two things because the world will continue to use energy and demand will continue to grow. As the demand for energy continues to increase, how do you juxtapose the demand increases with the desire to provide cleaner energy? It's a challenge.
We take that challenge very, very seriously. We see at a strategic level the three aspects we need to emphasize. The first is that the sense of needing a societal license to operate. The world is changing, and it's going to demand we figure out a way to lower our CO2 emissions. Secondly, we also see the need to be able to supply the energy to the world for the anticipated need.
Finally, we are positioning our broader portfolio to be a very significant player in whatever energy future emerges. Part of that commitment is to reduce our own net carbon footprint from all the energy products we generate. We are reducing emissions from the generation side to the end use of the product and thinking about it in a much more holistic manner.
We need to maintain our ability to be what I call a world class investment. What I mean by that is we need to ensure that the businesses also continue to be robust and fair, even as we work toward broader decarbonization. We need to maintain the capital discipline to deliver world-class projects.
UHE: As general manager for New Energies Research & Technology, you oversee the development of new technologies. What sort of new technologies can we expect to become big players in the future?
AM: A lot of different things are happening. If you look at a macro view of the energy mix, today 80% of energy is coming in from fossil fuels. About 20% of energy consumption is in electricity generation. Fast-forward that into the future.
If we as a society agree that we need to be able to meet the aspirations of the Paris Accords, which is to keep the average global temperature 2 degrees Celsius below pre-industrial levels, then we are going to need a road to get us there. That mix gets completely flipped, where perhaps up to 80% of the total energy system is going to have to convert to electricity over the course of the century.
The share of fossil fuels will continue to be there for certain segments. For example, sectors like long-distance transportation, aviation, shipping. All these are sectors which will continue to require liquid fuels. So how do you juxtapose the challenge of providing certain segments of the industry with fuels that are necessary to power those industries while moving to a cleaner energy mix in the future?
That's where research comes into play, such as looking into a broad spectrum of fundamental science-based technologies. One of the areas that we work on is dense energy carriers. So how do you create a synthetic fuel of the future? How do you essentially take advantage of the growth of renewables, basically solar or wind projects, which can be used to create clean electricity? And can you use those clean electrons to make hydrogen? Can you capture CO2 from the atmosphere to make a synthetic fuel? That's a very active area of research inside Shell.
We are actively involved in new fuels. What I'm talking about are things like second generation biofuels, looking into a hydrogen-based economy. That idea been around for a very long time, but now it's time to really make a much bigger penetration into the marketplace. And then finally, what is the impact of electric vehicles going to look like? Shell is exploring what the retail station of the future going to look like as more people start driving electric cars. Where are people going to get these electrons? Are they going to come to a retail station?
There is also a focus on advanced energy storage, because anytime you have intermittent sources of energy (such as wind or solar), you need a way to convert those electrons. We are working on utilities and carbon storage technologies.
UHE: How do you think the expansion of energy resources, such as Liquified Natural Gas (LNG), will affect Shell and the energy landscape?
AM: Shell is one of the world's largest LNG shipping operators, managing and operating more than 40 carriers. We continue to see a very bright future for LNG. Gas is going to become a very, very critical transition field, even though we can imagine that in the next 70 years the energy mix will see a variety of changes, with 70% to 80% of the energy mix coming from completely renewable resources. Natural gas is going to play a massive role in the displacement of coal.
Natural gas has significant advantages over coal. It's a much cleaner burning fuel. It has half the CO2 footprint of coal, and it is transportable. You can choose to get it to the markets where you need to provide LNG. This is a key element, especially when you take a look at how energy hungry some these markets are. LNG is going to be a significant portion of the energy mix.
We see a pretty robust future for energy for some time to come. Shell has also been working new ventures, such as liquid hydrogen, to create clean energy. This is long-term project for a future scenario, but LNG is absolutely going to be a pivotal part of any energy transition.
UHE: What advice do you have for students pursuing a career in the energy industry who are interested in Shell?
AM: The biggest thing is to have a deep curiosity, because all too often people get too narrow in their thinking. It also gives you the confidence to be able to take on any type of problem, even in areas that may not be that familiar to you.
My advice to students is to keep their minds open in whatever disciplines they are studying. Future graduates will come into the industry during the energy transition, which will certainly be an exciting and defining time to go into the energy business.
A lot of the things that have been the backbone of the energy system as we have known it for the last 100 years are going to change over the next half century. So, I say to students to never stop learning, and start imagining a different future where they can apply those skills to a whole new set of problems. Those are the essential ingredients for any future in the energy field.