UH Energy Participates in Energy Day Festival in Downtown Houston By Janet Miranda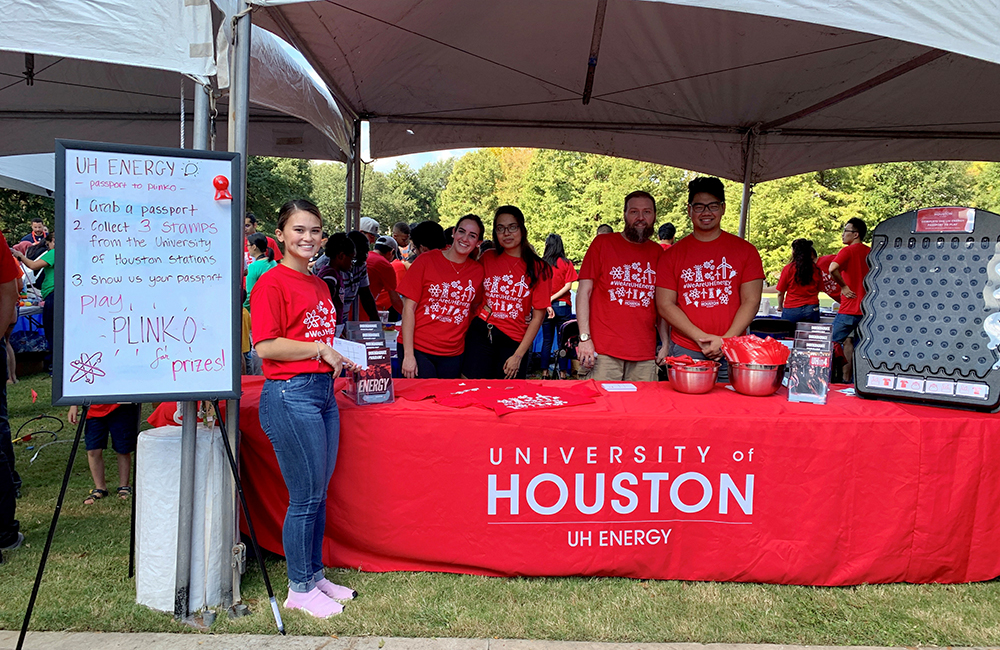 UH Energy participated in the ninth annual Energy Day Festival last month, hosted by the Consumer Energy Education Foundation and the Consumer Energy Alliance at Sam Houston Park.
This year's Energy Day attracted 27,000 people, including families, students and energy educators who came out to enjoy STEM exhibits and demonstrations, offering students a chance to learn more about various forms of energy and develop an interest in STEM – or science, technology, engineering and mathematics – education.
Energy Day is Houston's answer to educating the community about the integral role played by the energy industry, as well as promoting the importance of STEM. It featured more than 80 interactive exhibits and demonstrations from energy companies, including BHP, Caterpillar, Chevron, ConocoPhillips, Direct Energy, Golden Pass LNG, Noble Energy, TC Energy and TechnipFMC. Telemundo Houston also was there.
UH professors and students worked with UH Energy to share the many energy-related opportunities on campus.
Heather Domjan, a clinical associate professor in the UH College of Education and interim executive director at the University of Houston STEM Center, said the event is a great opportunity for students to become exposed to STEM careers and dispel misconceptions about the energy industry.
"There's a need to expose students to what energy is, not only to those who are about to be in the field, but to upcoming generations. We can sometimes take energy for granted but showing our young students the conceptual idea and capabilities of energy is key," Domjan said.
During this year's Energy Day, Domjan was recognized with the 2019 Presidential Volunteer Award for her efforts to shape young minds and promote the importance of a STEM education. She is also working to find new ways to make the energy curriculum in schools more engaging.
Domjan encourages faculty to get involved in next year's event.
"It's an event that professors and their students need to attend," Domjan said. "Showing up is important because we can present a united front to help young students explore what energy means for younger generations who will be leading the industry in the future."