UH Leads Dialogue in Risk Management and Investment Protection in case of Venezuela Energy Crisis By Janet Miranda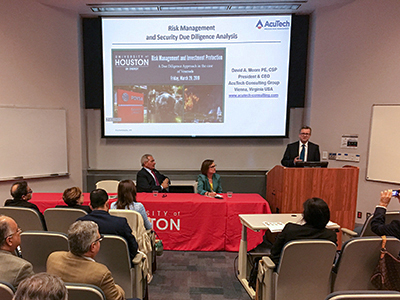 In an effort to promote dialogue about asset protection and chemical security in the oil and gas industry, the UH Environment Energy and Natural Resources (EENR) Center has recently brought industry and law experts together to discuss the risk and security of energy assets during the "Risk Management and Investment Protection: A Due Diligence Approach in the Case of Venezuela," conference in late March.

The conference opened a broader conversation about the security concerns of petroleum assets in a country undergoing a profound social and economic transformation.

"Since January 2019, the situation in Venezuela evolved to a point where a new president has been recognized by the United States government. Many people started to speculate or create scenarios of a change in Venezuela that may drive reform or restructuring of their oil and gas industry," Julian Cardenas said, a research professor at EENR Center and program coordinator.

The conference had two keynote presentations by Vanessa Neumann, current President Guaido's Diplomatic Representative in the U.K..; and Luis Quintero, President of the Society of Petrophysicists and Log Analysts. Then, then panels discussed technical and legal issues with experts including Roxio Medina, president of the American Society of Safety Professionals (ASSP) and former CITGO Vice President; David Moore, president and CEO of AcuTech Consulting Group and author of the U.S. standard for security risk assessment in the petroleum and petrochemical industry called "ANSI/API Standard 780 Security Risk Assessment Methodology"; Julian Cardenas, Research Professor at the University of Houston Law Center (UHLC); Sashe Dimitroff, partner at BakerHosteler and Adjunct Professor at UHLC; Katya Casey Managing Director at Actus Veritas Geoscience, and Ricardo Colmenter, Principal at Entra Consulting and Adjunct Professor at UHLC.

The conference consisted of two panels, one discussing the security risk management including the evacuation of personnel security, telecommunications, chemical security, and oil and gas facility security. While the other examined the legal framework applicable to the protection of oil and gas investments in cases of armed conflicts or civil unrest.

Boom and bust -

Venezuela, a historically oil-dependent country has plummeted into its sixth year of economic crisis, caused by the collapse of the Venezuelan oil and energy industry, and the mismanagement of the Venezuelan economy. This has created a humanitarian crisis prompting a wave of social upheaval. Nicolás Maduro, who has overseen much of that collapse has clung to power – backed by a fragmented military – despite the mounting international and national pressure to resign.

Acting President Juan Guaidó has gained the support of Venezuelan people who want deep societal reform, organizing mass protests and calling on the military for full support. Investors in Venezuela must prepare for drastic political and economic transformations if Acting President Guaidó succeeds, and also if Maduro stays.

"In the last two years, Venezuela has lost about 1.6 million barrels of oil a day in production. Any effective change in government may translate to a need to restore the oil and gas sector and power sector," Cardenas said.

Security issues will inevitably arise if Guaido succeeds and a transitional government takes power. The fragmented and corrupt national army might not be able to provide the stability necessary for any successful governance reform. But one thing remains clear, the importance of oil and gas resources to the success of any new government.

Mitigating risks -

Oil and gas will be necessary to fund reconstruction as oil sales constituted 98 percent of Venezuela's export earnings in 2017, but these investments could be potentially at risk of attack or sabotage, becoming the target of guerilla and paramilitary groups, which thrive absent to strong security and rule of law.

"One of the concerns of change in Venezuela is, what will be the role of these armed groups in the country and the threat they represent to the oil and gas industry? Security is an issue in cases of these armed groups." Cardenas said.

Cardenas emphasizes that there is more than oil and gas-based issues to contend with, security issues become a concern as power blackouts affect the oil and gas industry.

"It's not only chemical security but power generation that has become a priority because oil fields will be harmed when their power generation capabilities can only provide energy for a short period of time. Companies have to import more generators to continue operating, but still this will affect production," Cardenas said.

The panel of experts examined the steps energy companies have to take in order to protect and secure their assets under these extraneous situations.

The conference discussed strategies companies should be prepared to implement to mitigate the risk posed for their investments, personnel, and the environment. But continuing to emphasize that industry players must pay close attention to contract and international law applicable in cases of armed conflicts or civil unrest for the protection of their investments and the crossroad of investment law, humanitarian law and human rights.

The success of the conference has prompted Cardenas to coordinate a workshop for policymakers and cybersecurity issues next fall.

"In the past two years, the idea of discussing a military intervention in Venezuela was unthinkable. Sanctions that may affect the oil industry imposed by the United States against Venezuela was also unthinkable. Today, those issues are more real. They're no longer unforeseeable for any contractor in the oil industry," Cardenas said.

Whether or not transformational change occurs or not, what remains clear is that industry and legal experts must continue a dialogue on the security and risk issues surrounding the oil industry. The country's turbulent history suggests that long-term success will depend on a number of fluctuating outcomes.