Designing the Net Zero Future: Interdisciplinary UH Team Wins Change Happens! Home Design Competition By Janet Miranda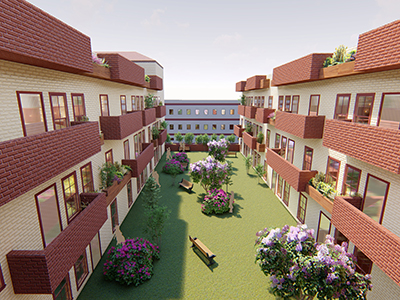 Two interdisciplinary teams of UH students vied for the 1st place of the Change Happens! Energy Efficient Home Design competition. The local non-profit sought out challenge high-achieving students to bring research and imagination to design a net zero housing complex in the Third Ward.

The final round of the competition showcased the two best designs in early February to Change Happens! officials including Reverend Leslie Smith, president of the Houston non-profit, and Energy Coalition Board members. The winning team includes team leader Cydnee Willingham, a finance senior; Theophilus Kaaya, a mechanical engineer graduate student; Luisa Leon Mai, a chemical engineering senior; Prasanna Krishna Devulapalli, a mechanical engineering graduate student; and Doumit Doumit, an architecture graduate student.

"I think the reason we won is that we paid attention to the details and we used [our team's] experience to full capacity. We [thought] realistically, at the end of the day, we were dealing with low-income housing. We didn't want something they were going to throw away or restart the design from scratch," said Willingham who also served as the team's chief financial expert.

Change Happens wanted the housing complex to be sustainable and energy efficient. A design which would revolutionize the surrounding area not only today but for decades to come.

"[Smith] wanted low-income households to be inspired to do more, so the housing had to be budgeted just right but not look and feel like low-income housing. He truly wanted to challenge our creativity and our knowledge and he did exactly that," Willingham said.

The eco-friendly homes were designed with Smith's vision in mind. The first place design has a total of 149 units with 1 bedroom, 2 bedrooms, and 3 bedrooms layouts located on three upper levels with amenities such as a workout area, gardens, a community area, and playgrounds along with adequate parking on the street level of the building for residents.

The students used solar power, geothermal power, and reverse osmosis for energy generation and conservation in order to achieve a "net zero" building.

"For our renewable energy, we decided on a mix of three sources: solar, geothermal and reverse osmosis. For solar energy, we decided to place solar panels on the rooftop and side of the building facing south to power the entire complex, with any excess being sold to the grid. We chose geothermal energy to address/handle the climate control inside the building. While reverse osmosis was selected to clean up the used water and recycle it for non-portable uses," Willingham said.

The team's efforts have yielded more than earning the first prize, Change Happens is set to begin construction of the winning team's design in 2020.

Building a winning team -

Standing now at the end of the journey, the students recall how surprised they were to work with such a cohesive team. After minor hiccups and a late addition of a new architect into their group, they were well ahead of schedule by the midpoint of the project.

"Once I met with my teammates, I realized that we all were from different backgrounds and different areas of expertise. We were all working under one goal where we all had a distinct part to plan. That's how we were able to exchange information and get feedback from each other to improve and optimize [our ideas]. I think communication is key," said Leon Mai.

For all of the students, the competition was their first experience working with students from other disciplines on a long-term project, and for others, it was the first time they had the opportunity to work with people from other cultural backgrounds.

"I am from India so all the projects I participated in I was working with my peers who are from the same cultural background as me," Devulpalli said. "But here for the first time, I got to learn more about working with others from a diverse background."

Devulpalli described the experience as good practice for when he starts working in the mechanical engineering field after graduation this spring. His participation in a project of this scope was not only to benefit the community but to build new skills.

"When you're out of your comfort zone you'll have greater exposure to new experiences," Devulpalli said summing up his journey.

Forging a better community -

The team, in the midst of celebrating their accomplishment, acknowledges the impact the net-zero housing complex will have on vulnerable families in UH's community while saving the environment. But for other team members, the project has special meaning.

"I am an international student from Uganda. I love mechanical engineering. I love building stuff. When this project came along, I thought it was a good idea to learn more about energy efficient housing, which can be a good opportunity to advance the technological deficiency in the construction methods of Uganda," Kaaya said.

For Kaaya, the housing competition was a ripe opportunity to learn more about different ideas and possibilities in energy efficient housing. He had been working for one year as a general contractor after he finished his undergraduate education, learning first-hand how structures are constructed.

"Working on a project like this gives me an insight into what works and what does not. We need to explore other approaches as opposed to one method approach we tend to use back home. For instance, when I was researching materials [for the competition] there were so many materials I came across. Because of this, I got to see what others had used, while also thinking beyond what we have currently," Kaaya said.

This mix of pragmatism and innovation led to a resounding victory in the housing competition. The students were able to create a design that conserved and produced energy while building a solid presentation that examined costs and benefits that built the case to go forward into the construction phase.

The team's journey culminated in a special recognition at the Energy Coalition Banquet where Rev. Smith thanked the students for all their hard work.

"This project has taught us so much more than we ever could have imagined. It was a 6-month-long roller-coaster ride, but I would not change one bit of it for anything. Change Happens! is here to extend a helping hand to everyone reaching out for change, symbolizing the much-needed change and rebirth overdue for the Third Ward," Willingham said.