Subsea Systems Institute Advances Robotics Innovation in Gulf of Mexico Offshore Exploration By Janet Miranda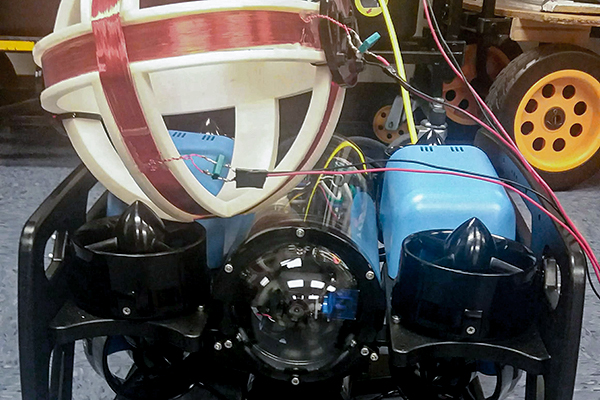 The Subsea Systems Institute (SSI) is a collaboration between the University of Houston, Rice University and the National Aeronautical and Space Administration Johnson Space Center (NASA JSC). Established in 2015, the SSI was created under the RESTORE Act as a Texas Center of Excellence to lead research, develop training and educational programs to improve safety and reliability for offshore energy operations.
The SSI's objective is to develop innovative research that will lead to technology advancement to positively impact safe and reliable exploration in the Gulf of Mexico reservoirs. Currently, the Institute has funded two research teams and one initiative for its robotics focus.
Robotics and automation are lauded as the next generation of innovation in the industry, focusing on the advantages of efficiency and accuracy.
"The SSI's focus on robotics stems from their objective to reduce the safety-related risk for the people who work on offshore drilling rigs while enhancing production and operational performance in the Gulf of Mexico," said Ramanan Krishnamoorti, UH Energy Chief Energy Officer and Director of the SSI.
SmartTouch
Zheng Chen, Bill D. Cook assistant professor of mechanical engineering, and Gangbing Song, John and Rebecca Moores professor of mechanical engineering, are working on a transformative smart touch sensing technology to innovate deep-water pipeline maintenance and improve safety.
Thousands of miles of pipelines are installed across the seabed of the Gulf of Mexico. These pipeline systems must be able to withstand years of high pressure and high-temperature conditions. Safety immediately becomes a major concern when unforeseen events can cause damage to bolted flanges and the welding that keep the pipes working smoothly.
"In a pipeline, you do not want leakage. When two pieces of a pipeline connect through the flanges, sometimes because of dynamic flows or ocean currents the pipe moves, and this flange sometimes becomes loose. We want to detect that at an early stage to prevent damage to pipeline infrastructure," Song said.
There is an immediate need in the subsea industry to create technology that will better detect damage in subsea infrastructure in an accurate and cost-effective way. The SmartTouch technology aims to integrate innovative robotic manipulator controls, such as piezoelectric sensors for touch-based inspection of bolted joints and the latest structural health monitoring and inspection methods to automate remotely operated underwater vehicles (ROV).
The technology has been showcased in demonstrations at the annual Offshore Technology Conference. Researchers attracted the eye of several industry members including Baker Hughes, Schlumberger and ConocoPhillips, among others.
Currently, Chen and Song are working with the Department of Energy to submit a proposal on the subsea technology to further expand their research. Both professors emphasize the importance of SSI in their research.
"SSI provides us a platform so that we can collaborate and further develop our [SmartTouch] idea and possibly lead to commercialization with industrial partners. We both appreciate the opportunities from SSI," Chen and Song said in a joint statement.
Autonomous vehicles will be able to prevent pipeline failures and mitigate the environmental damage caused by undetected pipeline damage. SSI's second robotics and automation research team focuses on how to make ROVs move more efficiently.
Collision avoidance in Subsea
Aaron Becker, assistant professor in electrical & computer engineering and director of the Robotic Swarm Control Lab, is working on a multi-sensor navigation-aid system that will provide collision avoidance for multiple ROVs in high-risk subsea inspection jobs.
ROVs are essential to the subsea industry because they can be used to complete tasks that can be dangerous to human personnel. Since these robots are submerged in deep-water, they need cutting-edge technology that can allow robots to communicate their location with each other to prevent collisions between other ROVs and to protect subsea assets.
Becker and graduate students in his lab have designed and tested triaxial magnetic induction antennas, consisting of loops of copper wire bound across three orthogonal loops for underwater ROVs. These antennas are a cost-efficient solution to allow underwater assets to locate their relative range and orient themselves.
SSI's funding provided Becker access to the materials he needs to test this technology and bring on student talent to collaborate in this project.
"We've got our first robot and our first set of antennas put together. We also have a team working on designing new amplifiers so that we can put more energy through the antennas and get a cleaner signal that can go farther," Becker said.
The next steps for Becker's research team are to test the model in a large volume of water at the Neutral Buoyancy Laboratory at the NASA JSC. They will be able to record data and then reconstruct robot trajectories using computer models to verify their findings.
They hope to eventually move into testing the model in seawater, where they can test the ROV model under different conditions and compare their findings.
Meanwhile, Becker says he is thrilled with the support the SSI has given his lab.
"The SSI gave us the opportunity to purchase some high-quality robots with potentials we don't already have. It's also given us the opportunity to augment my team of graduate students performing research in the lab." Becker said. "This allows us to expand our key lab mission, which is to train exceptional people to be world-class engineers and researchers."
Interfacing Robots and Oil Rig Platform Doors
With a focus on interfacing robotics and oil rig platform doors, the SSI will be rounding out its robotics initiative with the development of an expert steering committee. Select industry partners will engage with the SSI to explore the challenge of robots opening doors, develop a strategic roadmap to implement solutions, and mobilize the roadmap through appropriate manipulation technologies.
"This is a challenge that can impact multiple fields and could lead to the economic deployment of robotics in dangerous and hazardous locations," said Krishnamoorti.
This specific scope of work will leverage the expertise of SSI partners from NASA JSC and Rice University, John Allen from Allen Energy Consultants, LLC, as well as UH faculty and students. Participating industry partners include Oceaneering, Total, DNV-GL, Mitsubishi, and Taurob. Demonstrations are expected to include tactile sensing/adaptations and machine learning with some focus on data mining and optimization.