UH Energy Launches EVolve Houston in Collaboration with CenterPoint Energy and the City of Houston By Janet Miranda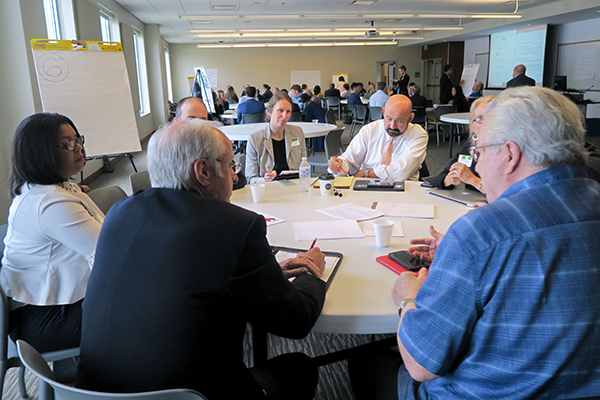 Sustainability is a loaded word in Houston.
When you think of Houston, images of the oil and gas industry that contribute to rising greenhouse emissions come to mind.
EVolve Houston aims to challenge that image by bringing together a coalition of sustainability-minded civic and business leaders, who want to accelerate clean transportation and zero-emissions goods movement through electrification. UH Energy is partnering with CenterPoint Energy and the City of Houston, along with other industry leaders, to create the EVolve Houston coalition. Their goal is to improve regional air quality and reduce greenhouse gas emissions in the Greater Houston Area.
And how do they plan to do this? Well, it sounds simple enough, by electrifying vehicles.
Electrification is the process of replacing current technologies, such as gasoline combustion engines, with alternative electric-powered vehicles. As the electric grid becomes powered more and more by renewable energy, electric vehicles are becoming even cleaner.
In 2014, Houston emitted 34.3 million metric tonnes of carbon dioxide, and transportation emissions amount to 47 percent of total carbon dioxide emissions. Adopting electric vehicles in Houston will reduce carbon emissions that pollute the air and harm human health.
The impact of electric vehicles will be more immediate than other proposed policies, drastically improving the air quality with only minor changes required for Houston's vehicle-centric lifestyle.
The benefits of electric vehicles do not stop there. They will also reduce transportation costs, improve commuter's experience on the road and most significantly, have a positive impact on the Houston economy by spurring innovation.
Opportunity knocks
As the environmentally-conscious consumer market increases, the demand for electric vehicles rises. Most recently, consumer trends point to a favorable market for electric vehicles and the Houston economy must be ready to adjust.
A recent informal survey of millennial entrepreneurs in Houston revealed that 60 percent of them intend to purchase an electric vehicle for their next vehicle, while 20 percent would prefer not to own a vehicle at all. The trends along with the threat of the City's changing climate bring a sense of urgency to create partnerships like EVolve Houston.
Mayor Sylvester Turner's Climate Action Plan has been a catalyst for action, bringing the Houston community together and identifying electric vehicles as a key component in achieving the plan's goals to reduce greenhouse emissions.
"The City of Houston is committed to doing everything it can to reduce our greenhouse gas emissions. Houstonians love to drive and by electrifying vehicles, our community does not have to drastically change their behavior. In a lot of cases electric vehicles are cheaper to run and more fun to drive than your average car," said Nick Hadjigeorge, Senior Staff Analyst for the Administration and Regulatory Affairs Department at the City of Houston.
Hadjigeorge has been part of EVolve Houston's ongoing effort to bring forth strategic initiatives that will promote the use of electric vehicles. He says that encouraging the transition to electric vehicles will help us make a huge dent in our transportation emissions.
"We can reduce the effects of climate change to our region by encouraging the switch to electric vehicles. The immediate impact that it can have on our environment is huge and will lead to benefits for everyone in the community," Hadijgeorge said.
Steps forward
EVolve Houston launched in January 2019 with a kickoff breakfast at the Hotel Zaza, where stakeholders, including industry and non-profit members, came together to hear Mayor Sylvester Turner champion the vision of Houston as a leader in electrified transportation.
This was followed by an Electric Vehicle Roadmapping workshop in May with City of Houston officials, University of Houston energy experts, and other partners that identified the drivers of electric vehicle adoption and brainstormed ideas to advance electric vehicle adoption.
Michael Conklin, External Engagement Manager for CenterPoint Energy and team member of the EVolve Houston effort, says that Houston's love of business innovation is a key advantage for a high-technology region seeking to lead the energy transition.
"Electrified transportation is an ideal fit for energy companies seeking to lead the future of transportation, and Houston has the right stakeholders to be at the head of that evolution," he said.
Evolve Houston is working to better our city in ways that ensure the long-term success and competitiveness of the Greater Houston Area. "Electric vehicles have a natural role to play, not only to improve our air quality, but to create a positive impact on the community and economic development of the city of Houston," said Conklin.
Over the next few months, members of the EVolve Houston Coalition will participate in working groups to shape a practical implementation plan for the electrification of transportation. The issues the groups will focus on are directly related to key topic areas identified in the EV Roadmapping workshop.
The plans developed by the groups will be announced by Mayor Turner later this year.