Q&A: Forbes Scholar Sara Haq's 30 Under 30 Summit Experience By Janet Miranda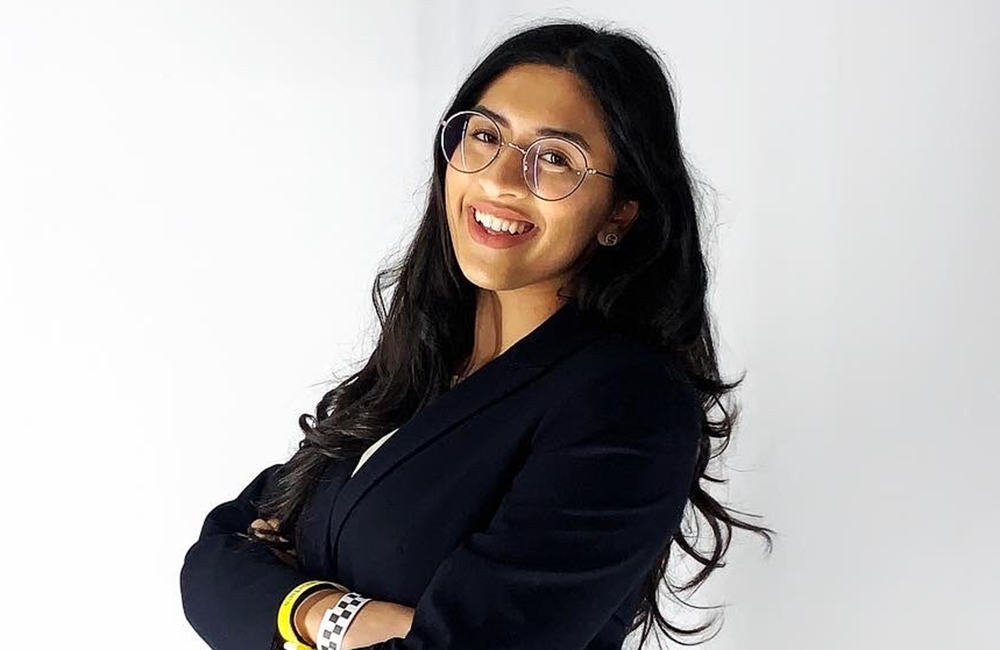 Sara Haq, co-vice chair of student organization relations at the Energy Coalition and supply chain management senior at the C.T. Bauer College of Business was selected to attend the annual Forbes 30 Under 30 summit in Detroit as a Forbes Scholar.
The four-day conference celebrated innovators and entrepreneurs, with speakers from across the globe, industry-focused field trips, activities such as private concerts, a food festival and a day of community service. Haq was chosen from among hundreds of students who applied to be part of the Detroit summit. Her trip was sponsored by UH Energy.
Haq has been active within the UH community, including previously holding two leadership positions within Bauer SPO, a supply chain student organization. She attended Harvard Business School's Peak Weekend Program, an educational experience for current college students interested in earning an MBA. She has had three internships, at AMOT, KBR and Cardinal Health. Every year Haq connects with her family heritage by helping host a fundraising gala for The Citizens Foundation, which supports education for children in Pakistan, and wants to eventually open her own school in Pakistan.
UH Energy spoke to her about the summit. This conversation has been edited for clarity.
UHE: How did you become part of the Forbes Scholars?
SH: During the summer after my sophomore year, I had the opportunity to go to Harvard Business school during Peak Weekend Program, which allowed me to build a network that led me to apply to the Forbes Scholars program. I was selected as a scholar in 2018, but I did not have an opportunity to go to Boston then. This year I applied again, and I was able to attend due to the sponsorship of UH Energy. It was a fun and life-changing experience, and I had a really good time.
UHE: Why do you think the Forbes Scholars committee chose you?
SH: It's a highly competitive application process. I believe they chose me because I am passionate about what comes next. Forbes focuses on innovation and growth. I believe our generation is poised to be a great force for change in the next several decades. I think that my experience in several organizations on campus showcased that I am passionate about everything I do and that I always strive to work to the best of my ability. I believe being passionate is essential for anyone's success. If you are not passionate in what you do, you won't succeed.
UHE: What was the conference like – what stands out to you as a take-home lesson?
SH: I flew into Detroit, and if you've ever traveled you know how hectic it can be. The event was held at the Masonic Temple, a beautiful theater. The first day, I listened to a few speakers, and the one that really stood out was Sophia Bush. She spoke of the challenges she faced as a female founder of Detroit Blows, an inclusive nontoxic hair salon. I really admired her vision of a community-driven salon for people with all hair types. I thoroughly enjoyed listening to the advice and wisdom of female entrepreneurs.
My biggest take-home lesson would be that I can also be an entrepreneur. Before the summit, I never thought of myself as an entrepreneur. What an entrepreneur does is find a problem that needs an innovative solution, talking to others and learning from their expertise. This informs how you see the world and allows entrepreneurs to think of what their value proposition is and how the world can benefit.
UHE: What would you say was the most important part of the conference for you? The learning opportunities or networking opportunities?
SH: I believe self-awareness is the first step towards self-improvement. As college students, we come across different problems. I will graduate soon, and in the work force I will be expected to solve problems. The conference helped me understand how important being aware of your surroundings is, specifically to recognize and solve problems.
UHE: Do you see it benefitting you in your career? In what ways?
SH: Supply chain is the backbone of every company. I want to start by working in a procurement role in supply chain to gain more knowledge and experience. The Forbes 30 Under 30 Summit strengthened my wish to eventually start my own business. After a few years of field experience, I'd like to work on my MBA, and I have some ideas I am considering developing into business plans. Being from Houston, there are a lot of opportunities in the energy industry along with other areas.
UHE: How can other students take advantage of this program?
SH: I say, be excited! Don't be a regular person, living day by day. Trying new things really allows you to have new perspectives and innovative ideas.
The summit was helpful for learning other people's perspectives and about what they have chosen as their life's work. I believe this is a great advantage for students who are finding their footing in the world.
UHE: If you could sum the conference up in three words, what words would you use?
SH: Exciting, inspiring and motivating.