South Korean Delegation Visits the University of Houston By Janet Miranda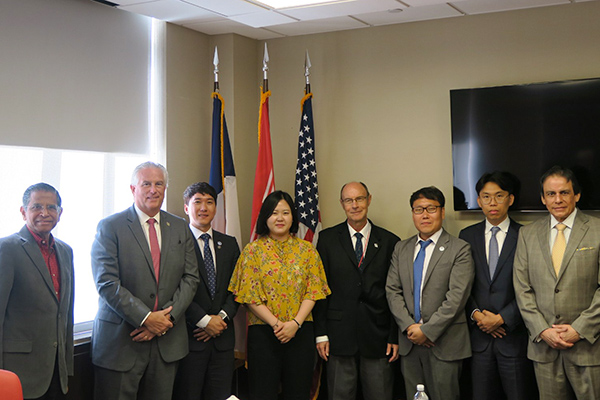 A South Korean delegation visited the University of Houston as part of the State Department's International Visitor Leadership Program (IVLP) to learn about developments in technology and commerce for the global supply of liquified natural gas (LNG).
The program helps foster citizen-to-citizen diplomacy for emerging leaders in a variety of public and private sector areas. UH was selected to participate due the expertise of its faculty and leaders and its strategic location in Houston, the world's energy hub.
"The Department of State recognized the University of Houston as the energy university in the energy capital of the world," said Charles McConnell, executive director of the Center for Carbon Management in Energy, who met with the South Korean delegation.
The delegates represented a multidisciplinary group from industry and government and included Dae Heon Kim, senior staff, Middle East Project Team, Korea Gas Corporation (KOGAS); Jina Kim, manager, Posco Energy; Seung Beom Lee, manager, Gas Infrastructure Team, GS Energy Corporation; Seung Jun Park, chief policy staff, Office of National Assembly Member Chang Byoung Wan; Namjin Roh, associate research fellow, Gas Policy Division, Korea Energy Economic Institute.
Much of the LNG destined for South Korea leaves the U.S. through the Gulf coast. South Korea relies heavily on LNG, importing 95% of energy used in the country. Therefore, cost and supply are big concerns.
The objective of the visit was to fully explore the LNG market, learning more about technological opportunities and major issues. In addition to McConnell, other representatives of UH Energy met with the delegation, including Ramanan Krishnamoorti, chief energy officer at UH.
Discussion topics ranged from trade patterns and market capabilities to investment opportunities and risks, along with the growing emphasis on sustainability. The delegation was interested in how carbon management, specifically carbon capture utilization and storage (CCUS) technology, might affect Korean coal and gas use for power generation.
"They recognized there is much to learn," McConnell said. "Having a relationship with us and our Carbon Management Center was a big reason for them to make this visit, because they believe it could benefit their future."
While global energy consumption continues to grow, the future will require a lower carbon footprint, which will require new technologies.
"Anything the South Koreans can do to establish better relationships with places in the world where thought leadership and capabilities (in carbon management) exist is fundamental to their future success," McConnell said.