EXECUTIVE SUMMARY
Energy professionals – current and future – have to gain deeper insights into operational data for making tougher decisions. UH Energy's new Upstream Energy Data Analytics Program answers this need for the upstream oil and gas industry.
Designed and presented by leaders from industry and accomplished faculty from the University of Houston System, the program provides a structured series of micro-credentials or "badges" that will provide the necessary data sciences skillset to facilitate developing solutions to current and emerging challenges using advanced data-based decision making.
Each badge is a 15-hour module, delivered over a 3-week period, and the badges are stackable. We are currently offering Silver Badge 4 (Introduction to Python) and Silver Badge 5 (Python Data Analysis). These programs will be delivered online – see Schedule for dates and times.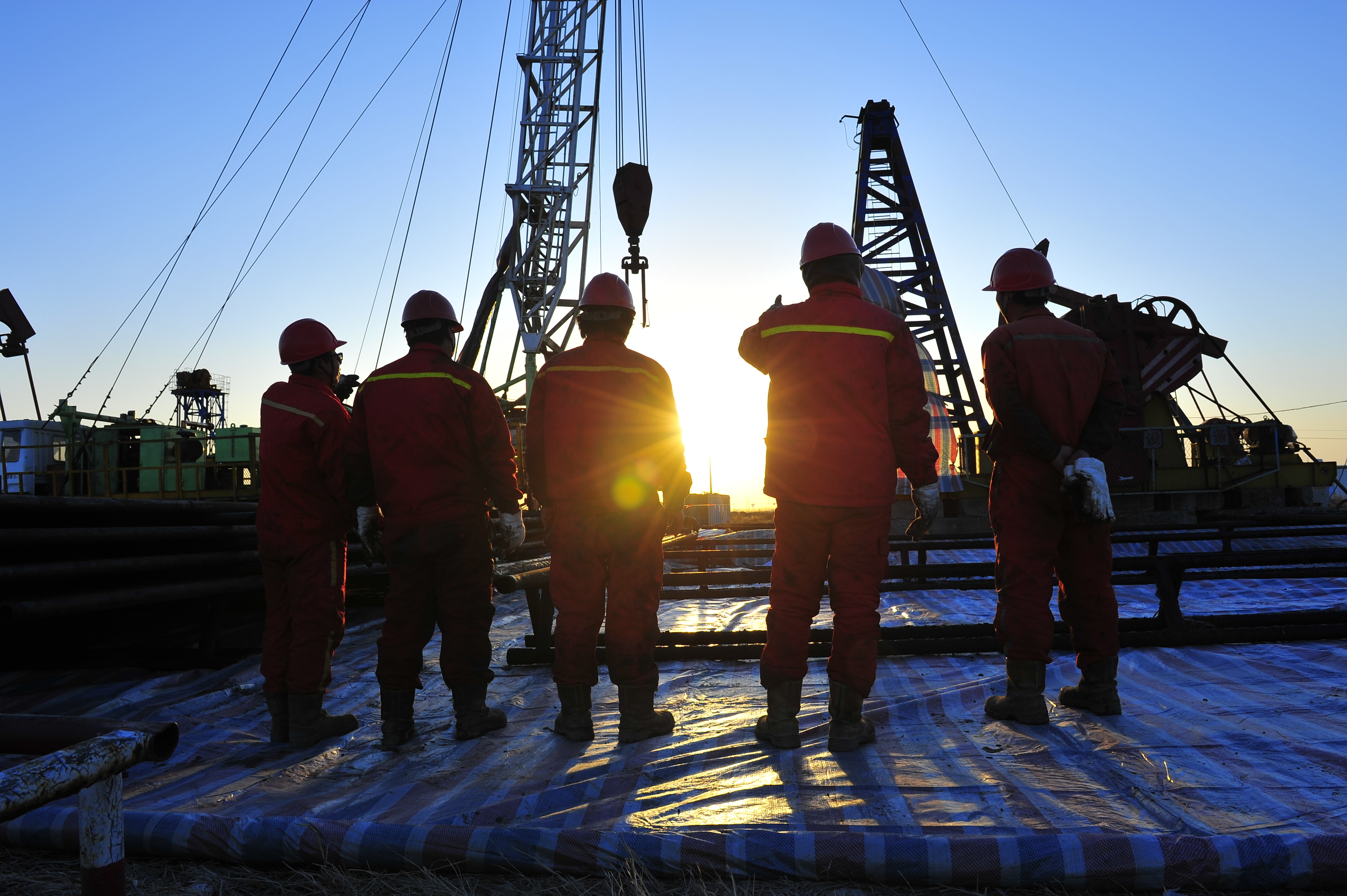 PROGRAM OVERVIEW
The oil and gas industry is undergoing significant changes, including repositioning operations to be cost-competitive in a world of rapidly changing oil prices, and meeting the growing demands of energy in a sustainable way.
This requires working in smarter and more efficient ways. Innovation has always been at the core of the oil and gas industry. Many oil and gas companies are already finding ways to implement data sciences solutions and are realizing tangible benefits, including competitive advantage.
Why This Program?
Data sciences are already playing an important role in addressing several industry challenges. Industry leaders have validated these claims and have recognized that there is a workforce shortage in skilled data sciences with an understanding of the energy industry.
For this reason UH Energy, at the University of Houston, has developed the Upstream Energy Data Analytics Program, to equip current and aspiring professionals in the upstream oil and gas industry on data analytics concepts and hands on experience on applications with real world examples.
UH Energy delivers the program in collaboration with UH Departments of Earth & Atmospheric Sciences and Petroleum Engineering, and the HPE Data Sciences Institute at UH, and with subject matter experts from industry.
Who Should Attend?
The Upstream Energy Data Analytics Program has been designed with two distinct groups in mind:
Those of you who are already in the upstream industry and facing challenges daily in making operations more efficient while continuing to grow the business. The Upstream Energy Data Analytics program will enhance your capabilities to get deeper insights from the data that you deal with, facilitating finding solutions to above challenges.
If you are readying yourself for an upstream career, you need to prepare yourself for a dynamic, exciting and challenging professional life. The Upstream Energy Data Analytics program provides a unique perspective and a ready to apply practical skillset, giving you a competitively advantaged competence as you enter the upstream oil and gas marketplace.
Pricing
INDIVIDUAL BADGE PRICE:
$900
EACH
BADGE 4 & 5 PACKAGE:
$1,700
Schedule: Fall Silver Badges
Instruction for each badge consists of 6, 2.5-hour online sessions. Each student should allow for 1.5 hrs. each for midterm and final test. Sessions are delivered two times per week, Monday and Wednesday, from 6:00pm-8:30pm, US Central Time. The dates for the 2 Silver Badges currently offered are:
Silver Badge 4 (Introduction to Python): AUGUST 22 AUGUST 24 AUGUST 29 AUGUST 31 *SEPTEMBER 05 SEPTEMBER 07
*In observance of Labor Day, September 5th is a pre-recorded session.
Silver Badge 5 (Python Data Analysis): SEPTEMBER 12 SEPTEMBER 14 SEPTEMBER 19 SEPTEMBER 21 SEPTEMBER 26 SEPTEMBER 28
Credentialing Overview
The course is offered in 15-hour modules, each over a 3-week period. Digital badges are awarded for each module. Badges will be a permanent addition to your skillset and resume.
Introduction to Python
Python is an easy to learn, powerful programming language. It has efficient high-level data structures that make it suitable for rapid application development. Topics covered in this session will include:
Data types
Conditional & loop statements
Functions
Input/output
Modules
Regular expressions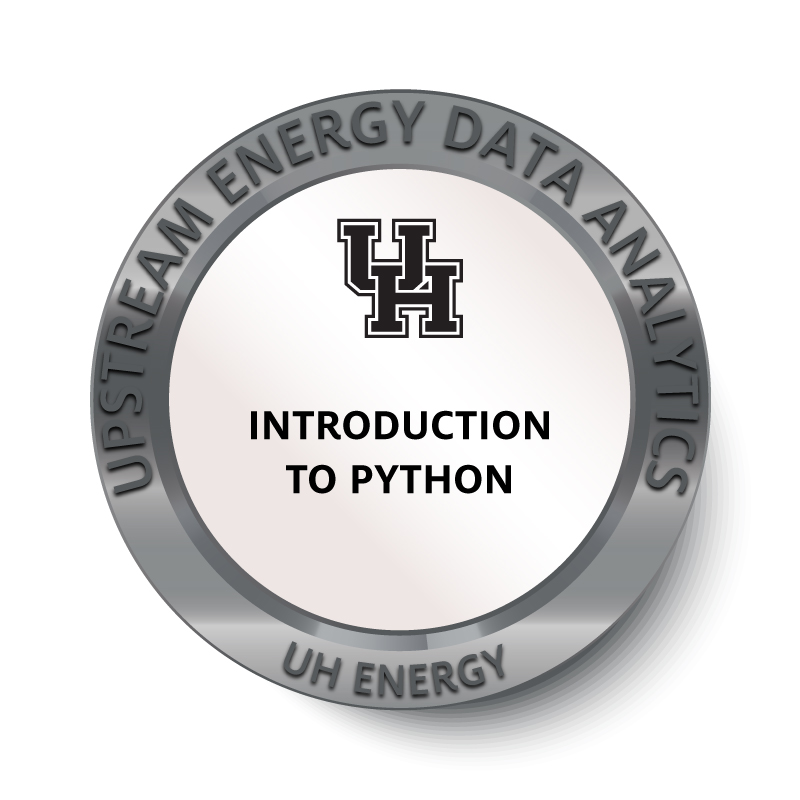 ---
Python Data Analysis
Participants will learn how to train and evaluate machine learning models using Python and Jupyter Notebook as the Integrated Development Environment. Hands-on sessions will be based on public upstream oil and gas datasets. Topics covered in this session include using:
NumPy
Pandas
Concepts of Data Wrangling
Plotting and Visualization
Data Aggregation
Modeling libraries

Patsy
Statsmodels
Scikit-learn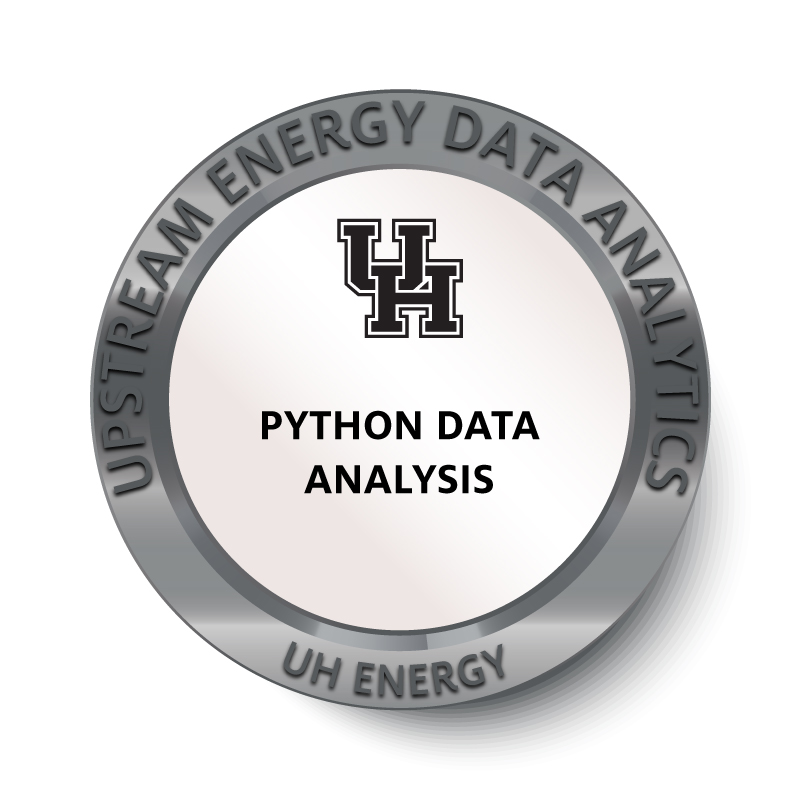 Learning Objectives
After successfully completing the Introduction to Python and Python Data Analaysis badges, participants will understand and be skilled at:
Python Programming

Data Import/Export
Data Types
Control Statements
Functions

Reusable Data Analysis Models
Writing programs to facilitate discoveries from Data
Basic data processing
Data Visualization
Credentialing Program Prerequisites
Basic knowledge in computer devices.
Background in machine learning is encouraged but not required.
Accelerating Credentials of Purpose and Value (ACPV)
Did you know?
UH Energy is working with UH's Department of Petroleum Engineering, UH's Department of Earth and Atmospheric Sciences, UH Clear Lake and UH Downtown to accelerate the integration of the Upstream Energy Data Analytics Program with the formal degree offerings at each of these institutions. To learn more about this please visit the
Frequently Asked Questions
Helpful Program Assets
Abstract: The upstream oil and gas industry's digital transformation over the last few years has accelerated because of the COVID-19 pandemic. Data analytics and machine learning are key components of this digital transformation and have become essential skills for experienced petrotechnical professionals (PTPs) and aspiring entrants into the field. The objective of our work was to design and deliver a practical, engaging, and online microcredential certification program in upstream energy data analytics for PTPs.
The program was conceived as a collaboration between academia (University of Houston's UH Energy) and industry (NExT, a Schlumberger company). It was designed as three belt levels (Bronze, Silver, and Gold), each containing three stackable badges of 12 to 15 hours duration per badge. Key design points included:
Identifying an online platform for administration
Delivering convenient, interactive, live online sessions
Delivering hybrid classes blending lectures and hands-on laboratories
Designing laboratories using upstream datasets across various stages of oilfield expertise
Administering test and quizzes, Kaggle competitions, and team projects
The program contents were designed incorporating appropriate instructional design practices for effective online class delivery. The design and delivery of the laboratories using a code-free approach by leveraging visual programming offers PTPs and new entrants a unique opportunity to learn data analytics concepts without the traditional concern of learning to code. Additionally, the collaboration between academia and industry enables delivering a program that combines academic rigor with application of the skills and knowledge to solve problems facing the industry using the real-world datasets.
As a pilot program, all three badges of the Bronze belt were scheduled and successfully delivered during July and August 2020, as six 2-hour sessions per badge. From a total of 26 students registered in badge 1, 24 completed it, resulting in a completion rate of 92%. Out of these students, 19 registered and completed badge 2 and badge 3, resulting in the completion rates of 100%. Based on the success of the pilot program, a second delivery of the Bronze belt with 18 participants was offered from October 2020 through January 2021. All 18 participants completed all three badges. Feedback from participants attests to the success of the pilot program as seen in the following excerpts:
"A very good course and instructors. I have already recommended the course to a friend and I will continue to be an advocate for the course."
"Teachers are very receptive to questions and it is a joy to hear their lectures."
"I found the University of Houston course to be both highly engaging and incredibly informative. The course teaches basic principles of data science without being bogged down by the specific coding language."