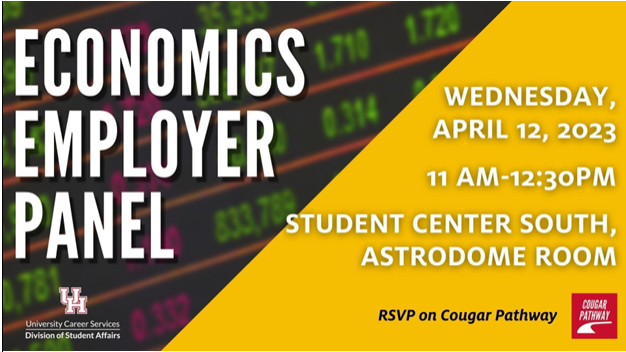 Employer Information Attendee Information
Are you interested in exploring the career prospects that an economics degree can offer you after graduation? Look no further than University Career Services (UCS), which is hosting a panel discussion featuring accomplished alumni and employers who have leveraged their economics degrees from the University of Houston and beyond in innovative and non-conventional ways. The panelists will offer insights into their academic and professional journeys, and provide guidance to aspiring undergraduate economics students. Don't miss this opportunity - Students, RSVP on Cougar Pathway today!
The event will be held on Wednesday, April 12, 2023 at 11:00 am at the Student Center South Astrodome Room.
Employer Information
Cost: Free
Fill out our form to complete a brief registration by Friday, April 7, 2023
Attendee Information
This event is targeted to economics majors, but all majors are welcome.
RSVP: Attendees, RSVP in Cougar Pathway

Cougar Pathway > Events > Career Fair > Economics Career Panel Event > click ATTEND
Questions?
Contact Torrence Douglas