CougAR Lab Students Display AR Tech at Tech Fest Live
November 10, 2022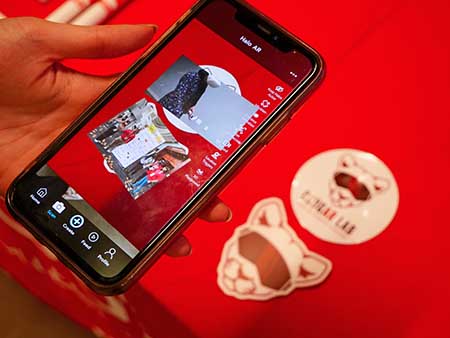 The University of Houston College of Technology Digital Media program joined several corporate leaders, entrepreneurs and students from Houston-area school districts at the Tech Fest Live Event. Held at The Ion technology hub, the event was created to educate and inspire youth about technology-industry careers and pathways.
Professor Tony Liao of the college's Digital Media program, and research assistants from the CougAR lab brought augmented and virtual reality (AR/VR) headsets from the lab for students to experience.
"The technology is the main draw, but I also wanted to show students that there are important research questions we should be asking about the effects and implications of AR/VR technologies as well" said Liao. "It's not just about coding. In my lab we are more interested in answering questions about why we should be building something, how to improve the experience, and what possible effects there might be."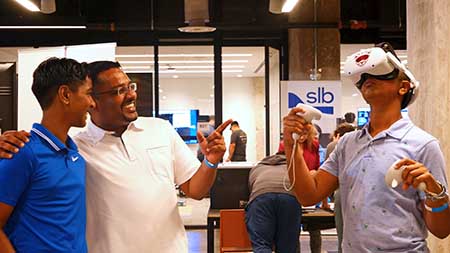 Liao says his goal was to excite students about an emerging technology, and allow them hands-on experience with the latest technology. UH students and research assistants demonstrated applications where participants shot virtual baskets, fought off an alien invasion, and tried the latest gesture-recognition devices and software.
Hundreds of people attended the event, experiencing not only augmented and virtual reality devices but robot battle competitions, Houston Brick Club Lego displays, performances by the FLY Dance Company, and other educational technology platforms.
Founder and organizer Khalil Vinson created Tech Fest Live to increase minority representation in technology industry and STEM fields. He invited prominent speakers and exhibitors to talk about the future of technology, students' entry into the field, and advice for women and minorities considering careers in technology.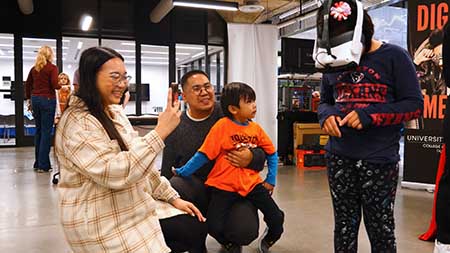 "These types of events are so important to engage the next generation of students, especially because they may not get the exposure in the classrooms or ever be in contact with leaders and mentors in the technology field," he said. "We hope the University of Houston will come back next year. The students loved it."
Students are interested in joining the CougAR Lab, which conducts research studies on augmented and virtual reality technologies, should contact lab director Dr. Tony Liao at tcliao@uh.edu.
Read more