Cougar First Impressions Coogs Helping Coogs Since 1998!
Cool down and find your way the first two days of class!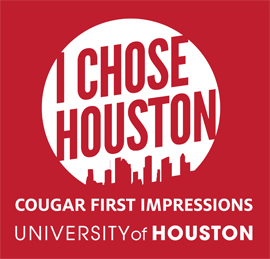 On Monday, August 24, and Tuesday, August 25, look for the Cougar First Impressions (CFI) tents all over campus. UH staff members and others wearing red "I Chose Houston" T-shirts will be at 20 CFI locations from 7 a.m. to 5 p.m. to answer your questions and provide directions to where you need to go. You can also get a campus map and goodies like pens, pencils, notepads, and many others.
It will be hot at the beginning of the semester, so grab a reusable water pouch from a volunteer and fill up at one of the Water Monsters that will be next to each CFI table, sponsored by UH Administration & Finance. Keep your water pouch to stay hydrated all semester by refilling at the many UH2O filtered water stations across campus. For the 8th year, CFI will also feature the very popular "ice cream tent" where you can get a frozen treat starting at 11 a.m. and until supplies run out each day.
You can find all of the CFI locations and Water Monsters on the UH campus map. Click on the "CFI Fall 2015" box under the "Amenities" tab.
CFI is sponsored by UH Staff Council each Fall and Spring semester and is made possible by generous donations without student fees. For more information, see the CFI home page and schedule. You can also contact the 2015 Co-Chairs, Andy Moon (832-842-4782, andy@uh.edu) & Tommie Trevino (832-842-8747, tommie@math.uh.edu).
Student Resources
A new CFI initiative for 2015 has been to collect student resource information from departments across campus and to distribute the information on USB flash drives at the CFI tables. Over 1000 flash drives were donated and will be distributed. In case they run out before you get your hands on one (or you need to erase the files to store your homework), all of the resources are linked here!
Student Success
University of Houston Departments and Programs

Department of Public Safety
Health Center
Nonprofit Leadership Alliance—GCSW
Women's Resource Center