Here are Some Other Useful Links
Professor Bob Holzworth of the University of Washington is shown preparing to launch a thunderstorm electric field balloon payload similar in objectives to the Sprites99 balloon. Photo Courtesy of the NSBF Photo Album.
Primary Site
Ottumwa, Iowa
The primary balloon launch site for this program will be Ottumwa, Iowa.
Information about Ottumwa is available from the Ottumwa Chamber of Commerce and the Ottumwa Area Development Corporation.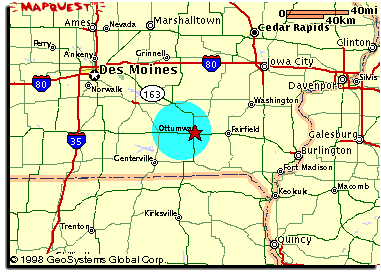 Secondary Site
National Scientific Balloon Facility
In the event of unavoidable scheduling conflicts, some of the launches may end up taking place at the National Scientific Balloon Facility in Palestine, Texas.
Palestine, Texas
Further information about Palestine, Texas can be obtained from the Palestine, Texas Chamber of Commerce.