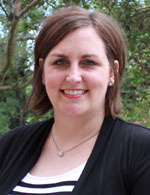 Lindsay Lewis is the Executive Director of Communications for the UH Division of Research. She is responsible for increasing the external visibility of the university's research programs and engaging the UH research community through ongoing internal communications.
Previously, Lewis spent three years working at MD Anderson, where she developed the institution's first patient communications program to standardize print and electronic communications across more than 40 cancer centers, clinics and support services. Prior to that, she directed communications for the UH Cullen College of Engineering for seven years and the UH College of Pharmacy for nearly two.
Lewis holds her master's degree in Communication Studies from Baylor University, and is working toward a Master of Science in Health Communication at the University of Illinois at Urbana-Champaign.