Kirstin Holzschuh, M.P.H., CIP, CPIA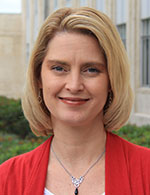 Kirstin Holzschuh is the Executive Director of the Research Integrity and Oversight (RIO) Office. With an initial background in research and over twenty years of research administration experience, Holzschuh oversees the University's two Institutional Review Boards (IRBs), the Institutional Animal Care and Use Committee (IACUC), the Conflict of Interest Committee (COIC), and serves as UH's Responsible Conduct of Research (RCR) Coordinator.

Holzschuh's approach to compliance is to work collaboratively with UH investigators, staff, and students to ensure that federal and state regulatory requirements, UH policies, and sponsor requirements continue to be upheld while at the same time providing efficient and effective customer service. The provision of education and guidance in navigating this sometimes complex matrix of regulatory challenges is a key function of RIO, and both she and her staff are committed to making these processes as smooth as possible for the research community.

Holzschuh holds an MPH from the University of Texas School of Public Health, and professional certifications in both IRB and IACUC administration. In addition to UH, Holzschuh has gained professional experience at other Texas Medical Center institutions, including the University of Texas Health Science Center at Houston, Baylor College of Medicine, and M.D. Anderson Cancer Center.