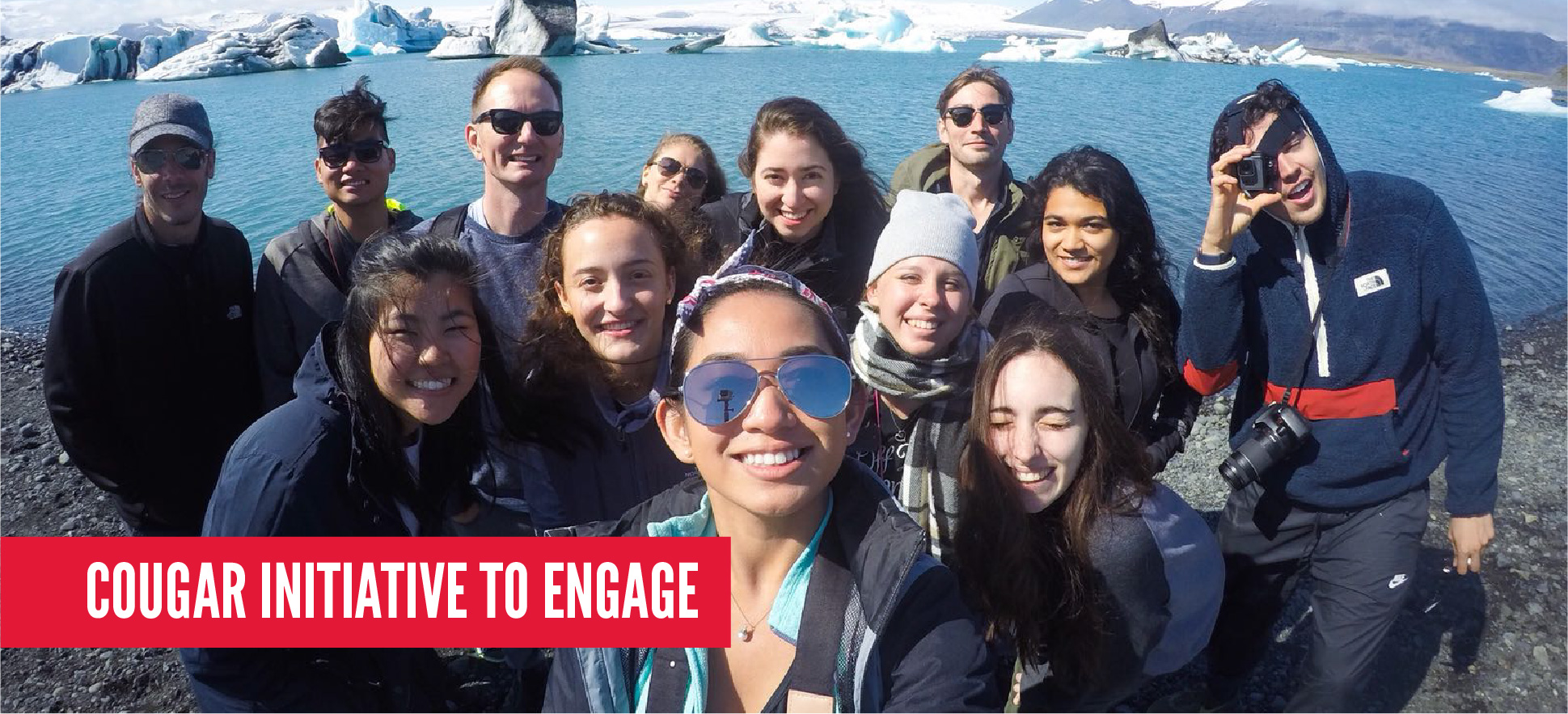 Final proposals for Summer 2020 are due Tuesday, January 7, 2020.
Final proposals for Fall 2020 are due Monday, February 17, 2020.
Please use these questions to organize your proposal. Completed proposals should be sent to coogsengage@uh.edu. The CITE Advisory Board will use this rubric to evaluate proposals.
UH Team Members Proposing the Project
Please provide the names, departments, titles, and contact information of all UH project team members and explain their roles within the project. One member of the team should be identified as the primary contact for the CITE Office. If desired, a team member can be identified as the secondary contact.
Program Description and Rationale
Please provide an overview of this experience. opportunities for student learning, discovery, and engagement will the experience provide students? How will it accomplish one of more of the goals of CITE? The overview should include a succinct description of the background, purpose, and central objective of the program or project.
What will this opportunity provide students? 
Co-Curricular and Experiential Learning
What will the students be doing during the activity?
Is this experience outside of the classroom? How?
How is the project experiential for students?
Learning Outcomes
What CITE learning outcomes are associated with this endeavor? If relevant, please include any studies from the literature to support or provide a framework for your proposal.
Students
When in their academic career will students take advantage of this experience – as freshmen, sophomores, juniors, and/or seniors?
Where in your program(s) does this activity occur for students (entry level, bridge, capstone, etc.)?
Provide an estimate of how many students this experience will impact.
What skillset or knowledge base (if any) do students need to have to participate in this experience?
Relationship to Academic Curriculum
Is this experience tied to a course or a degree program?
How does this experience support student learning outcomes in a course, department, or program? Please specify which outcome(s).
How will this activity impact current courses or co-curricular programs?
How will this experience provide students with opportunities that are not currently offered by your department, program, or college?
What further experiences (if any) will the students have after their CITE experience that may deepen their learning from this experience?
Resources and Budget
Please include an itemized budget for the proposed activity. You may use this example as a template for your budget or use another format that works better for your project.
What resources and support do you currently have to implement this experience?
What resources and support do you require?
Proposals that include faculty, staff or administrative stipends must show how the faculty or staff members' time commitments are above and beyond ordinary responsibilities. Please note that CITE funds cannot be used for travel to conferences or for open access publication fees.
Funding from CITE is available for a maximum of two years. Funding for a second year is not guaranteed.
How will your project be able to continue beyond the CITE funding period?
Assessment
Please complete the CITE Student Assessment Sheet.
The American Association of Colleges & Universities VALUE Rubrics are a resource that can help with the development of assessment rubrics. For more information, visit the AAC&U website. UH is an AAC&U member institution, but you will still need to create an account to download the VALUE Rubric documents.
Campus and Community Partners
Have you secured campus and community partners to implement this project? Please describe any agreements (formal or informal, MOUs, etc.) that may have been made with community partners. Attach any relevant written agreements, including emails.
Are any additional campus and community partners needed?
How will you secure any additional required partnerships? If assistance is needed from the CITE Office, please clearly indicate your needs.
Statement of Support
Please attach, as a PDF, an email or emails from your director, chair, dean or other relevant supervisor that demonstrates her/his/their support of your proposal.
Supplemental Materials
You may attach supplemental materials that will assist the CITE Advisory Committee in assessing your application to this proposal. Please summarize any supplemental material in your answers to the questions above.