Cub Camp: Student-Run, Student Led
Overview
2021 Crew Team Applications are NOW OPEN! Apply here by Friday, April 16.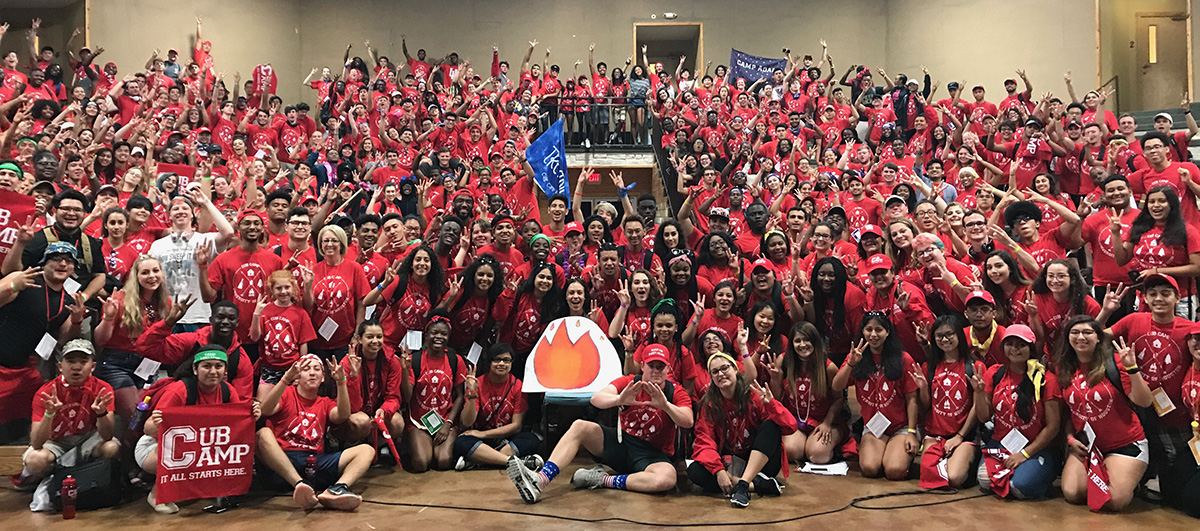 Cub Camp is a first year program held the week before classes begin for new Coogs at an off-campus retreat center in Trinity, Texas. For three days and two nights, campers learn more about UH, its traditions, and the on-campus community. This is an opportunity for the class of 2025 to come together as a class, have fun, make friends, and learn more about creating a successful life at UH and in Houston.
Cub Camp: Defined
At Cub Camp you will participate in all of the typical "summer camp" activities like water sports, challenge games, and relaxing by the pool in addition to UH specific activities and discussions that focus on your success as a student.
Cub Camp is student-run and student-led, which means that our entire staff is comprised of current UH students, many of whom are former campers! These student leaders have spent the past year planning and preparing to lead you through your first tradition and into your life at UH.
Your time at Cub Camp will be divided four different ways: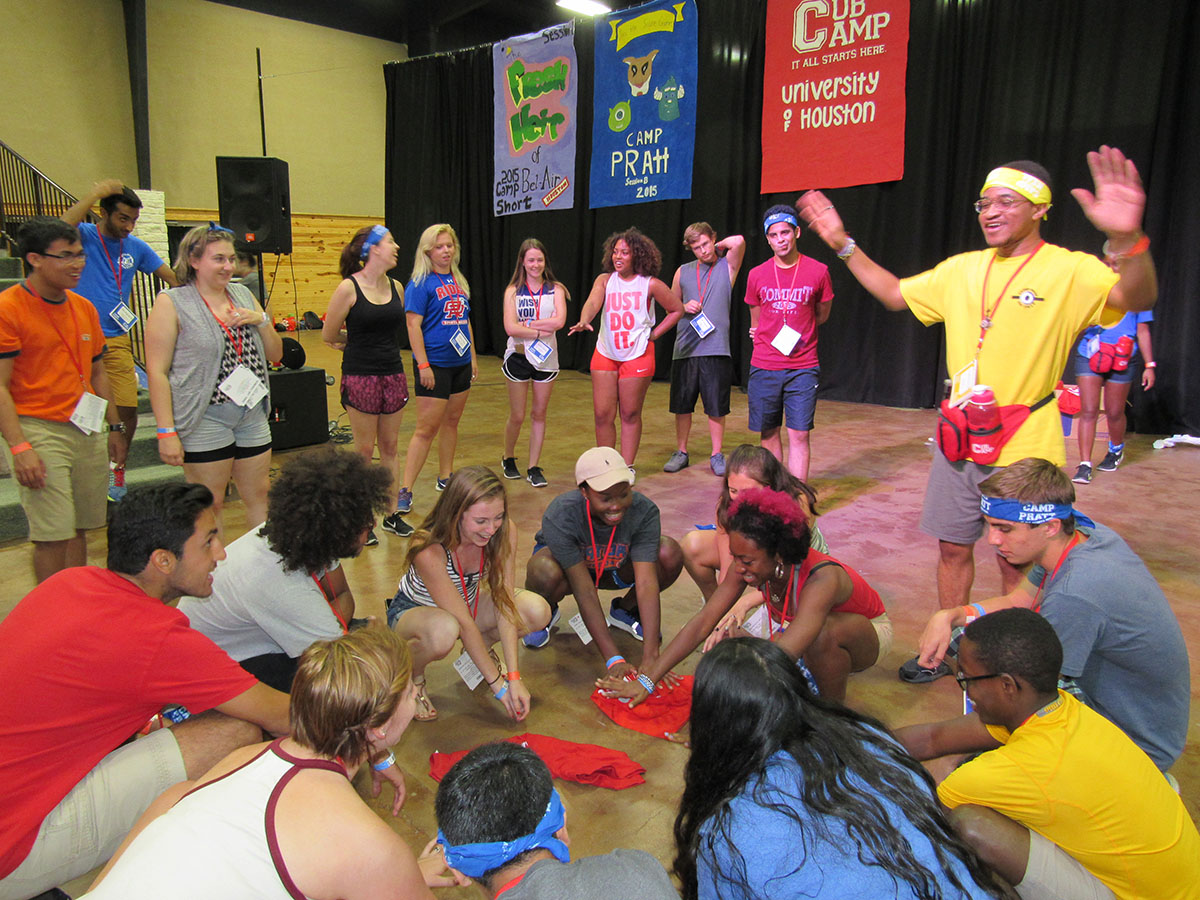 Discussion Groups
You will be assigned to a small group with other campers. Each discussion group (DG) is led by two current UH experts, who happen to also be UH students, and has its own unique vibe. Your counselors will lead your DG through different discussions centered on tips for student success!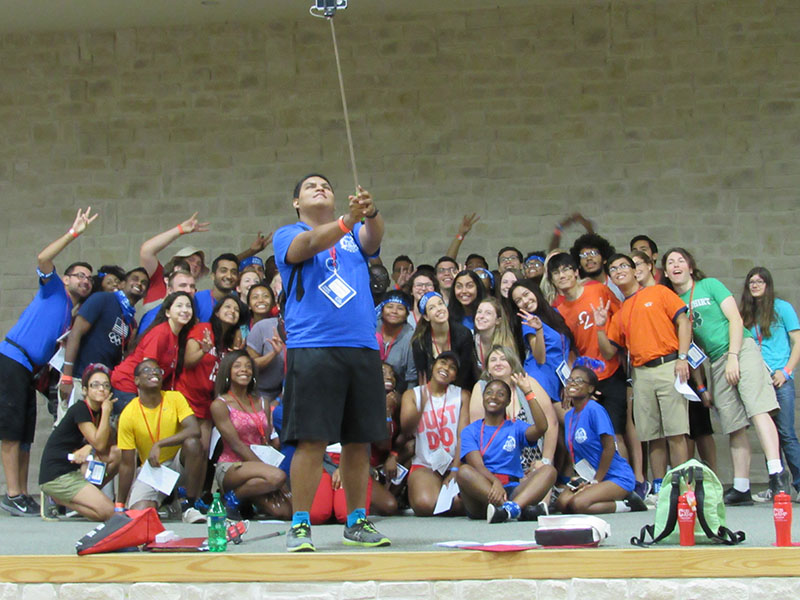 Individual Camps
Each Discussion Group belongs to an Individual Camp. Individual Camps are led by Co-Chairs and Counselors. You will spend the majority of Cub Camp with either Yellow, Purple, Blue, or Green Camp, watching skits, competing in challenges, and participating in discussions. Each Individual Camp has its own unique theme, chants, and Namesake.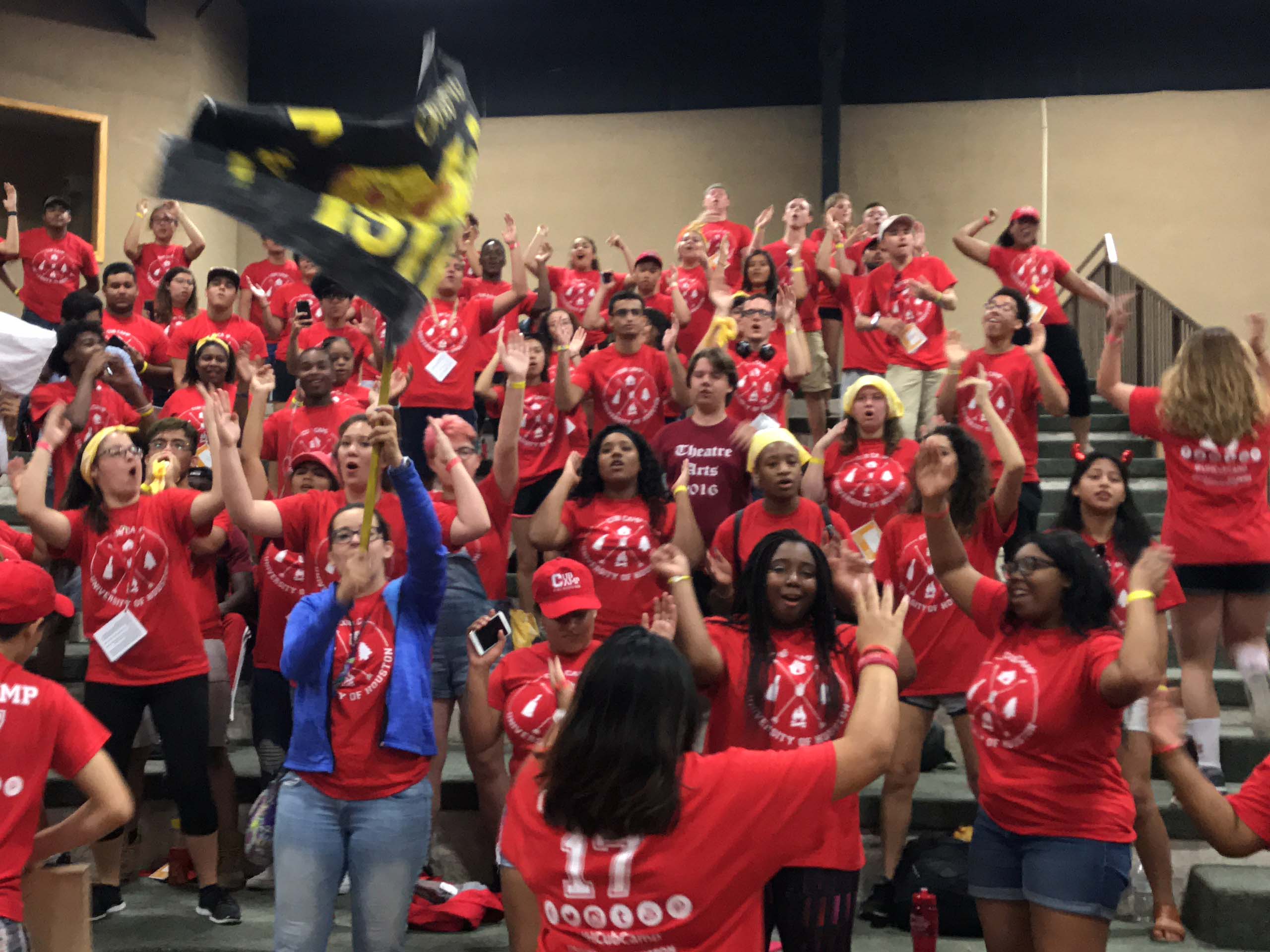 All Camp

Each day of Cub Camp all of the Individual Camps come together for All Camp activities and presentations from on-campus departments at UH. During All Camp times, the activities you will participate in will revolve around the four Cub Camp core values: Spirit, Tradition, Unity, and Growth. These are also times for you to show your pride for your Individual Camp!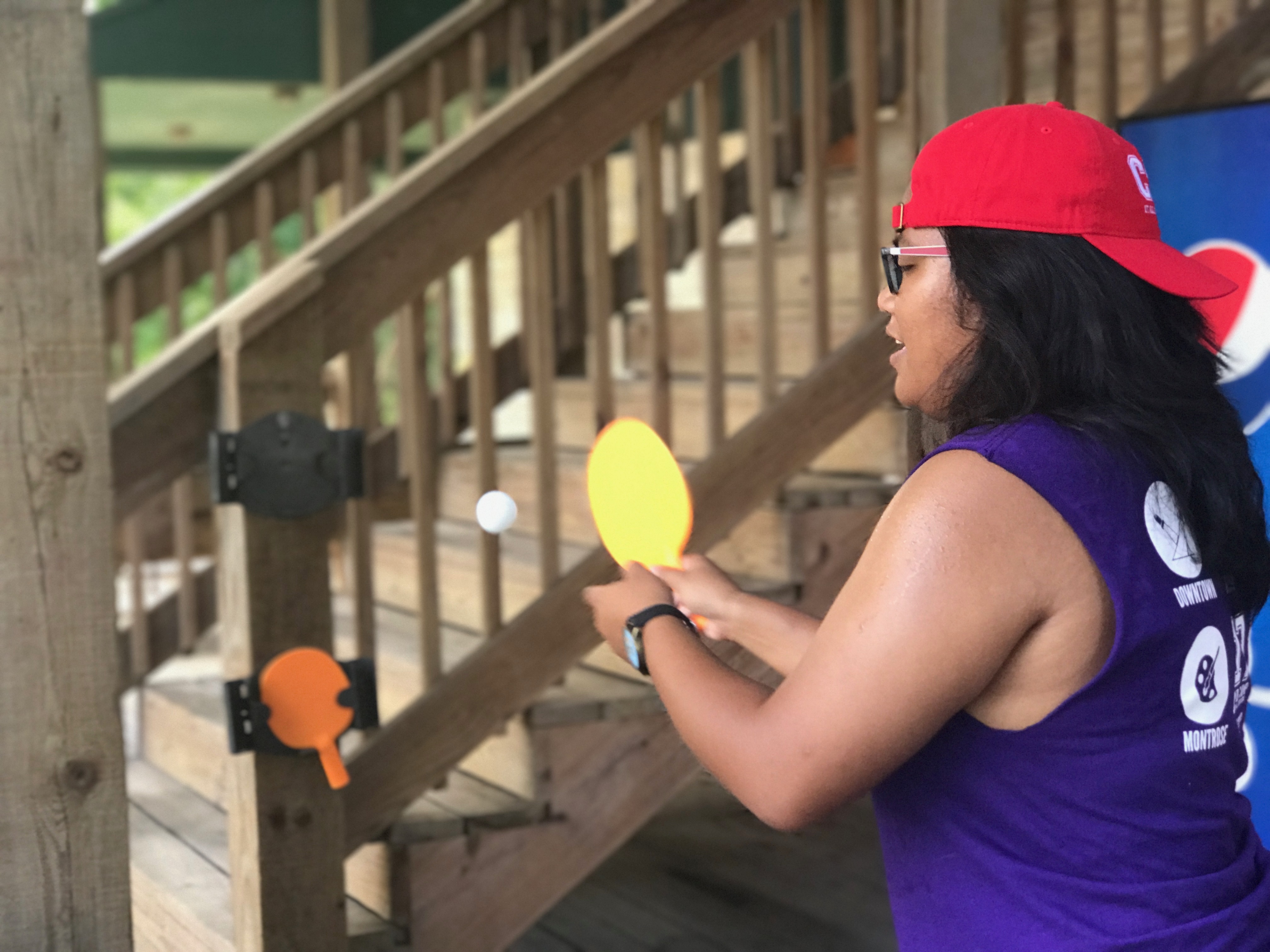 Free Time and Evening Activities

On Day Two of Cub Camp, you will get the opportunity to "choose your own adventure" during Free Time in the afternoon. Each evening of camp, a different activity is provided for campers to relax and hang out after their busy day.
Discover Cub Camp

The UH campus is full of opportunities, with new discoveries to be made around every corner. That is why every moment of Cub Camp is carefully designed to help you find the right resources and build the strongest connections at UH. Discover your next steps at Cub Camp.
Cub Camp Stats:
94% of campers leave Cub Camp feeling proud to be a Coog!
52% of current camp counselors are previous participants
74 student staff members help plan and execute Cub Camp
No matter where your interests lie, you will find something you love at Cub Camp. Check out some of the fun below!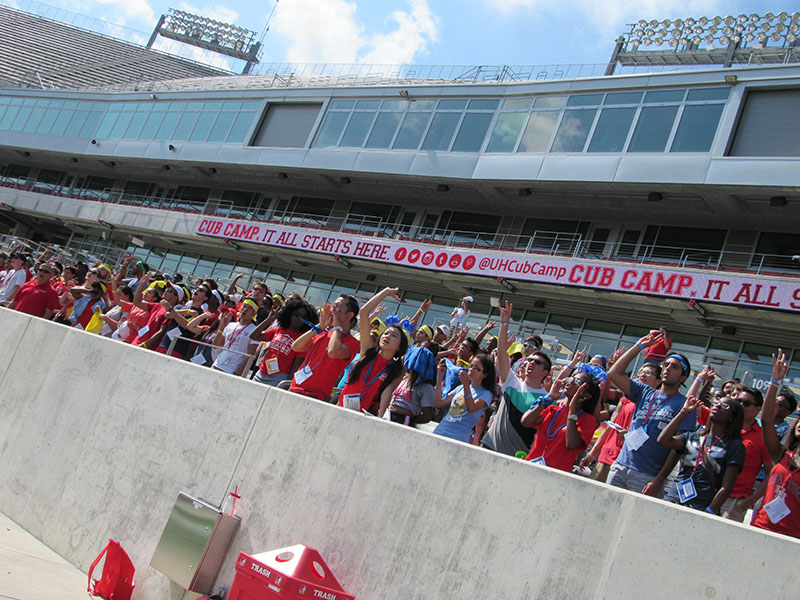 Welcome
Put your Coog Paws up for your first taste of UH spirit! Following your initial Check-in to Cub Camp, we will introduce you to your Counselors and Co-Chairs before leaving for Trinity Pines Conference Center.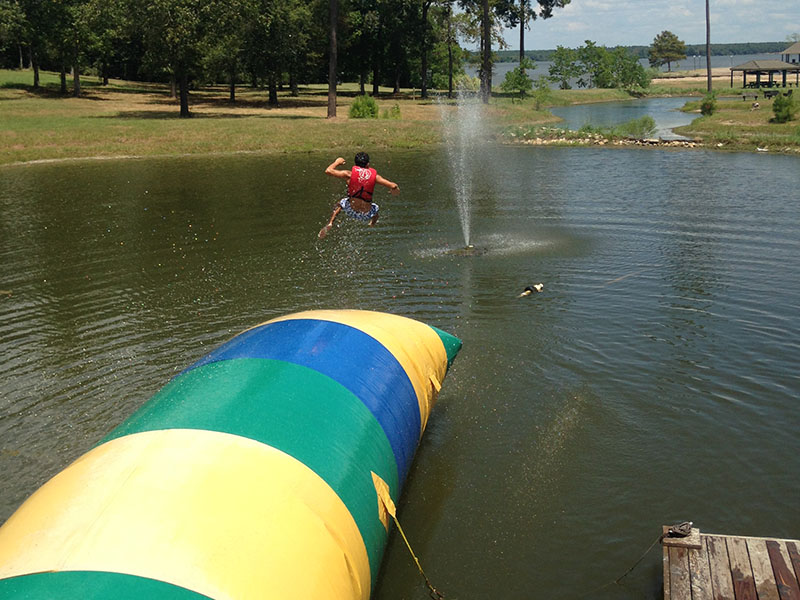 Free Time

Take some time to decompress in your cabin, hit the lake on a kayak, or shoot some hoops- we will have Free Time on Day Two of camp.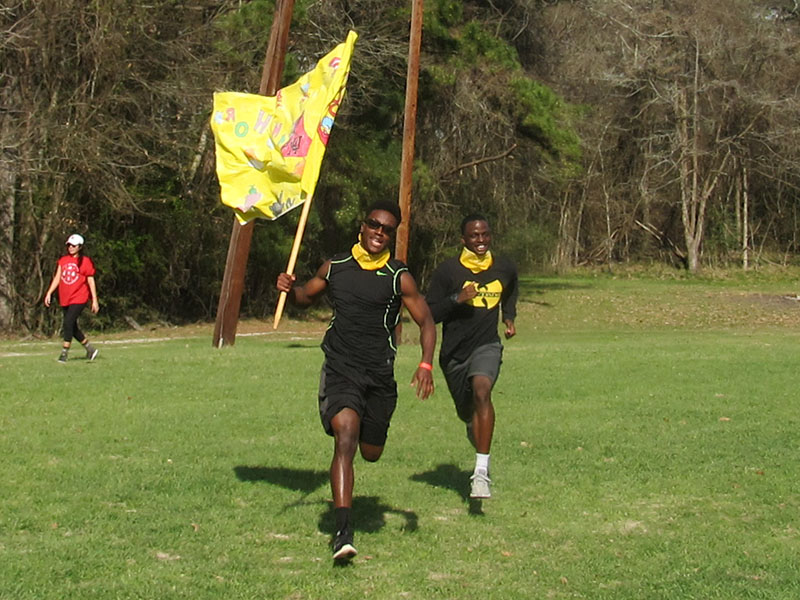 Last Camp Standing

Compete with your camp, and show pride in your camp color, to capture the flags off of the opposing team to be the last camp standing in this fast paced tournament-style game.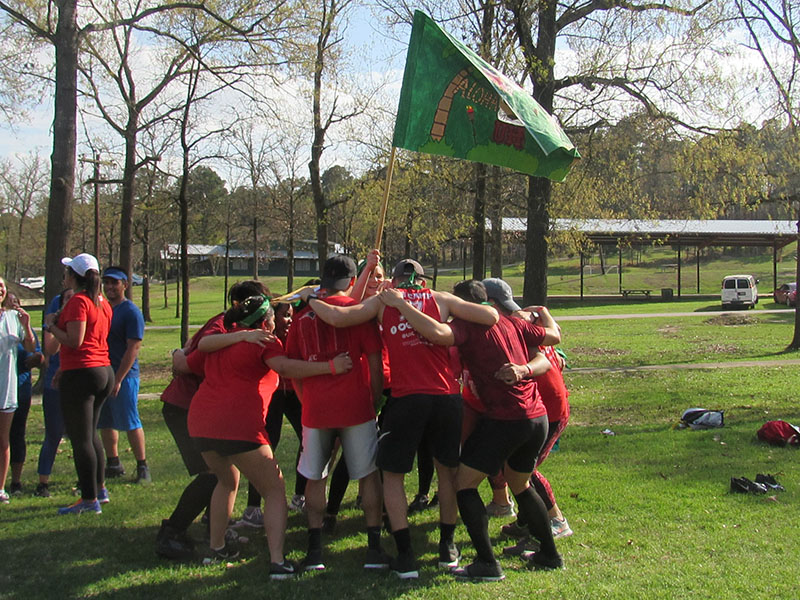 Camp Takeover
Now is your chance to participate in Cub Camp's chant war - yell your loudest but remember to stay on beat!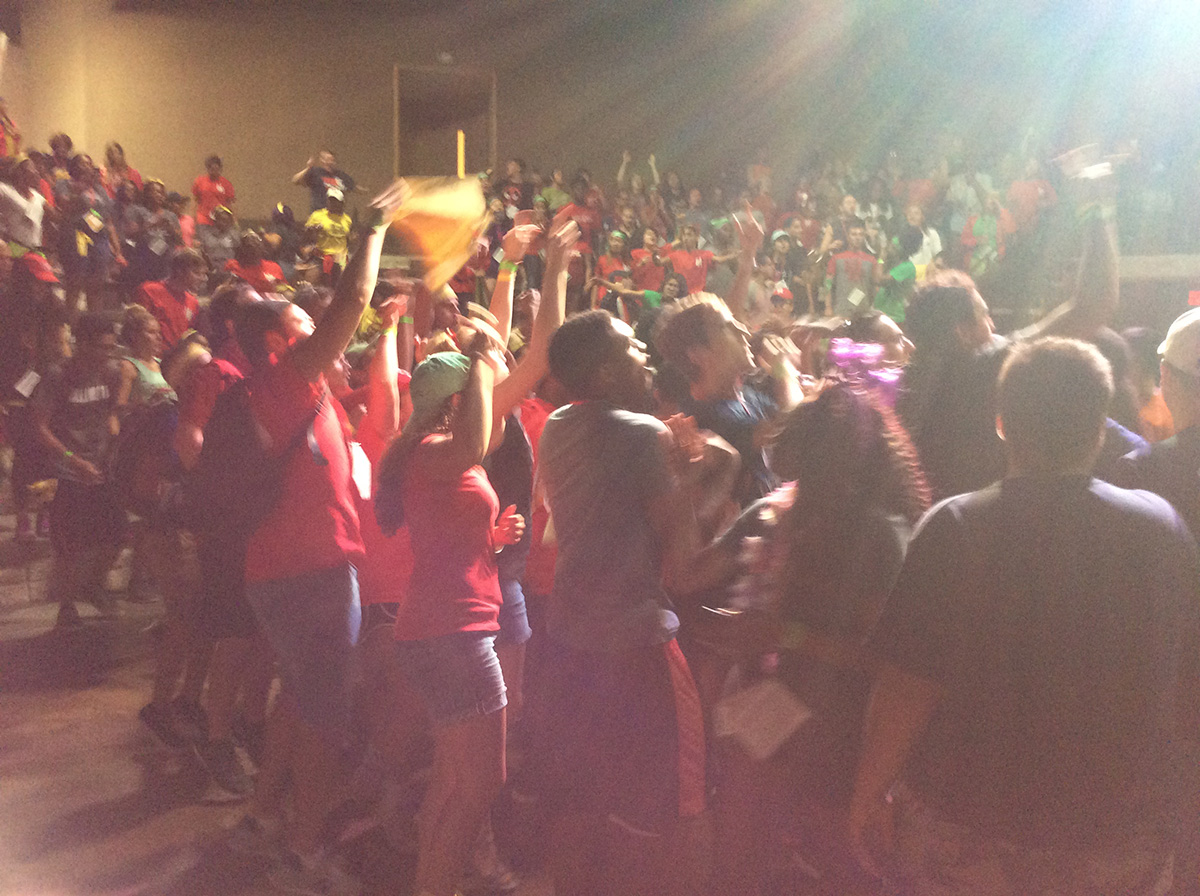 Mixer
Relax with your new friends at the Hometown to H-Town mixer at the end of Day One. We will have dance music, board games, snacks, and more!
Ultimate Coog Games
Inspired by the Amazing Race, Ultimate Coog Games will test your DG's skills of logic, teamwork, athleticism, and perseverance. Each DG will compete to win points for their camp!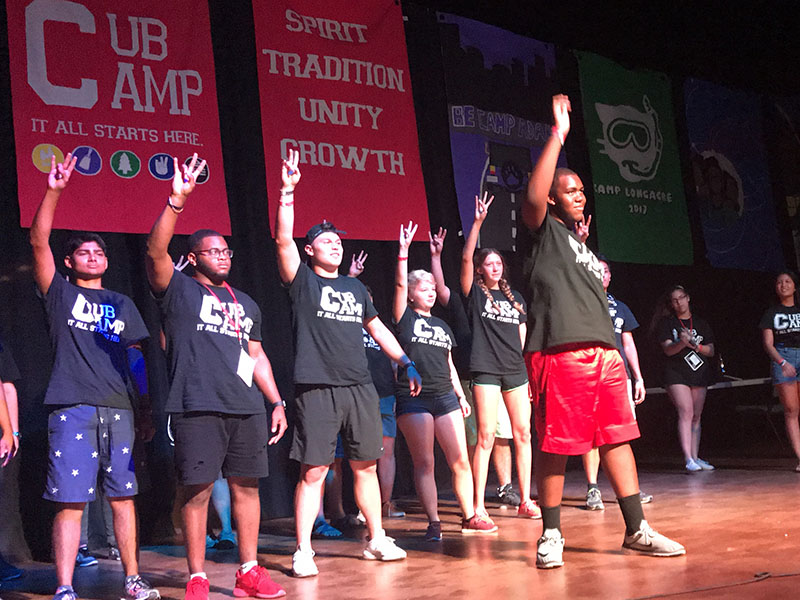 Talent Show
During Cub Camp registration, you will have the opportunity to opt into showcasing your unique skills during the Cub Camp Talent Show. You've put in the hard work, now show it off!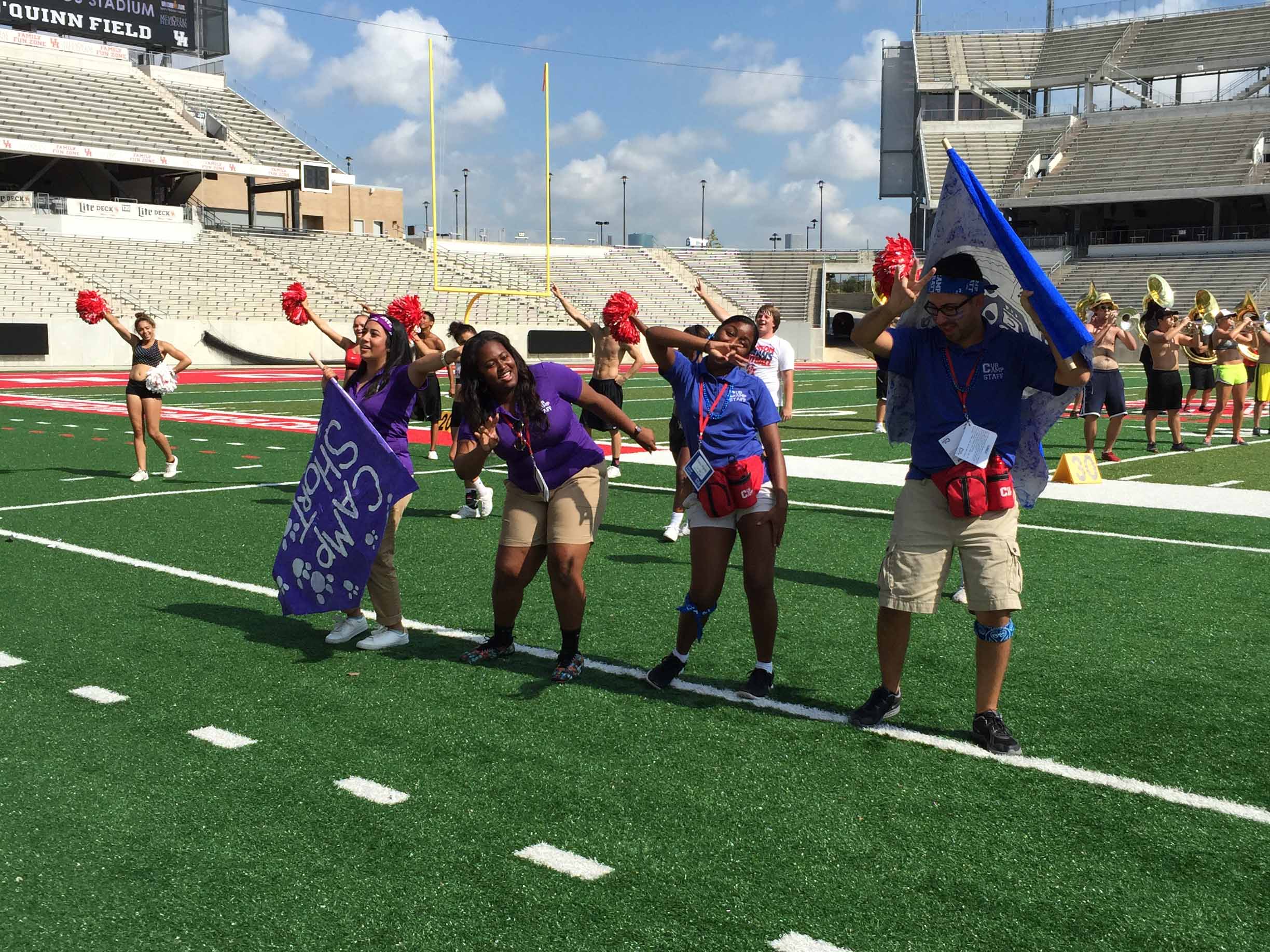 Camp to Campus

Do you have the right mindset to meet all of your goals? Your Co-Chairs can help out with that. On the final day of Cub Camp we discuss how to successfully bring all of the things you learned at camp back to campus and beyond.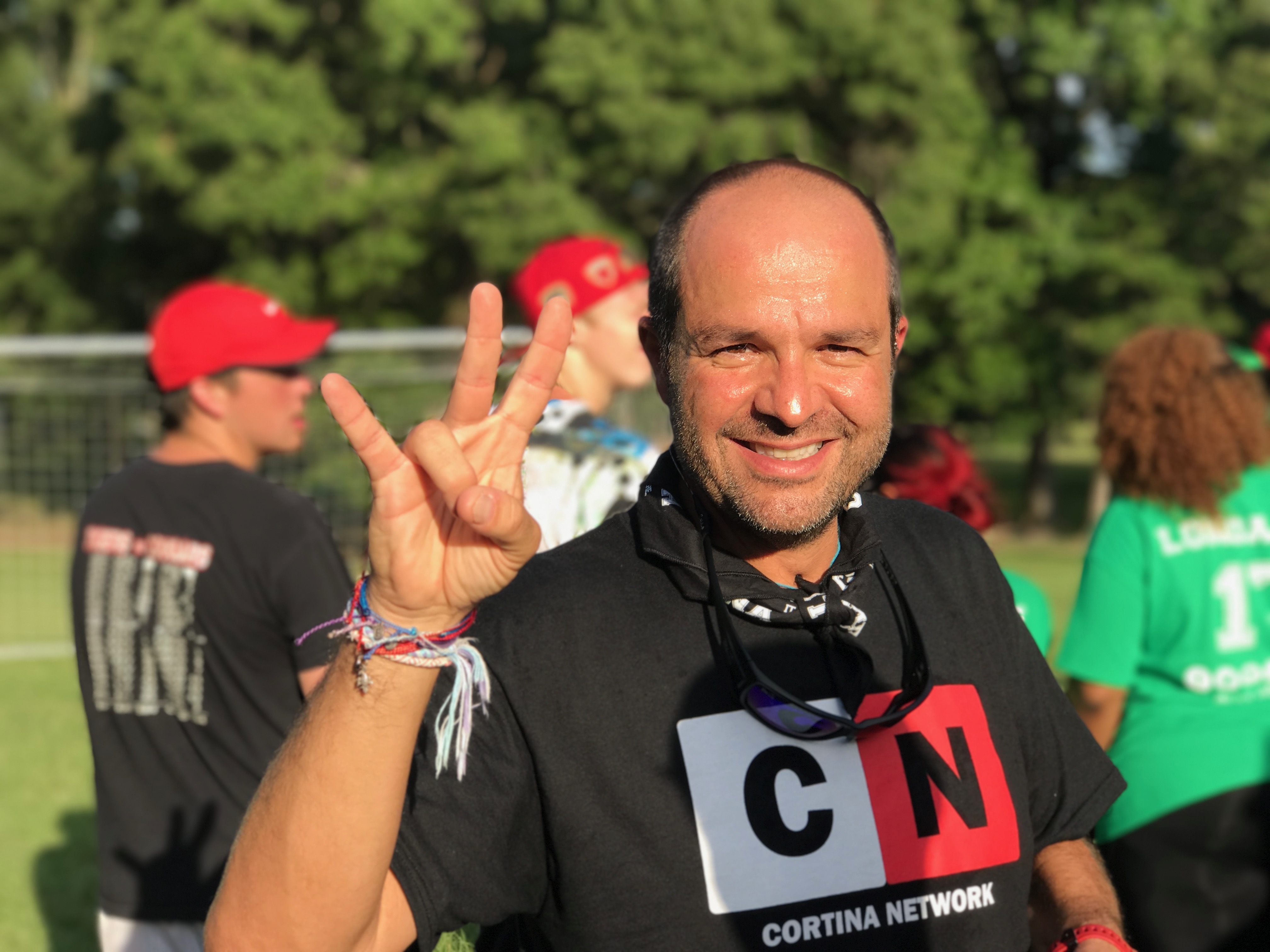 Namesakes
Each Individual Camp is named after a member of the UH faculty, staff, or alumni who has positively impacted the student experience at UH. You will meet your Namesake at camp, where they have the opportunity to participate in all of the Camp activities alongside you.
Find Your Place at Cub Camp

There's no doubt that you belong at UH. Cub Camp is here to help you walk in like you own the campus on your first day. At camp you will meet people who will radically influence the next four years- your new classmates will become your friends and support system, and help shape your experience as a Cougar. During your time at UH you will discover who you are and find places where you truly belong. It all starts here, at Cub Camp!
Don't believe us? See what past campers have to say about Cub Camp:
Namesakes
Namesake Nominations are now closed.
Cub Camp 2021 Namesakes will be announced on Friday, April 16. 
The first year students attending Cub Camp are divided up into four camps (green, yellow, blue, purple) and each camp is led by 2 student Co-Chairs and 12 student Counselors. Every camp is then named after a University of Houston faculty, staff, or alumnus who was nominated by the UH community for going above and beyond to improve the success of our students.
Namesakes have the opportunity to interact with and impact student camp staff and the incoming students in their camp over the course of the year and attend camp in August! Current students or members of the UH community may nominate a faculty member, staff member or alumnus as a way to honor the passion and dedication these individuals have for the Red and White!

Eligibility requirements: Current UH faculty and staff and UH alumni who are at least three years post-graduation are eligible. Previous Namesakes and current students will not be included for consideration.

Each year, the Cub Camp Executive Team will review nominations and make Camp Namesake selections according to the criteria listed on the nomination form.
2020 Namesakes:
George Hill | Morgan Meeks | Hope Pacheco | Tina Powellson
2019 Namesakes:
Andrew Hamilton | Raven Jones | Floyd Robinson | Richard Walker
2018 Namesakes:
Charles Haston | Catherine Horn | Keith Kowalka | Paula Mendoza
2017 Namesakes:
Leanica Adams | Jeronimo Cortina | Jeff Fuller | Teri Longacre | Rebeca Trevino
2016 Namesakes:
Danny Arocha | Ann Oliver Cheek | Malachi Crawford | Jared Gogets
2015 Namesakes:
Descripción de Cub Camp
Tu Primera Tradición- 17-19 de Agosto
Somos un programa de primer año orientado a mostrar una transición exitosa para los nuevos Coogs conforme a la tradición de Texas de otorgar la bienvenida a los estudiantes de primer año a través de retiros opcionales fuera del campus. El Cub Camp proporciona además una orientación obligatoria para los nuevos estudiantes. Este retiro de tres días y dos noches está diseñado para prepararlos para su transición a la Universidad de Houston (UH).
El Cub Camp está orientado hacia los estudiantes y es dirigido por los estudiantes. Esto significa que sus compañeros han participado en una experiencia de campamento, han capacitado a otros estudiantes de UH para dirigir actividades, entablar grupos de discusión, y están listos para brindar apoyo en cada etapa de su transición a UH. El estudiante podrá participar en todas las actividades típicas de un "campamento de verano", tales como deportes acuáticos, juegos intelectuales, y descansos en la piscina, pero con un toque de UH y un enfoque en el éxito estudiantil.
Haga nuevos amigos, obtenga una comprensión más profunda de las tradiciones y el espíritu de UH y aprenda cómo alcanzar el éxito en la universidad. Todo comienza aquí, en el Cub Camp.
La inscripción para Cub Camp 2020 se abrirá en abril aqui. ¡El cupo es limitado, así que inscríbase lo antes posible! El costo de Cub Camp no es reembolsable y se agrega directamente a la factura de matrícula y otros cargos.
El 96% de los estudiantes que han participado en anteriores Cub Camps regresan a UH después de su primer semestre.
El Cub Camp está orientado hacia los estudiantes y es dirigido por los estudiantes. Nuestro personal está capacitado para ayudar a los nuevos Coogs a conectarse con sus nuevos compañeros e informarse de los recursos disponibles en el campus.
¡El 92% de los participantes terminan el Cub Camp sintiéndose orgullosos de ser un Coog!