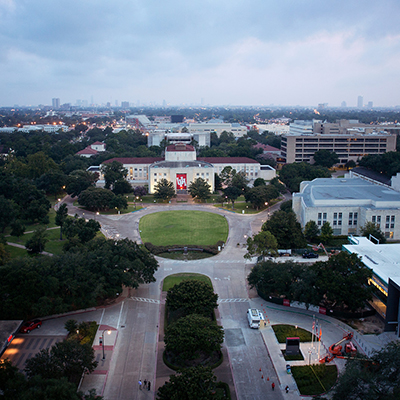 Please read below for orientation information and answers to some Frequently Asked Questions.  
Orientation Information
Date: Tuesday, August 13, 2019
Time: 9:00 am - 4:00 pm
New Faculty Orientation (NFO) will provide you with critical information, advice on tapping resources to support teaching and research, guidance on promotion and tenure, and key introductions to UH contacts and sources. Please plan to be with us from 9:00 am to 4:00 pm. The NFO Day begins with a continental breakfast (9:00 am - 10:00 am) and ends with a Resource Partner Networking Session from 2:30 to 4:00 PM featuring 20 resource partners from around campus that will help support your needs as a new faculty member. All of these resources/opportunities are very rarely all gathered together in one place on campus for easy access, so please take time to meet these important resources (from Blackboard, Center for Students with Disabilities, Writing Center, Division of Research, Undergraduate Student Success Center, Faculty and Departmental Instructional Support, and the Faculty Senate just to mention a few).
Date: Wednesday, August 14, 2019
Time: 10:00 am - 12:00 pm and 12:30 pm - 2:30 pm (optional classes)
You will spend the morning meeting with colleagues from your new department and/or college to orient you to departmental and college specific processes, including expectations and advice on successfully navigating the promotion and tenure process if you are on the tenure-track, or, if you are on the non-tenure track the promotion process leading to a renewable employment agreement at UH. In the afternoon, participation in optional training opportunities include: a new faculty employee health and retirement benefits Q&A session provided by Office of Human Resources, and information on the latest instructional design and educational technology resources available to you in preparing for your classes.
Date: Thursday, August 15, 2019
Time: 5:00 pm - 7:00 pm
The Provost will host a Fall Faculty Welcome Reception during the early evening hours. You will receive a separate RSVP for this event by email closer to the date.
Location and Parking Directions:
Hilton University of Houston, Conrad Hilton ballroom. Please park in the garage of the hotel and request a parking validation at the orientation registration desk.
Frequently Asked Questions
Who should attend?
All new full-time faculty with an effective start date between January 1, 2019 and September 1, 2019 are expected to attend.
Is registration required?
Yes, you must register to attend using the online registration form. You will receive an email confirming your registration.
When may someone register?
Please register as soon as you electronically sign your offer letter in Taleo.
What is the registration deadline?
August 1, 2019.
Will breakfast/lunch be provided?
Yes. A continental breakfast and a buffet lunch are provided, both include vegetarian options. Should you have other dietary restrictions, please include them in the online registration form.
What is the attire?
Casual business attire is recommended. A jacket is not required, however, a light jacket is highly recommended since some of the meeting rooms are chilly.
Are children allowed?
As this is an all-day business event, please make appropriate child care arrangements in advance. 
Whom should I contact with Orientation questions?
If you have any questions, please feel free to contact Casey Monigold at 713-743-7809 or by e-mail at fed@uh.edu.