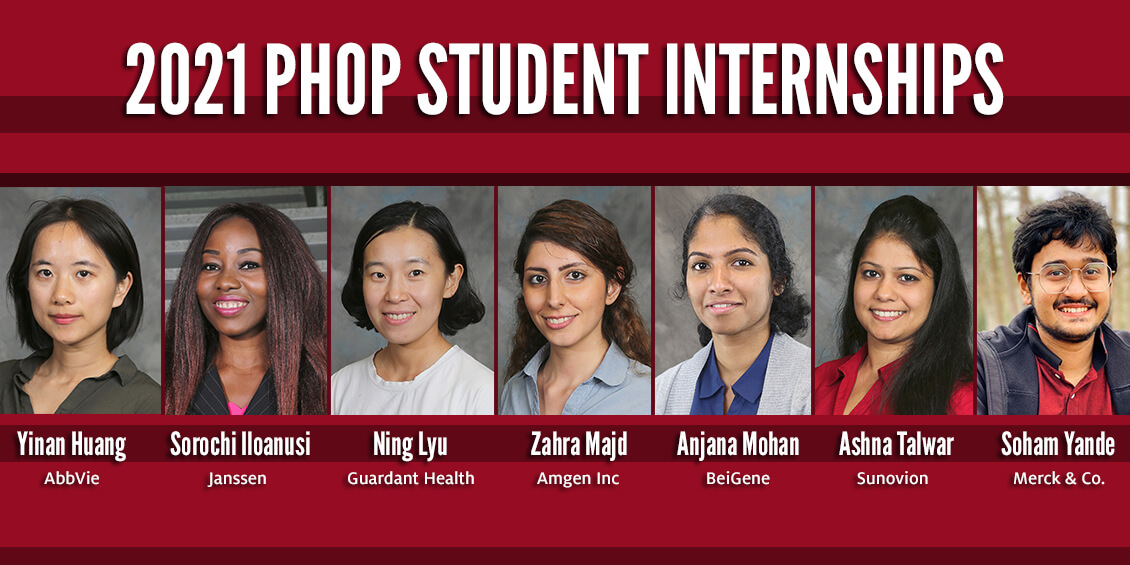 Record-breaking PHOP Cohort Secures Pharmaceutical Industry Internships
June 15 — A record-breaking seven Ph.D. students in UH College of Pharmacy's Pharmaceutical Health Outcomes and Policy (PHOP) doctoral degree program have secured summer research internships in the pharmaceutical industry.
"This new record is a testament to the high quality of our students, from the breadth of their knowledge and skill sets to their eagerness to learn more and make valuable contributions to the host organizations in the area of health economics and outcomes research," said Rajender R. Aparasu, Ph.D., FAPhA, professor and chair of the PHOP department.
The Ph.D. program students and their internship sponsors are:
Yinan Huang – AbbVie;
Sorochi Iloanusi – Janssen Pharmaceuticals Inc.;
Ning Lyu – Guardant Health;
Zahra Majd – Amgen Inc.;
Anjana Mohan – BeiGene;
Ashna Talwar – Sunovion Pharmaceuticals Inc.; and
Soham Yande – Merck & Co.