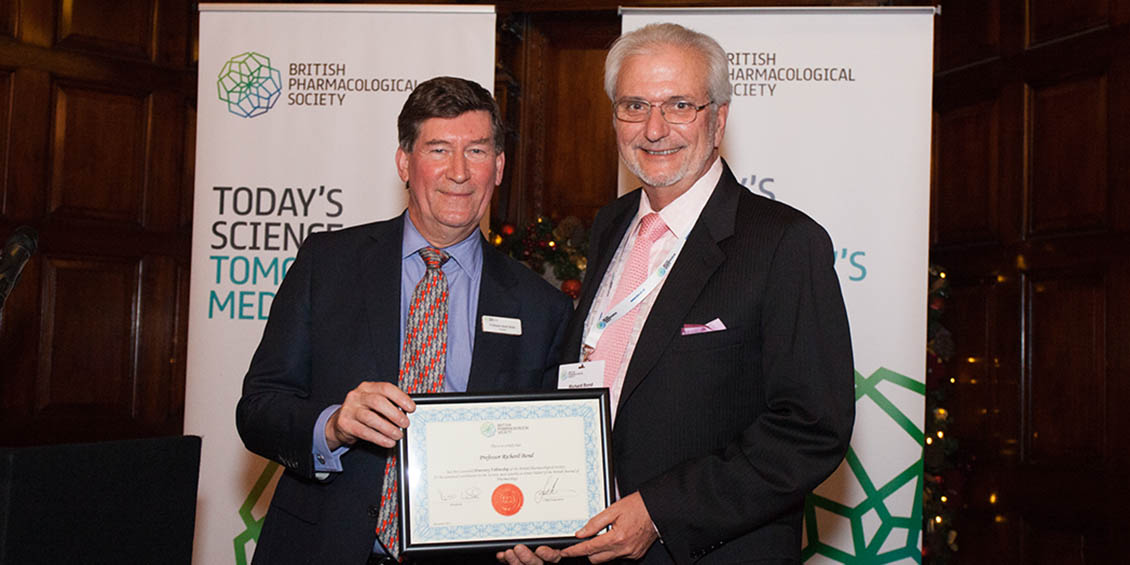 Honorary Fellows
UHCOP Professor and Two-time Alumnus Bond, Adjunct Associate Professor Giles Earn British Pharmacological Society's Highest Honor
Two UH College of Pharmacy faculty members - Richard A. Bond, Ph.D., professor of Pharmacology, and Heather A. Giles, Ph.D., adjunct associate professor of Pharmaceutics - have been recognized as Honorary Fellows of the British Pharmacological Society, the organization's highest honor.
Bestowed at the organization's annual meeting Pharmacology 2017 Dec. 11-13 in London, Honorary Fellows are distinguished for their sustained leadership role in science and must be nominated by a member.
Recognized as a Fellow of BPS in 2016, Bond is a two-time alumnus of UHCOP, having earned a B.S. in Pharmacy in 1983 and a Ph.D. in Pharmacology in 1988. With funding support from the National Institutes of Health and other organizations, Bond's research on beta blockers (beta 2 adrenergic agonists) in asthma has been published in such journals as Nature, Science, the Proceedings of the National Academy of Sciences, and the British Journal of Pharmacology (BJP, one of the two official scientific publications of the Society).
In addition to being a longtime member of the society, Bond served as an editor and senior editor of BJP for a total of 10 years and attended all but one of the society's past 21 annual meetings.
"I was extremely honored, and initially thought that perhaps there had been a mistake in giving me the honor compared to the achievements of others," Bond said. "It was also extremely gratifying to be accompanied by my Ph.D. mentor, Professor David Clarke, a former faculty member and department chair of UH College of Pharmacy, and to be inducted along with my longtime colleague Heather Giles."
After joining Houston-based Vapogenix Inc. as chief scientific officer in 2009, Giles was appointed as the company's interim president and chief executive officer. Vapogenix is a clinical stage company developing a new class of non-narcotic analgesics for localized pain.
After earning a Ph.D. in Pharmacology from the University of London, Giles joined the Wellcome Research & Development team working under the late Sir James Black, Ph.D., considered the "Father of the Beta Blockers" and a longtime friend, mentor and colleague of both Giles and Bond. Her more than 20 years in research and strategic leadership experience also includes positions at GlaxoWellcome, GlaxoSmithKline, and Encysive Pharmaceuticals.
A longtime member of the society, Giles also has served as editor of BJP and a board member of the Society.