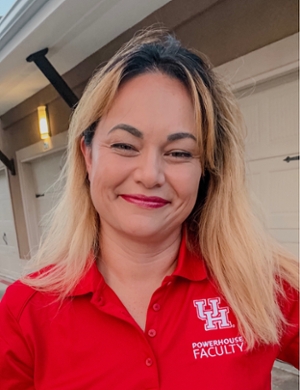 Andrea Brooks, PhD, RN, PPCNP-BC
Traditional BSN Track Manager / Clinical Assistant Professor
PhD Texas Woman's University | May 2017
Nursing Education Certification (Post-Master's Certificate) Texas Woman's University | May 2012
PPCNP-BC (Pediatric Nurse Practitioner) Texas Woman's University | May 2006
MSN Texas Woman's University | May 2006
BSN University of Texas Medical Branch of Galveston | April 2001
Email: anbrooks2@uh.edu
Phone: 832-842-8213
Office Hours
Monday: 2-3 p.m.
Wednesday: 2-3 p.m.
Clinical Interest
Pediatric Nurse Practitioner, Promotion of Newborn, Infant, Child, Adolescent, and Family Health
Research Interest
Child Abuse Prevention, Parenting, Racial Disparities, Social Determinants of Health, Nursing Education
Professional Expertise
Practicing Pediatric Nurse Practitioner, Graduate education advanced practice nursing courses, Undergraduate education nursing courses
Professional Accolades
2021 Cougar Chairs Leadership Academy graduate, University of Houston, 2020 Bronze Medalist Award for Nursing Faculty, Good Samaritan Foundation, Houston, TX, 2015 Faculty Excellence Award, National Institute of Staff and Organizational Development
Publications
Brooks, A.N., McFarlane, J.  (2017).  A literature review: Qualitative studies of women parenting during abuse.  Nursing Forum.  doi: 10.1111/nuf.12230
Seay, A.N., Freysteinson, W.M. & McFarlane, J. (2014).  Positive parenting.  Nursing Forum, 49 (3), 200-208. doi: 10.1111/nuf.12093
Seay, A.N. (2014).  A Child's Story.  American Journal of Nursing, 114 (7), 72.
Grants
COVID-19 Pandemic and Rural Communities of Color: Examining the Impact of Race, Healthcare Accessibility, and Health Literacy in Waller County Texas
Role: Co-Investigator
Funding Source: Prairie View A&M University Internal Grant
Racism, Resilience and Quality of Life in Stroke Survivors: A Mixed-Methods Study
Role: Co-Investigator
Funding Source: University of Houston Chancellor Renu Khator's "Grants to Enhance Research on Racism"
UH Nurse Managed Telehealth Clinic at the Emergency Aid Coalition
Role: Collaborator
Funding Source: Humana