Book Examines the UH teachHOUSTON STEM Teacher Preparation Program
Cheryl J. Craig, professor and Houston Endowment Endowed Chair of Urban Education at Texas A&M University, Paige K. Evans, clinical professor and associate director of the University of Houston teachHOUSTON program, and Donna W. Stokes, professor of physics and associate dean for undergraduate affairs and student success at UH College of Natural Sciences and Mathematics, recently published a book, Preparing Teachers to Teach the STEM Disciplines in America's Urban Schools.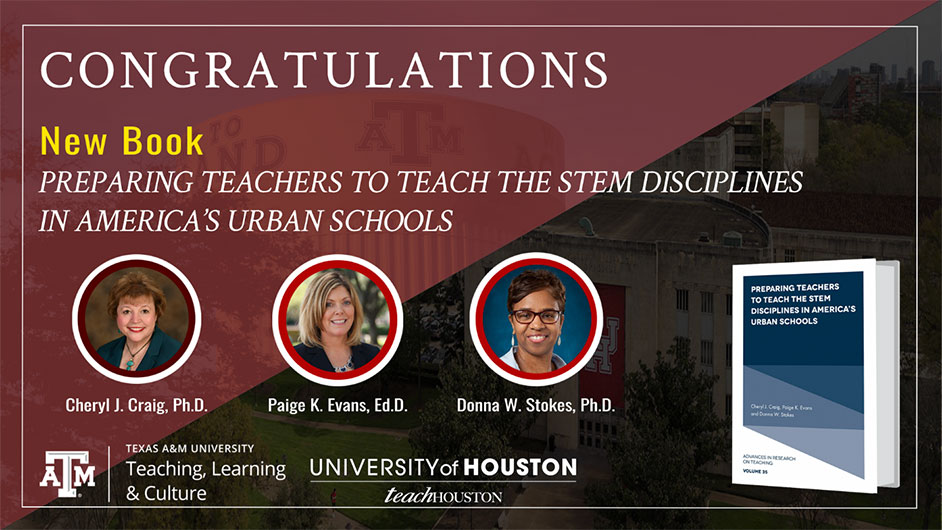 The volume contains 12 chapters that provide a systematic investigation of how prospective STEM educators are cultivated to be subject matter specialists and culturally relevant teachers. Several of the chapters are authored by additional members of the teachHOUSTON faculty and UH STEM discipline faculty.
"This book is a comprehensive view of teachHOUSTON, UH's secondary STEM teacher preparation program. Since 2007, teachHOUSTON has prepared 415 teachers through ongoing field-based teaching experiences and research-based instruction," Evans said. "We address how the program has evolved over time."
Through several National Science Foundation grants, teachHOUSTON has expanded and improved STEM teacher preparation. Craig, Evans and Stokes examine the influence of NSF-funded STEM scholarships on the careers and lives of teachHOUSTON graduates and take a look at the success rate of these teachers.
"We also address the influence of parents, teachers and professors on the preparation of STEM teachers and how internships in summer institutes serve as professional development of pre-service STEM teachers," Stokes said.
The book, published by Emerald Publishing Limited, is available through various online booksellers.
Commentary on Book from Educational Leaders
"This is a remarkable book, a must read for everyone interested in STEM teacher education, science educator-scientist collaborations, teaching science as inquiry, and formal and informal learning."
Zongyi Deng, Professor of Curriculum and Pedagogy 
UCL Institute of Education, University College London
"The suite of topics addressed in this volume is extensive and informative, making this book essential to those wanting to develop or enhance a STEM teacher education program."
Sherry Southerland, Anne & John Daves Professor of Science Education
Director, School of Teacher Education
Florida State University, Tallahassee, Florida