Recognized for Research in Superconductivity, Waste Heat Conversion to Electricity and Solar Energy Conversion
Zhifeng Ren, director of the Texas Center for Superconductivity at the University of Houston and M.D. Anderson Chair Professor of physics at the UH College of Natural Sciences and Mathematics, has been elected a Fellow of the Materials Research Society (MRS).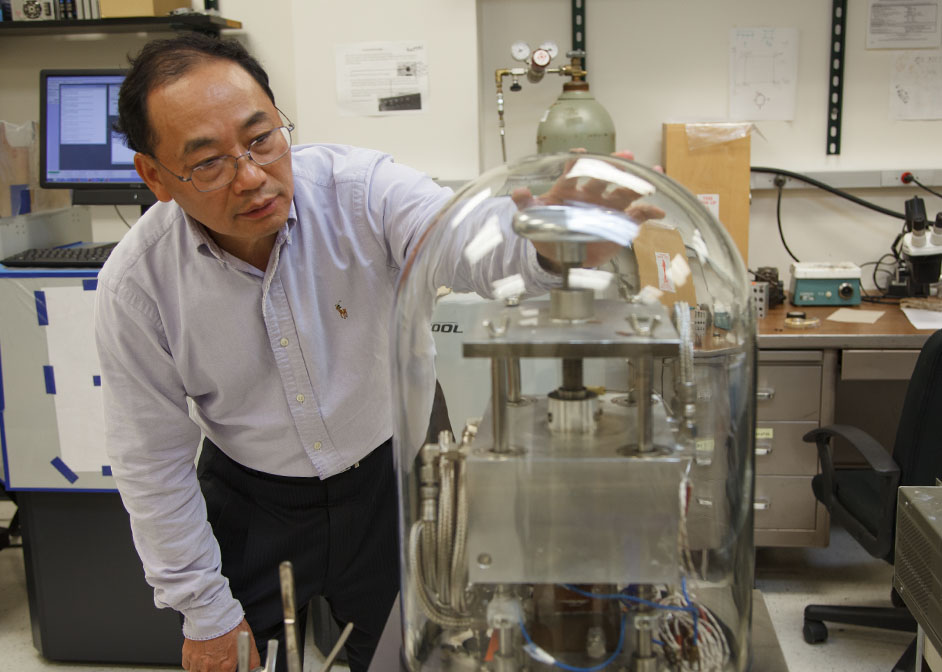 Ren was recognized by the MRS "for pioneering contributions to superconducting electron pairing symmetry, alignment of carbon nanotubes, thermoelectric property enhancement by nanostructuring, water electrolysis catalysts, boron arsenide crystals with high thermal conductivity and carrier mobility."
"I am very humbled to be honored as an MRS Fellow," said Ren. "This honor exemplifies my life's work and dedication to research."
MRS is recognized as the premier professional society in materials science.
"The title of MRS Fellow honors those MRS members who are notable for their distinguished research accomplishments and their outstanding contributions to the advancement of materials research," said Sabrina Sartori, 2023 MRS president.
Additionally, Ren has been honored with the Materials Science Leader Award for 2023 from Research.com, a leading academic platform for researchers. In the 2023 edition of its Ranking of Best Scientists in the Field of Materials Science, the website ranked Ren 68th in the United States and 140th in the world.
Ren's work has been published in a number of science publications including Science, Nature, Proceedings of National Academy of Sciences, Advanced Materials, Energy & Environmental Science, Advances in Physics, Journal of the American Chemical Society and Materials Today.
Advancements in Thermal Conductivity
Over the years, Ren's research has focused heavily on thermal conductivity, the measure of a material's ability to conduct heat, at either very low for better thermoelectric performance or very high for better thermal management.
"We're trying to create a novel material that can dissipate heat very quickly," said Ren.
Ren said this would prolong the life of computers, which produce a significant amount of heat.
"It would be more beneficial to have materials with high thermal conductivity to help maintain the equipment and its peak level of performance," said Ren.
Ren is exploring production of a material believed to have a high level of thermal conductivity.
"We started attempts to make the same high thermal conductivity material that we first realized through the calculations of Professor David Broido, my former colleague at Boston College," said Ren. "We wanted to grow single crystals to maximize the rate of thermal conductivity."
Award-Winning Career in Research
Ren is one of 17 people recognized as an MRS Fellow this year. He is the only professor from the Houston area to earn this recognition for 2023.
Over his career, Ren's work has been widely recognized by numerous organizations, including the American Physical Society, the American Association for the Advancement of Science, and the National Academy of Inventors. He was also ranked 49 out of the world's top 100 materials scientists for the decade, 2000-2010.
Ren joined all 2023 MRS Fellows in San Francisco where they were recognized at the 2023 MRS Spring Meeting, held April 10-14.
- Chris Guillory, College of Natural Sciences and Mathematics