Event was May 11 at Hofheinz Pavilion
Congratulations to our graduating physics majors! The Department of Physics wishes them good luck in their future endeavors.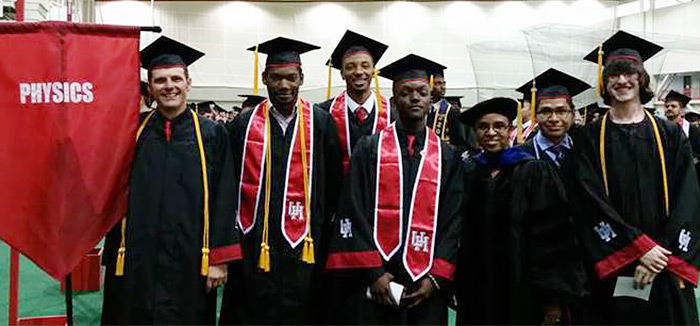 The Convocation for all graduates of the College of Natural Sciences and Mathematics was held on May 11, from 7-9 pm, in Hofheinz Pavilion at the University of Houston.
Pictured from left: Physics banner bearer Brian McElhenny, Yurum Fernandes, Rodney Helm, Ashton Hunter, Physics Undergraduate Academic Faculty Advisor Donna Stokes, Fernando Lopez, and Levi Walker.
Graduates not pictured: Erol Gulunay, Richard Kuchenbecker, Federico Paredes, Alec Perez, and Morgan Rosendahl.