Ignatiev Elected to Kazakhstan Academy of Science

Honor Presented During the IV Astana Economic Forum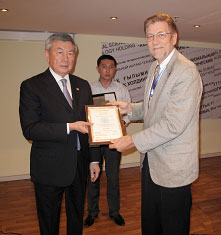 Academy President, the Honorable N. Abykayey (left), presents the Kazakhstan National Academy of Sciences certificate of election to Ignatiev.
University of Houston (UH) faculty members are being recognized worldwide as leaders in their fields, and Alex Ignatiev is no exception. Ignatiev, director of UH's Center for Advanced Materials, is a newly elected member of the Kazakhstan National Academy of Sciences.
The Academy recognized Ignatiev for his long-standing work in materials research and thin film science with specific acknowledgment of his recent efforts in alternative energy technologies for the future including fuel cells, solar cells and energy from space.
The honor was presented in May during the IV Astana Economic Forum, held in the new capital city of Kazakhstan. Ignatiev was invited to speak on alternative energy possibilities for Kazakhstan's future.