Chemistry Faculty Involved in New Interdisciplinary Project
In today's fast-paced world, convenience often comes packaged in plastic, from shopping bags to food containers, not to mention the seemingly endless supply of plastic water bottles. This useful, lightweight, low-cost material is an undeniable part of our daily lives, but it comes at a staggering cost to the environment.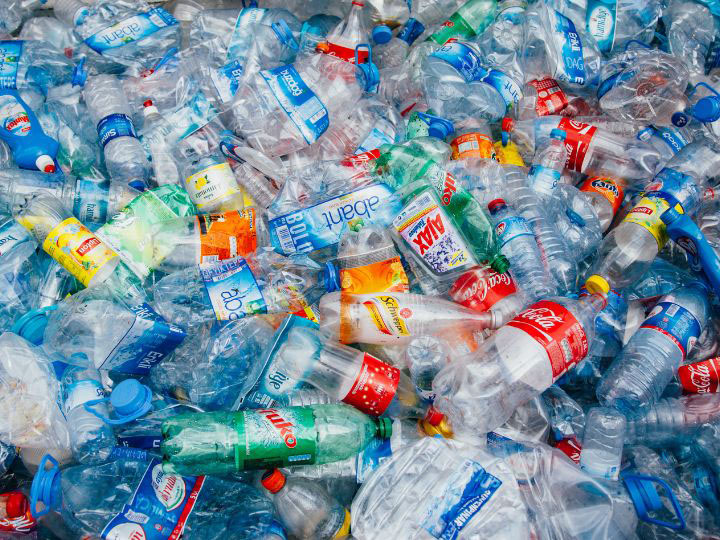 A new interdisciplinary research project underway at the University of Houston, funded by a $4 million grant from The Welch Foundation's new Catalyst for Discovery Program, aims to develop innovative chemical processes to transform plastic waste into useful materials.
Houston, home to the largest concentration of petrochemical and plastics manufacturing facilities in the world, uniquely positions UH – a premier research institution – to explore innovative recycling/upcycling technologies to help the world achieve sustainability goals and establish a circular plastics economy.
"More than 60% of plastics produced in the U.S. are polyolefins, such as polyethylene and polypropylene, which are extremely slow to biodegrade," said Megan Robertson, project director and professor of chemical engineering at UH's Cullen College of Engineering. "We are creating new ways to reuse and recycle that waste to make useful products and materials out of it."
According to the World Economic Forum, the United States only recycled about 6% of the 40 million tons of plastic waste it generated in 2021. Around the world, about 400 million tons of plastic waste is produced each year. Much of it ends up in landfills, oceans and natural habitats, negatively impacting the environment, human health and wildlife.
Diverse Team with Expertise in Polymer Synthesis, Polymer Physics and Materials Science
"We're tackling a complex problem that needs a diverse team with a wide range of expertise in polymer synthesis, polymer physics and materials science," said Olafs Daugulis, the Robert A. Welch Chair of Chemistry at UH. "The chemists on the team will lead the development of unique polyolefins with new material properties and functions, while the chemical engineers will study their physical behavior and properties, such as strength and adhesion. This knowledge is crucial for creating new materials that can be recycled and reused more effectively."
By bringing together this array of expertise, the team at the forefront of this effort is working to create lasting change. Joining Robertson and Daugulis on the research team are Ramanan Krishnamoorti and Alamgir Karim from the William A. Brookshire Department of Chemical and Biomolecular Engineering at the Cullen College of Engineering, and Maurice Brookhart and Brad Carrow from the Department of Chemistry at the College of Natural Sciences and Mathematics. This project will be conducted in collaboration with UH's Energy Transition Institute, which is built on three core pillars – carbon management, hydrogen and circular plastics.
Plan of Attack
The team will tackle the challenges with polyolefins through a three-pronged approach: value-added recycling, upcycling plastics and enabling their circular reuse.
Value-added Recycling: Recycling mixed plastics is a notoriously difficult and costly process. The researchers are developing a game-changing solution by creating modular "compatibilizers" - special polymers or molecules that can blend different types of plastic waste that otherwise do not want to mix. The compatibilizers can be designed to work with the diverse plastic waste streams that may enter a recycling facility and can change on a day-to-day basis. This innovation will streamline the recycling process, making it more efficient and economical.
Upcycling Plastics: The goal of traditional recycling is often to produce an item similar to the original, like turning a water bottle into another water bottle. However, diverting this plastic from landfills in the long run would involve recycling it not just once, but many times in succession. In this project, the researchers seek to upcycle polyolefin waste into durable thermoset materials. These polymers can be used in long-lasting applications, such as insulation, coatings, or automotive products, where they could be used for a decade or longer. Upcycling the waste in this manner thus could have a long-term impact on keeping the waste out of landfills and the environment. Ultimately, these thermosets could also be recycled and the team is investigating innovative ways to do this.
Enabling Circular Reuse: Polyolefins are notoriously stable polymers. While this is a favorable aspect for their use in products, they degrade in the environment at a slow rate. The team is bringing new functionality into the polymers through incorporating chemical groups that will accelerate their degradation. This will enable efficient deconstruction, separation, purification, and re-formation of the polymers from the degraded plastics.
"We're providing a multi-pronged approach to managing polyolefin waste, each enabled by catalytic strategies for bringing new chemical groups into the polymers," said Robertson, who added that preliminary work has already been conducted on all three aspects of the project to demonstrate feasibility. "This is a big opportunity and, now that we have the resources, we are really excited to take these projects to the next level."
Robertson, who is equally passionate about polymers and sustainability, was awarded two additional grants from the Welch Foundation this year. One focuses on sustainable elastomers made from bioresources, and a second project is aimed at chemically recycling polystyrene into value-added polymers and chemicals. Brookhart, Carrow, Daugulis, and Karim also have other ongoing projects supported by Welch Foundation.
The Houston-based Welch Foundation is one of the nation's largest sources of private funding for basic chemical research. Its new Catalyst for Discovery grant program supports fundamental chemical research "aimed at solving significant problems for the benefit of humankind."
Open to all Texas institutions, the University of Houston was awarded two of the four inaugural Catalyst grants. Jeffrey Rimer, Abraham E. Dukler Professor of Chemical Engineering, along with a team of researchers from the Colleges of Engineering and Natural Sciences and Mathematics received $5 million to establish the Welch Center for Advanced Bioactive Materials Crystallization at UH, which will address challenges spanning from medicine to energy and the environment.
"Thanks to this game-changing support from the Welch Foundation, we will leverage all the resources of the University of Houston, a Carnegie-designated Tier One Research University, to address critical challenges facing our world," said Ramanan Krishnamoorti, who also serves as UH's vice president for energy and innovation.
"UH's mission is to transform lives and communities through education, research, innovation, and service in a real-world setting. This is exactly what we are doing," Krishnamoorti added. "We are honored by the Welch Foundation's belief in us and the award of two Catalyst grants."
- Rashda Khan, University Media Relations