Nearly $1 Million Award Supports Tai-Yen Chen's Research
For years, researchers have sought answers to the causes of degenerative diseases affecting the brain such as Alzheimer's and Parkinson's disease. Tai-Yen Chen, assistant professor of chemistry at the University of Houston, is one of those researchers. Chen is exploring ways for the brain to build up a defense against these diseases.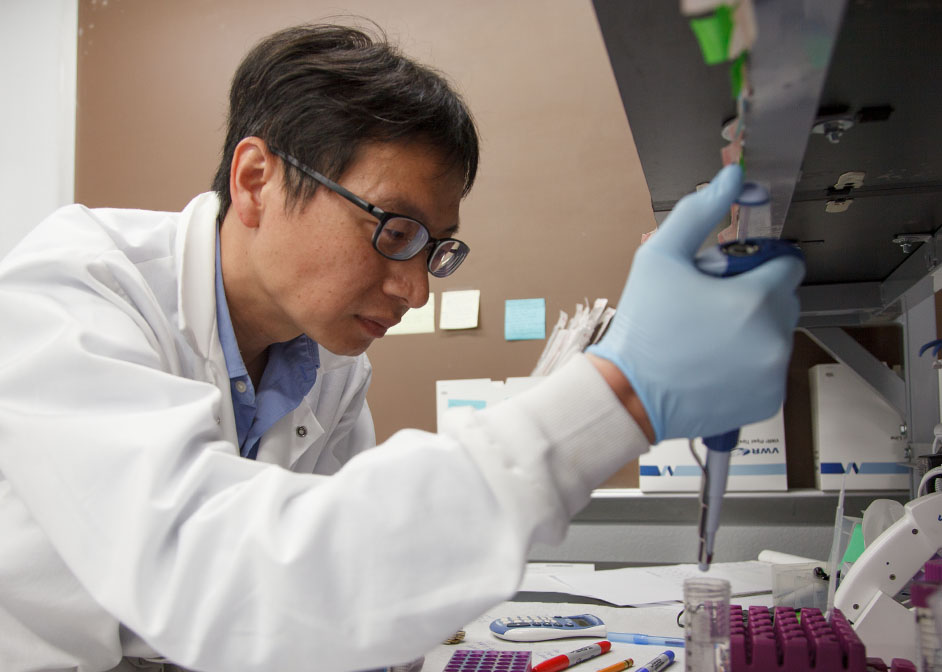 Thanks to additional support from a five-year, $979,019 award from the National Science Foundation's (NSF) CAREER program, Chen can now broaden his research at the UH College of Natural Sciences and Mathematics. His research looks closely at the activity of an important antioxidant protein to better understand how brain cells manage oxidative stress.
Chen is one of four NSM faculty members to receive an NSF CAREER Award in 2023. The prestigious award is given to faculty members who are early into their careers and are academic role models in research and education.
Neurons and Oxidative Stress Management
Specifically, Chen is looking into how the protein copper-zinc superoxide dismutase (SOD1) adjusts its composition when interacting with oxidative mixtures within brain cells. This protein helps protect brain cells from harmful oxidative substances produced by the body's normal processes. The way SOD1 does this is not well understood, partly because scientists don't have the right tools to observe it in action.
"This research program dives into the world of brain cells using a single molecule approach," said Chen. "This approach can be compared to the close-up lens of a camera on the set of a movie that focuses on one molecule at a time."
The "camera" Chen refers to is a custom-built microscope he and his research team have assembled at his lab. It gives them the ability to focus on any molecule within a brain cell to identify its components and potential problem areas.
Chen is creating a lab environment that enhances brain cell research. The Chen Lab's work will offer scientists a pioneering way to study brain cells through the use of a single molecule microscope that examines protein behavior within neurons in their native environment in the brain.
"We are growing neurons from stem cells, which are master cells that can become any type of cell, to help us create a life-like brain environment in the lab," said Chen. "It's all part of our mission to understand why certain substances can become harmful in the brain, with the goal of discovering new treatments for brain diseases."
Abnormal levels of copper and antioxidants are believed to have a negative effect on the brain by causing cell death and neurodegeneration, which can lead to degenerative diseases such as Alzheimer's and Parkinson's.
"The insights gathered from this study could revolutionize our understanding of how brain cells fortify themselves," Chen said.
New Educational Opportunities for Students
In addition to Chen's research, the award will support the creation of a new education program, called Quantitative Biophysical Comprehension (QBiC). It will teach UH students how to evaluate the structure of a protein through bio-imaging experiments.
"This program will be significant because we plan to collaborate with UH student organizations to promote participation among women and minorities in STEM," said Chen. "It will align with the NSF's goals of developing a strong and diverse STEM workforce."
Chen adds that QBiC will enhance the chemistry curriculum while providing interdisciplinary training for students.
A Career of Excellence in Chemistry
Chen joined NSM in 2016 as an assistant professor of chemistry. He leads the Chen Research Group, a team composed of postdoctoral researchers and UH graduate and undergraduate students.
In addition to his NSF CAREER Award, Chen's research has been recognized with the 2018 Robert A. Welch Foundation Research Grant, the National Institutes of Health's 2019 Maximizing Investigators' Research Award and the 2023 NSM Junior Faculty Research Award for Excellence in Research.
Besides research, Chen enjoys participating in many teaching and educational outreach activities. In 2021, he received the John C. Butler Excellence in Teaching Award. The award recognizes faculty members who best engage and challenge their students, and who share their enthusiasm for the subject matter they teach.
Chen also serves as the coordinator of the American Chemical Society's Greater Houston Section scholarship exam and is a member of the training faculty for the Gulf Coast Consortia's Houston Area Molecular Biophysics Training Program.
- Chris Guillory, College of Natural Sciences and Mathematics