Commencement Celebrates Spring Graduates, Including a 4.0 Summa Cum Laude Grad
Bachelor's, master's and doctoral degree candidates were celebrated during the University of Houston Commencement for the College of Natural Sciences and Mathematics (NSM) on May 12. The ceremony was held at UH's Fertitta Center.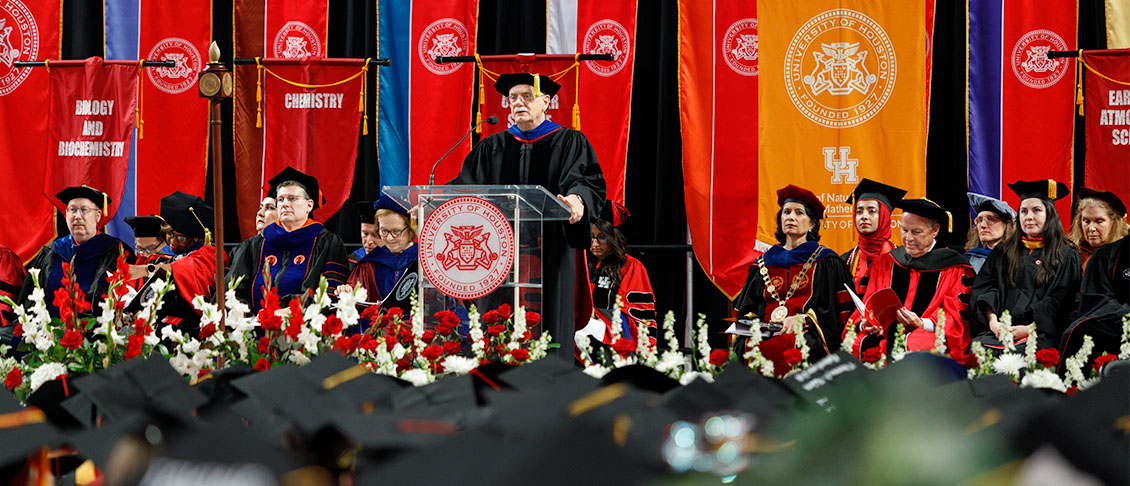 More than 750 NSM students completed degree requirements for Spring 2023. NSM's 46 doctoral candidates earned degrees in atmospheric sciences, biology, chemistry, computer science, geology, geophysics, mathematics, and physics. There were 134 master's degree candidates and 593 candidates for bachelor's degrees.
Sixty-four students graduated summa cum laude, the highest academic honor for bachelor's degree recipients. An additional 202 students graduated either cum laude or magna cum laude.
Thirty-one students graduated through the teachHOUSTON program, a collaboration between NSM and the College of Education. They have committed to teach high school math or science.
The ceremony also included remarks from the Honorable Jack B. Moore of the UH System Board of Regents, UH President Renu Khator, and Cecilia Ramirez, vice president of the NSM Alumni Association.
Dan E. Wells Outstanding Dissertation Award – Shruti Hariyani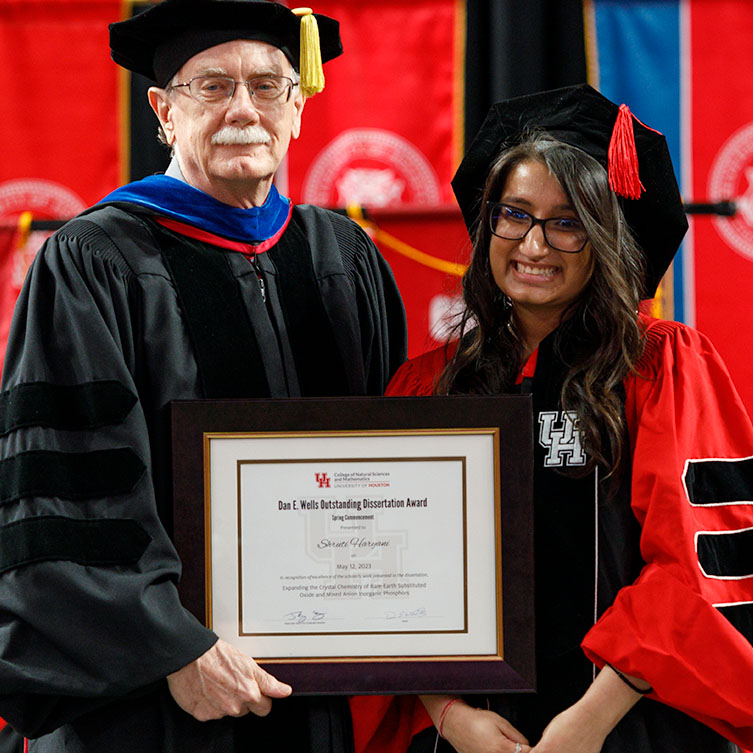 Each semester, the Dan E. Wells Outstanding Dissertation Award is presented to a doctoral student who has performed outstanding research and submitted the best dissertation to the College. The Spring 2023 recipient was Shruti Hariyani, a chemistry Ph.D. graduate. She received a certificate and an award of $1,000.
Her dissertation was "Expanding the Crystal Chemistry of Rare-Earth Substituted Oxide and Mixed Anion Inorganic Phosphors." Her dissertation topic is the design and discovery of new luminescent phosphors that are used in LED bulbs and touchscreen displays.
The goal throughout her Ph.D. was to develop new materials that could be paired with violet LEDs to minimize the impact of blue light exposure, which is known to impact human health. Her advisor was Jakoah Brgoch.
Commencement Student Speaker – Zuha Khan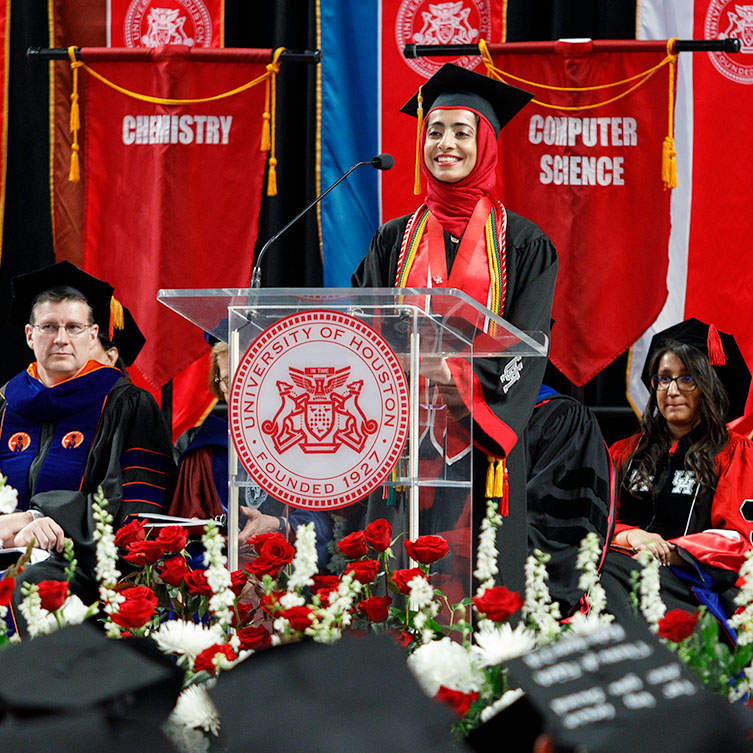 Commencement student speaker Zuha Khan came to UH with a four-year Academic Excellence Scholarship and Honors College Scholarship. She is graduating with a bachelor's degree in biology and a minor in medicine and society, and nutrition. Khan was selected as speaker through a competition that is open to all NSM summa cum laude graduates.
During her speech, Khan stressed the strength of the UH community saying, "it isn't the sameness that makes our community strong; it's our differences." She also stated, "we foster inclusivity because we are constantly interacting with individuals with knowledge and experiences that we have not had ourselves."
While at UH, Khan was active in the American Medical Women's Association serving as Public Health Committee Chair and later launching the organization's Professional Development Committee. During the pandemic, she founded UH's Global Surgery Student Alliance. The group works to mitigate health disparities in Houston communities.
In her spare time, she volunteers with Camp M.I. Way each summer. The camp serves individuals with multiple impairments, with the goal of giving them more autonomy while enjoying a camp experience.
Khan will enter the University of Texas McGovern Medical School in the Fall.
NSM's 4.0 Summa Cum Laude Graduate – Neha Sunkara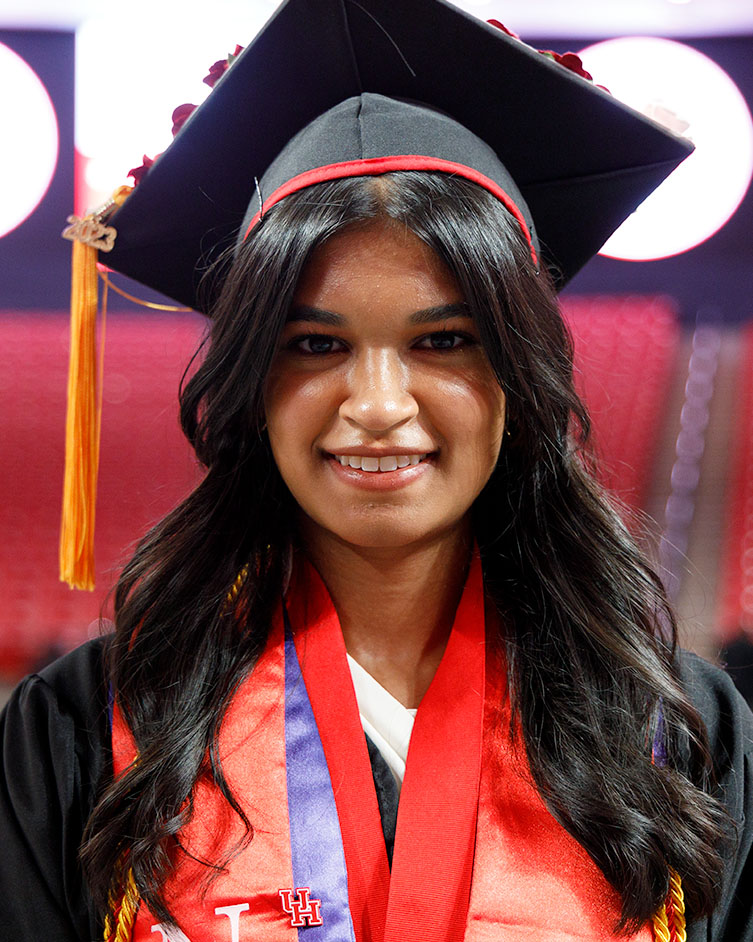 One exceptional student, Neha Sunkara, completed her entire college career at UH with a perfect 4.0 grade point average. She is graduating with a dual degree in biology and economics, and a minor in medicine and society.
While at UH, Sunkara worked on the Food Insecurity Team of the Bonner Leaders program serving socioeconomically disadvantaged populations in Houston's Second and Third Wards. The efforts included food distribution events and nutrition education. She also did undergraduate research evaluating the program practices of Texas food pantries.
Sunkara received numerous awards, including an Albert Schweitzer Fellowship and Provost's Undergraduate Research Scholarship, and was inducted into UH's Phi Beta Kappa academic honor society. She will enter medical school this fall at the University of Texas Medical Branch in Galveston.
Commencement Banner Bearers – NSM Outstanding Students

The Commencement processional included outstanding students from NSM's six departments carrying the college and departmental banners.
College Banner: Neha Sunkara
Department of Biology and Biochemistry: Jennifer Lin
Department of Chemistry: Darren Doan
Department of Computer Science: Anil Shanker
Department of Earth and Atmospheric Sciences: Shawn Fields
Department of Mathematics: Erika Cruz
Department of Physics: Cindy Luu
NSM Faculty Awards
Three NSM faculty awards, the John C. Butler Excellence in Teaching Award, the Faculty Award for Excellence in Service, and the Junior Faculty Award for Excellence in Research, were presented.
Butler Award winners were Daniel Hauptvogel, instructional associate professor in the Department of Earth and Atmospheric Sciences, and Richard Meisel, associate professor in the Department of Biology and Biochemistry. The Faculty Award for Excellence in Service went to Nouhad Rizk, instructional professor of computer science. The Junior Faculty Research Award was presented to Tai-Yen Chen, assistant professor of chemistry.
All award recipients received a $5,000 cash award and a plaque.
- Kathy Major, College of Natural Sciences and Mathematics