Biochemistry Major Andrea Espinosa Receives Tuition Assistance for Freshman Year
After enduring and winning a cancer battle that lasted two years, University of Houston freshman Andrea Espinosa is one step closer to fulfilling her dream of becoming a doctor. She started classes this fall as a biochemistry major in the College of Natural Sciences and Mathematics.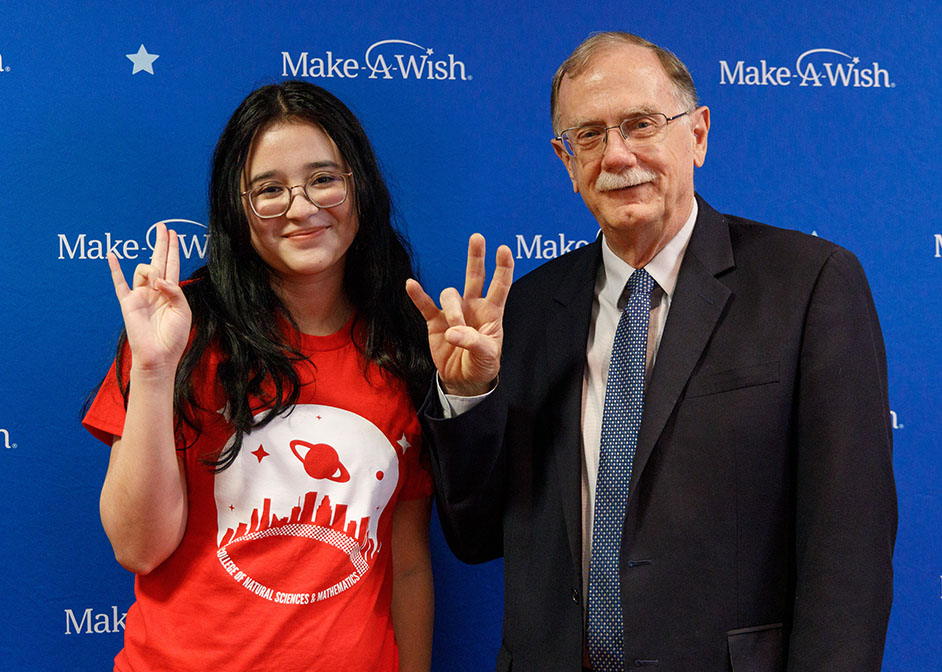 During a presentation on August 16, Make-A-Wish Foundation and Oncology Consultants presented Espinosa with tuition assistance and an internship, along with a lab coat. The event was attended by her family, NSM Dean Dan E. Wells, NSM associate and assistant deans, as well as representatives from Make-A-Wish Foundation and Oncology Consultants.
"We are thrilled to partner with the Make-A-Wish Foundation and Oncology Consultants to help Andrea in her educational journey," said Wells. "Our faculty is here to support her and ensure her success."
Diagnosed at 16
In September 2020, Espinosa was diagnosed with desmoid fibromatosis at the age of 16. The rare and very aggressive cancer required three surgeries and intense chemotherapy treatment.
"My diagnosis was very unexpected," she said. "After a few X-rays and MRIs from my gastroenterologist, they realized it was a tumor."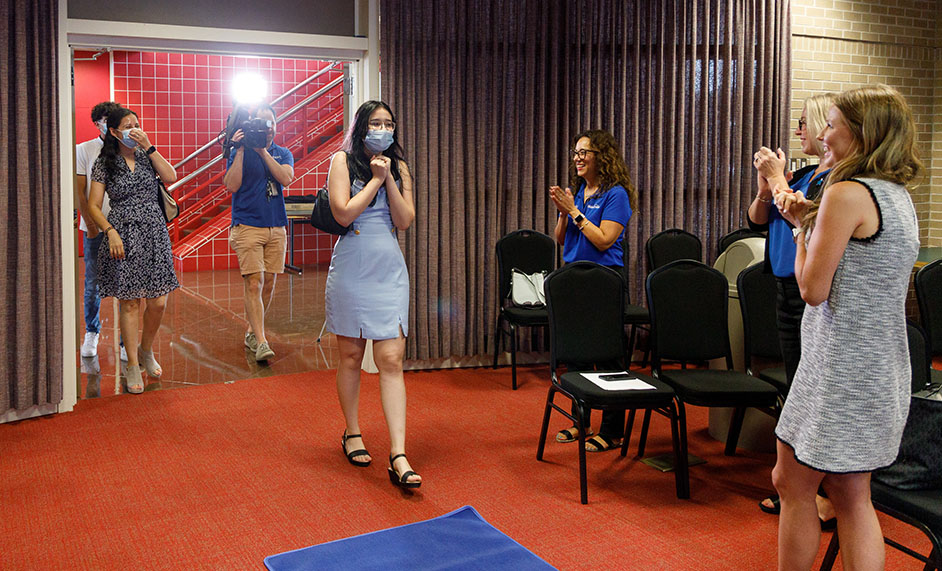 Espinosa could have chosen anything for her wish, but she picked education because she wants to remain focused on her future.
"I've always been interested in my future and part of that is going to college," she said. "When Make-A-Wish told me they would give me a wish, I knew tuition assistance would be the best choice for me."
Wish Fulfilled
The move to grant Espinosa's wish was put into action when her oncologist contacted Make-A-Wish and told them about her experience.
Yara El-Sayed Guest, president and CEO of Make-A-Wish Texas Gulf Coast and Louisiana, said her work is especially rewarding when it comes to wishes such as Espinosa's.
"I'm always excited to hear about the kids who have their future in mind when it comes to granting a wish," she said. "These wishes are my favorite."
The decision to provide new hope for Andrea was an easy one when Oncology Consultants stepped up to help. The internship awarded to Espinosa will allow her to shadow all departments from research to radiology. She will also shadow nurses, advanced practitioners and doctors to learn more about their skills in patient care.
"We jumped at the opportunity to extend the mission of Make-A-Wish Foundation to help Andrea," said Susan Sabo-Wagner, executive director of clinical strategy at Oncology Consultants. "We welcome Andrea with open arms."
Determined to Succeed
Espinosa's experience only made her stronger in her determination to complete EMT training and state certification, a process she began before starting college.
Though her cancer is in remission, she has regular scans to make sure it hasn't returned. "I'm doing MRIs every three months and, so far, no tumor has been detected," she said.
According to Espinosa, choosing UH for her future was an easy decision.
"The campus was close to home and close to the Medical Center, which is where I would like to work in the future," she said. "The people at UH are very welcoming and inclusive, and I love the diversity I'm seeing on campus."
After graduation, she plans to go to medical school and become an oncologist.
Espinosa hopes to use her experience with cancer to make a positive impact on the lives of other kids faced with the same battle. 
- Chris Guillory, College of Natural Sciences and Mathematics