Instructional Professor Ann Cheek's Students Study Houston's Wild Animals
Each semester, dozens of University of Houston students participate in instructional professor Ann Cheek's Hidden Life of Houston project. Students collect data on the urban wildlife that lives in Houston for class credit.
Hidden Life of Houston is a partnership with the Urban Wildlife Information Network, an international collaboration between cities that asks two questions: what aspects of wildlife communities are similar between cities and which ones are different?
"With everyone using the same sampling protocol," Cheek said, "you can make really sound statistical comparisons."
The project is also a collaboration between UH and Memorial Park Conservancy.
Students set up trail cameras at 25 different sites across the Houston area, ranging from the Houston Arboretum and Memorial Park to Shasta's Prairie on the UH campus, to the UH Coastal Center in La Marque. The project is designed to use samples from an urban core all the way to an exurban or rural area.
Cameras take photos 30 days at a time, in January, April, July and October. Once the animal photos are posted to the Urban Wildlife Information Network database, Cheek can assign photos to different students.
The project began in spring 2020. Biology major Daniela Farfan participated in spring 2021 and is now a peer mentor for other students.
"We had to come up with our own research proposal and use the data that was available to us," Farfan said. "We were separated into groups of four or five, and basically, whoever was available to do the onsite field work would be the one that would go."
She adds her involvement with Hidden Life of Houston was the first time she had the opportunity to conduct wildlife research, and it introduced her to a new way to use her biology degree.
Hundreds of animals have been captured on camera so far. The list includes armadillos, coyotes, bobcats, squirrels, rabbits, opossums, raccoons, wild hogs, deer and gray foxes. Visit this link to view photos of the wildlife.
Coyotes are sighted usually only once per 30 days but have been photographed at nearly all 25 sites in the Houston area, Cheek said. Bobcats have been seen primarily at sites outside the Sam Houston Tollway.
Project Leads to Conservancy Internship
"The point for me is getting students involved in a research project where they get to choose their own research question, and it is feasible for them to do all aspects of the work," said Cheek. "From the data collection to the data analysis, to the formal communication and written and oral presentations."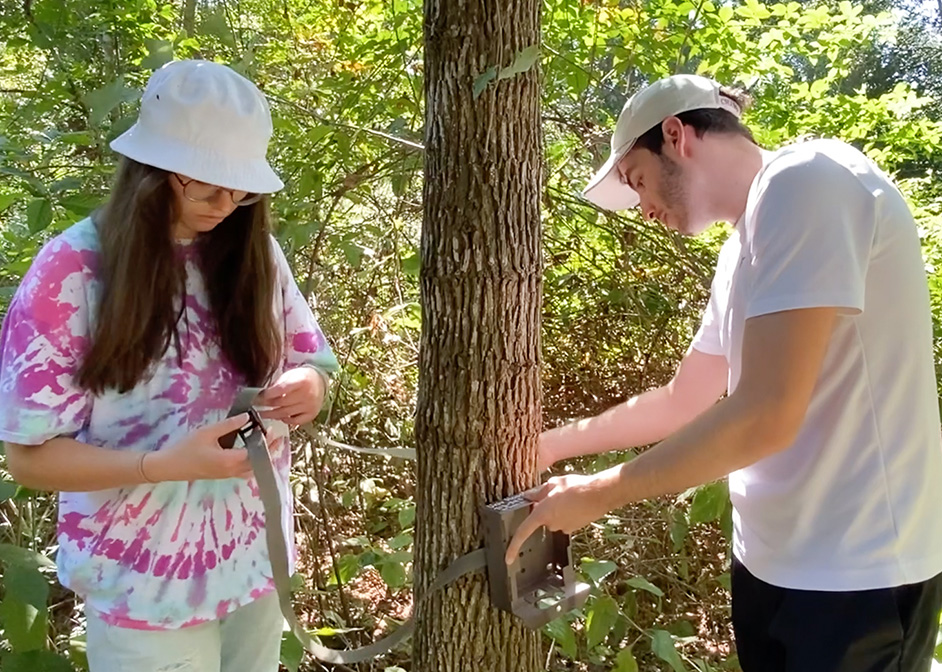 Jose Vasquez, who graduated summer 2021 with a B.S. in biology, participated in the project that same summer and afterwards, received an internship with Memorial Park Conservancy, which was funded by the Houston Livestock Show and Rodeo.
"My project with Memorial Park Conservancy consisted of conducting a wildlife survey around the Land Bridge and prairie project currently being built," Vasquez said. "My project's focus was on figuring out what type of wildlife is present in the area and how can conservation efforts be adjusted to mitigate any ecological problems that may be in the area."
His abstract on the relationship between coyotes and humans at Memorial Park was accepted to the Gulf Coast Undergraduate Research Consortium conference hosted at Rice University.
"Some of the plans I have for the future – I want to go to grad school and get a Ph.D. in evolutionary biology and ecology," he said.
Future of the Project
One of Cheek's goals for Hidden Life of Houston is for students who live in the city to get the chance to explore and see the animals that live in Houston with them. "To open their eyes to more than the concrete and the people driving around," she adds, "with the aim that students who might not have otherwise considered careers in ecology and conservation, would learn enough about it to be interested."
Since spring 2020, about 215 students have participated in Hidden Life of Houston through three different courses Cheek offers. It is planned to continue for two more years.
In addition to Vasquez, Rachel Sanchez-Ruffra ('20) and Stephen Dreyer ('20), were granted student internships with Memorial Park Conservancy following their participation in the project. These internships were made possible by funding from the Houston Livestock Show and Rodeo, supporting urban park research in Memorial Park.
Cheek thanks the Provost's Multicultural Success initiative for funding acquisition of the 25 cameras and providing funds for peer mentors.
- Rebeca Trejo, College of Natural Sciences and Mathematics