Analysis of Multiple Studies Provides Insight into Student Success
A group of researchers, including three College of Natural Sciences and Mathematics faculty members, received the 2019 American Educational Research Association Narrative Special Interest Group (SIG) Outstanding Publication Award for their paper "The embodied nature of narrative knowledge: A cross-study analysis of embodied knowledge in teaching, learning, and life," published in the journal Teaching and Teacher Education.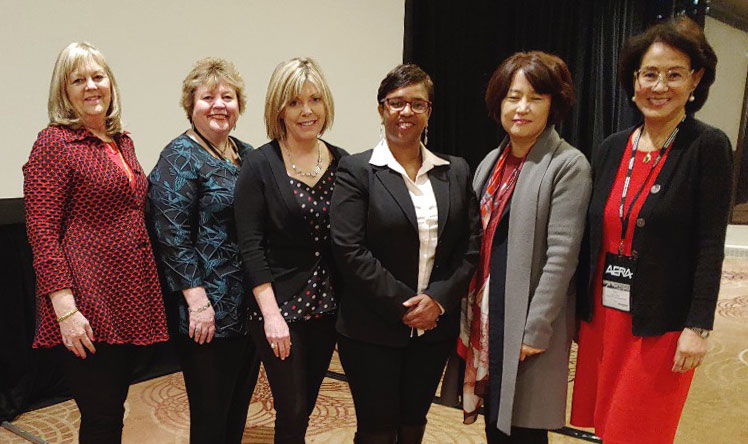 Analysis of Students' Knowledge and Experience
This paper analyzed five different educational research projects, conducted over a period of six years, and examined students' prior knowledge and experience, as well as the stories they told about their own educational journey.
Commonalities across projects were noticed by Cheryl Craig, a Texas A&M faculty member and primary author for the paper, who was the program evaluator for these five projects. She identified a common theme of feedback from students about how their various life experiences impacted how they learned
"Listening to the stories students tell about their experiences can give us a lot of insight as to why some students are successful, while other students struggle," said Donna Stokes, a University of Houston professor of physics, NSM assistant dean for undergraduate affairs and one of the co-authors of the paper.
NSM collaborators included Paige Evans, a mathematics and teachHOUSTON clinical professor, and Rakesh Verma, professor of computer science. Other UH collaborators included Yali Zou, professor of educational leadership and policy studies, and Gayle Curtis, postdoctoral associate in physics. Chung-Ang University (Korea) faculty member JeongAe You, who spent a sabbatical year at UH, was also a collaborator.
"We think a lot about outcomes and data, but these stories are key," Stokes said.
Information Collected Via Student Feedback
The information used in this paper was collected through a series of interviews, as well as classroom observations, reflective journals, email exchanges and survey feedback.
Projects included the CyberCorps program for graduate students focusing on cybersecurity, an S-STEM scholarship program for computer science students and a Robert Noyce STEM teacher preparation scholarship program. These three programs were funded by grants from the National Science Foundation. Other projects also included a secondary physical education program, as well as a study abroad program.
"Once you talk to the students, you get a full understanding of where they're coming from and why they are making the decisions that they do," Stokes said.
Experiences Inform Student Identity
Examples included a Chinese-American student doing a study abroad program in China, a student taking a physics by inquiry course who had previously dropped out of college, and a computer science undergraduate who learned to view coding as an extension of the body. For all of these students, their past informed how and what they learned, as well as what they got out of their educational experience.
"What we are looking at is how does embodied knowledge influence how students see themselves as a scientist, a teacher of STEM, or as someone who is moving forward in a STEM career," Stokes said.
Award recipients were honored at the 2019 AERA meeting, which took place in Toronto, Canada.
- Rachel Fairbank, College of Natural Sciences and Mathematics