Ceremony Celebrates Summer and Fall 2017 Graduates
Nearly 250 bachelor's, master's and doctoral degree candidates participated in the College of Natural Sciences and Mathematics (NSM) Fall Convocation ceremonies on December 14. This year, two ceremonies were held at University of Houston's Cullen Performance Hall and included students completing degrees in summer and fall 2017.
The 10 a.m. ceremony celebrated students from the Departments of Computer Science, Earth & Atmospheric Sciences, and Mathematics and the 2 p.m. event recognized students graduating from the Departments of Biology & Biochemistry, Chemistry, and Physics
More than 400 NSM students completed degree requirements, but not all were able to attend the ceremonies. Forty-seven doctoral candidates earned degrees in atmospheric sciences, biochemistry, biology, chemistry, computer science, geology, geophysics, mathematics, or physics. Approximately 23 NSM students were candidates for master's degrees, and nearly 174 students were candidates for bachelor's degrees.
There were 14 summa cum laude graduates, the highest academic honor for bachelor's degree recipients. An additional 59 bachelor's degree recipients graduated either cum laude or magna cum laude.
NSM's 4.0 Summa Cum Laude Graduate – Jenny Phillips
Jenny Phillips, NSM's 4.0 graduate, received a bachelor's degree in biology with a minor in psychology. She also graduated with University Honors from the Honors College.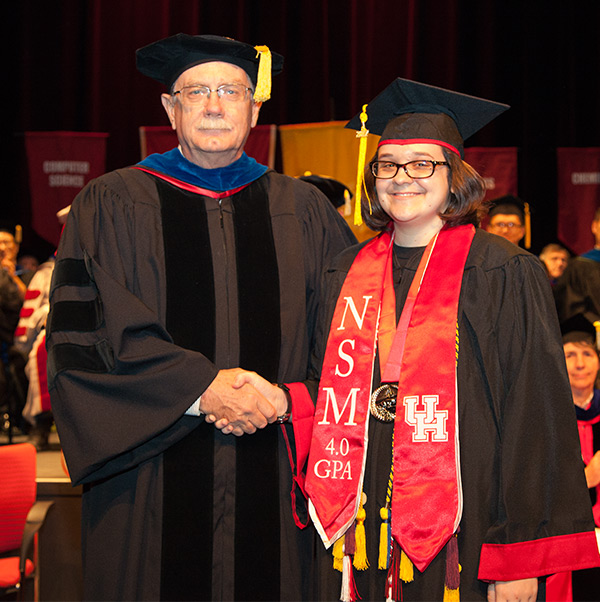 Jenny Phillips, NSM's 4.0 summa cum laude graduate is headed to UH's College of Optometry in Fall 2018.While at UH, Jenny helped other students master Chemistry by tutoring for three semesters in the American Chemical Society Tutor Room. She was also a member of the National Honor Society of Phi Kappa Phi, where she served as student vice president.
Some people choose their careers early, and Jenny became interested in optometry while in middle school in Fort Worth. When it was time to go to college, she decided to pursue her dream.
"The UH College of Optometry is one of the best, so I decided to come here for my undergraduate degree and then go straight through the optometry school," Phillips said.
During her four years at UH, Jenny has been an active member of the Pre-Optometry Professional Society.
"I found my niche at UH through the Pre-Optometry Professional Society," she said. "We had so many opportunities to volunteer and to meet professionals in the optometry field."
Through the organization, Phillips shadowed optometrists and volunteered at community outreach events assisting with vision screenings and serving as a sighted guide during events for low-vision and blind patients.
After graduation, she will take the next step on her career path by entering UH's College of Optometry in Fall 2018.
Convocation Student Speaker – Hang Nguyen
Hang Nguyen, a mathematical biology major, spoke at both ceremonies on behalf of all the students. She was selected through a speech-writing competition open to NSM's summa cum laude graduates.
Hang Nguyen, a summa cum laude mathematical biology major, gave the student address. She will enter UH's Ph.D. program in mathematics in January.Nguyen was born in Binh Dinh, Vietnam. At 14, she moved away from her family to study English at the American International School. When she applied to UH, she was offered an Academic Excellence Scholarship, one of many she would receive while at UH.
During her speech, Nguyen reminded the graduates that it is okay to try and fail. "As long as you are working hard to improve yourself, you are not wasting any seconds or minutes of your life," she said.
At UH, she worked as an undergraduate teaching assistant in biology and calculus. She also served as an NSM Ambassador, working at recruiting and alumni events and organizing a speaker series.
Nguyen developed an interest in medicine through membership in Alpha Epsilon Delta, the premedical honor society. In addition to leadership positions, she was part of the group's medical brigade trip to Guatemala in 2016.
"I never thought of going to medical school when I was in Vietnam, but when I came here there were so many opportunities," Nguyen said.
As part of the Academic Associates Program, she spent two semesters in a clinical research program at Texas Children's Hospital and shadowed physicians in the pediatric emergency center.
Nguyen will enter UH's Ph.D. program in mathematics in January. She plans to attend medical school after completing her doctoral degree.
Convocation Banner Bearers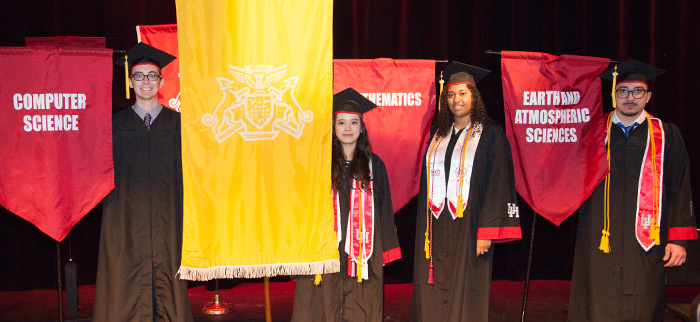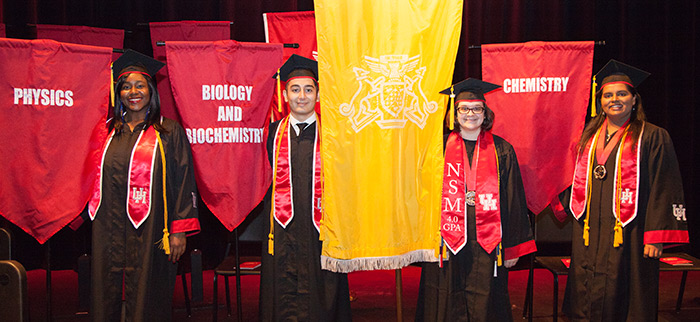 Outstanding students from each of NSM's six departments carried the NSM and departmental banners.The College's Convocation processional included outstanding students from NSM's six departments carrying the College and Departmental Banners. The banner bearers have the additional honor of sitting on stage as part of the Convocation platform party.
College Banner Hang Nguyen, 10 a.m. ceremony; Jenny Phillips, 2 p.m. ceremony
Biology and Biochemistry Shayan Amini
Chemistry Gayatri Viswanathan
Computer Science Keith Erdbruegger
Earth and Atmospheric Sciences Mohammed Almarzoug
Mathematics Kristina Onwumere
Physics Fre'Etta Brooks
- Kathy Major, College of Natural Sciences and Mathematics