Forensics, Robotics among Activities at UH Summer STEM Camps

Camps Strive to Cultivate Interest in Science and Engineering, Encourage Pursuit of Higher Education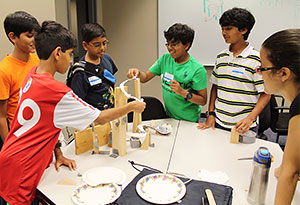 From exploring the magic behind Hollywood's special effects to discovering the mysteries behind crime scene investigations, two summer camps at the University of Houston bring science and technology to life for students in grades five through eight. 

Affiliated with UH's teachHOUSTON math and science teacher preparation program, the camps are designed to encourage young people to pursue studies in science, technology, engineering and mathematics (STEM). Each camp will provide opportunities for hands-on experimentation, presentations from STEM professionals, field trips and exposure to college life. 

Cougar STEM Camp
This camp offers children a chance to get out from behind their desks and into the action by exploring forensics, movie making and physics. Each week features a specific theme.
Putting on their detective hats, campers will dive into forensic science by looking at the mysteries of crime scenes, collecting, analyzing and examining evidence such as fingerprints, hairs, fibers and DNA to solve crimes. They also will have an opportunity to explore the math and science behind the Hollywood stunts, special effects and sets that bring movies to life. Another activity will focus on creating and building electrical circuits and exploring statistical processes.
Open to students entering Grades 5 or 6
Sessions: June 22-26 (Crime Scene Investigation), July 6-10 (Movie Magic), July 13-17 (Physics), July 20-24 (ENG-magination)
Application Deadline: May 22, 2015; Enrollment Deadline: May 29
Bonnie J. Dunbar STEM Academy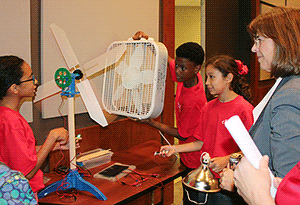 The camp curriculum incorporates STEM design projects and engaging lessons that encourage innovative thinking. The academy aims to increase students' STEM skills and introduce them to college life, stimulating their interest in science, technology, engineering and math as potential career paths.


Each day, students will attend rigorous courses and go on campus excursions to foster and develop their problem-solving, research and communication skills in biology, chemistry, physics, environmental sciences, earth sciences, math, engineering and design. Campers will be given an opportunity to design, build and program robots to accomplish both simple and complex tasks, tap into their imaginations using engineering principles to design and build solutions to everyday problems, and explore physics through demonstrations and hands-on activities to help them learn about space travel. 
Open to students entering Grades 7 or 8
Sessions: June 15-19 (ENG-magination), June 22-26 (Rockets-Blast Off), July 6-10 (Robotics), July 13-17 (Crime Scene Investigation)
Application Deadline: May 22, 2015; Enrollment Deadline: May 29
Camp Costs
Cost: $350/week
Discounts: $600 for 2 weeks ($100 off), $750 for 3 weeks, and $900 for 4 weeks
Pre-camp (8 - 10 am) OR Post-camp (3 - 5 pm): $ 50/week for each
Pre-camp (8 - 10 am) AND Post-camp (3 - 5 pm): $ 75/week for both
Enrollment fees due May 29, 2015
Camp General Information Flyer (PDF)
For additional registration information, email stemcamp@central.uh.edu or call 713-743-8644.