UH Mathematics Researcher Delivers Annual Congressional Briefing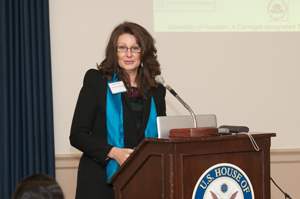 University of Houston Cullen Distinguished Professor Suncica "Sunny" Canic will give the annual briefing on mathematics to Congress on Dec. 6.
Each year, an individual is selected by the American Mathematical Society (AMS) to give the congressional briefing in Washington, D.C. The briefing's goal is to show that mathematics is useful in many real-life applications and that funding mathematical research is important to keep the United States competitive in the world of science and technology.
The title of Canic's talk is "Mathematics: Leading the Way for New Options in the Treatment of Coronary Artery Disease."
Canic, director of the Center for the Mathematical Biosciences at UH, will discuss the status of applied math in the United States. She also will report on the stent research performed by the UH math department in collaboration with doctors in the Texas Medical Center.
Coronary artery disease is a precursor for a heart attack, the No. 1 one cause of death in the U.S. Treatment of coronary artery disease entails inserting a stent to keep the coronary arteries open. However, patient-specific decisions on the choice of a particular stent tailored to a given patient's anatomy are still not common practice.
Canic's presentation will show how mathematics provides a quick and inexpensive way to make patient-specific decisions by testing the stent's behavior prior to the insertion into the patient's coronary artery.
"Prescribing mathematical and computer simulations, in addition to prescribing a blood test and an angiogram, is the future of personalized medicine," Canic said.
- Laura Tolley, UH Communication