Egyptian Scholars Visit the UH Center for Advanced Materials

Ten International Scholars Participate in State Department's Discovery Program for Inquisitive Minds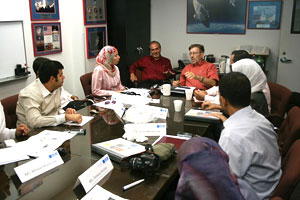 Ignatiev and Freundlich (center red shirts, from right) meet with Egyptian visitors under the U.S. State Department's Discovery Program for Inquisitive Minds.
The U.S. State Department's Discovery Program for Inquisitive Minds brought ten young scholars from Egypt to the University of Houston's Center for Advanced Materials (CAM). The program is designed to foster the ability of Egypt's future science and technology innovators to confidently explore their ideas, assumptions, limitations and aspirations.
The international visitors representing five universities – Alexandria University, the German University of Cairo, Ain Shams University, the University of Cairo and Menofia University – participated in meetings with CAM's director, Alex Ignatiev, and associate director, Alex Freundlich. "Our animated discussions centered on how to move scientific discoveries into technology developments, the subsequent technology transfer, and the resultant social and economic benefits," Ignatiev said.
CAM has been previously recognized by the State Department's international visitor program as an academic research center that is actively researching new energy technologies and that has successfully transferred technologies, spun off new companies and brought economic development to local and national arenas. This recognition has resulted in continued requests for visits by international groups interested in innovation and in developing and advancing new technologies.