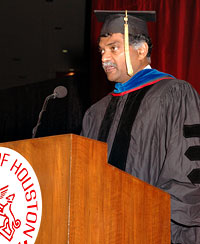 For making a difference in the classroom and successfully guiding students through an especially difficult course, Gemunu Gunaratne, physics professor, received the College of Natural Sciences and Mathematics' highest teaching award.
Gunaratne was honored with the 2009 John C. Butler Excellence in Teaching Award and was recognized at the college's May commencement, where he addressed graduating students.
The annual award recognizes NSM faculty who best engage and challenge their students and who share their enthusiasm for the subject matter they teach.
While Gunaratne was not the only nominee with strong reviews from both students and colleagues, he stood out because of his innovative approach to teaching one of the most challenging courses on campus, said Steven Pennings, an associate professor of biology who served on the selection committee.
Gunaratne teaches an introductory physics course that is required for many majors. Because students in the course tend to be new to college and lack good study habits needed to cope with the rigorous math taught in the course. A very high percentage of students procrastinate, fall behind and fail the class, Pennings said.
Gunaratne employed various experiments and demonstrations to help students understand the basic laws and equations of physics, such as using a small hovercraft toy to illustrate Newton's first law of motion.
He also used computer-generated quizzes to keep the students engaged and ensure they did not fall behind in the material. Students could take the quizzes repeatedly until they succeeded and cheating was almost impossible because each quiz was randomly generated by the computer and unique to each student.
While some students complained about the quizzes, the selection committee recognized Gunaratne for taking on a difficult teaching assignment and using innovative approaches.
Gunaratne, who joined the UH faculty in 1990, said it was vital for professors to balance research work with quality teaching.
"I personally feel I can make more of an impact through teaching than through research," Gunaratne said. "A good teacher can really make a difference in students' lives."
He received a bachelor's degree in math from the University of Colombo in Sri Lanka and earned a master's and doctorate in physics from Cornell University.
The award is named after a former dean of the college. Butler was an innovative teacher who was devoted to his students and to making a difference in the classroom. He served as a role model to other professors in the college and set the bar high for teaching excellence.
"I'm especially thrilled to get this award because I knew John Butler and how hard he worked," Gunaratne said.
The award selection committee is comprised of one faculty member from each department in the college, which reviews recommendation letters and student evaluations. The winner receives a $1,000 salary increase.