Academy Strives to Help First-Year Teachers Succeed
Experienced teachers remember the challenges they faced in their first year in the classroom.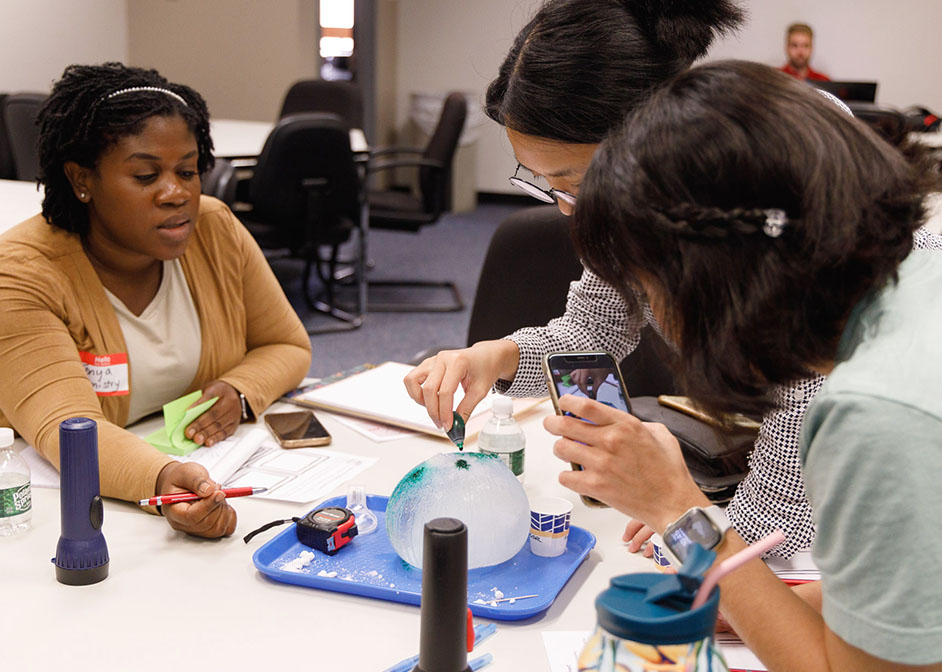 That's why the CenterPoint Energy New Teacher Academy at the University of Houston is giving new STEM teachers the tools they need to help them, and their students, succeed in the classroom.
Ongoing Support for Success
The Academy, designed for newly certified teachers from UH's teachHOUSTON program, provides in-person, summer professional development, as well as annual training workshops on teaching science, technology, engineering and math topics. Organized with the National Math and Science Initiative (NMSI), the Academy is partly the result of a long partnership between NMSI and teachHOUSTON that dates to 2007.
Additionally, the new teachers are presented with networking opportunities that connect them with other teachHOUSTON graduates who have 1-6 years of teaching experience, and with UH-trained master teacher fellows who provide ongoing support and resources.
The teachHOUSTON program, which is a collaboration between the College of Natural Sciences and Mathematics and the College of Education, combats the shortage of qualified STEM teachers in secondary education.

"The goal is to prepare new teachers for the classroom," said Paige Evans, UH clinical professor and co-director of teachHOUSTON. "Before we meet in the summer for our conference, we send a survey to see what participants would be most interested in learning more about."
In addition to ideas generated through the survey, Evans said topics, such as managing a classroom, self-care and working on a team, are also offered to participants.
The two-day summer conference takes place at UH. Academy participants attend presentations, roundtable and panel discussions, and workshops.
The Academy was launched thanks to a generous $100,000 grant from CenterPoint Energy.
Support for More Than 40 New STEM Teachers
Academy participants are all graduates of the teachHOUSTON program, either through a traditional four-year STEM degree with certification or by alternative teacher certification as a second career. For the 2022-2023 academic year, just over 40 participants, who graduated in fall 2021 and spring 2022, attended the Academy.
For recent graduates Berenice Arevalo and Nolan Nash, the Academy helped them in ways they never realized until they were in the classroom teaching for the first time.
"Nothing can prepare you exactly for the first year of teaching, but the Academy provided the resources I needed so I could be better prepared to enter the classroom," said Arevalo, who graduated from UH in spring 2022 and now teaches ninth grade biology at Cinco Ranch High School in Katy ISD.
Arevalo is grateful for the mentors she had at UH who introduced her to the Academy. "My mentors helped put me on a career path as a teacher," she said.
Nash, who is in his first year as an algebra teacher at Northbrook High School in Spring Branch ISD, appreciates not only how the Academy prepared him for the classroom, but also how it provided the ability to reconnect with his peers through a support network after graduating.
"It's really encouraging to be able to seek advice from people who are on my level and feel comfortable asking those questions," said Nash.
Geared to Teacher Recruitment and Retainment
The motive behind supporting new teachers is not just recruitment, but also retention. Evans said it's something that is currently crucial as many teachers are leaving the profession.
"teachHOUSTON and the CenterPoint Energy New Teacher Academy provide high quality teachers to schools who need them most," said Evans. "As teacher retention is critical, it is vital to support new teachers early in their careers so that they will be retained in the teaching profession and positively impact students in our community."
- Chris Guillory, College of Natural Sciences and Mathematics