When: Friday, 3/11/22, 2:00PM—3:15PM (Meet & Greet - Zoom)
Where: ZOOM (Online/Virtual event) 
Direct link to the video: YouTube or watch below on this page

What is the Meet and Greet?: This event is for all Undergraduate Math Majors, including Mathematical Biology, Math Graduate students, Departmental Faculty and Staff. The purpose of this social is to create a pleasant and comfortable environment among faculty and students. This year the Meet and Greet and Pi Day Celebration events will be held separately with the Meet and Greet being virtual and Pi Day being held in-person.
This Spring the Meet and Greet will be virtual/online . 
This Information session is meant to introduce students to AIG's employment opportunities (full-time, part-time, internships), culture and involvement with our summer actuary camp. Willis Towers Watson will also discuss their internship program and available career opportunities.
The speakers will discuss the following:

Speaker Biographies:

Which steps were taken to acquire their current positions?

What was their process like and what was involved in their preparation to find a position?

Which opportunities did they take advantage of that proved invaluable during the application process.

Perspectives on "life beyond the degree"

Their roles at the company

What a typical day looks like

About us (goals, objectives, who they serve and what they represent)

Job/Internship overviews- opportunities/descriptions

Q & A Session
---
AIG Speakers:
Brandon Wright (Deputy Chief Finance Actuary - Life US @AIG): Actuary with 15+ years of experience in the life insurance and annuities industry. In depth knowledge of issues related to life insurance product illustrations and quotes. Specialties: Financial Services software development/testing; Computer Programming (APL)
Maggie Renna (Global ADP Manager @AIG):  Global Actuarial Program Manager. Experienced Human Resources Specialist with a demonstrated history of working with actuaries in the insurance industry. Skilled in Microsoft Excel, Customer Service, Microsoft Word, Coaching and Employee Relations. My passion lies in recruiting, hiring and the professional development of actuaries
Willis Towers Watson Speakers:
Caleb Harmon (ASA, EA) Associate Director @Willis Towers Watson
Cat Kenagy (FSA, EA) Senior Director @Willis Towers Watson: FSA, EA retirement actuary with over 15 years of consulting experience helping clients in the strategy and risk management of their defined benefit, defined contribution, postretirement medical, post-employment and nonqualified benefit programs. Experience includes management of annual actuarial valuations, funding and cost management strategies, strategic plan design, union negotiations, retirement plan M&A due diligence, pension risk management, and bulk lump sums. Also serves as the regional subject matter expert in financial wellness for the WTW west region market helping clients with the strategy development and execution of their employee financial wellbeing programs
---
Schedule: 
(2:00 PM) AIG
(2:30 PM) Willis Towers Watson
(3:00—3:10 PM) Scholarship award recipients  
(3:10—3:15 PM) PME Induction Ceremony  
---
Meet and Greet (AIG)
Meet and Greet (Willis Towers Watson)
---
Meet & Greet Video
---
Spring 2022 Scholarship recipients
   Charles P. Benner Scholarship   

   Jordan Reed  

   Charles P. Benner Scholarship

   Damon Spencer

   Charles P. Benner Scholarship

   Caleb Barnett

   Blanche B. Grover Scholarship

   Phuong Thai

   Blanche B. Grover Scholarship

   Gerald Howard III  

   Blanche B. Grover Scholarship

   Sujan Lamsal

   Mathematics Undergraduate Scholarship 

   Zain Bhatti

   Mathematics Undergraduate Scholarship 

   Ethan Hawkins
   

Henry Graham Scholarship 

   

Audrey Tedore
* "Something Special About Me" statements *
---
Please see below for our FY 2022 PME Inductees:
| | | |
| --- | --- | --- |
|   Cassandra De Leon   |   Brayan Alejandro Gutierrez   |   Shadae Juliet Josephine Lewis   |
|   Randy Pham   |   Alejandro Gonzalez Salinas |   Damon Renel Spencer Jr. |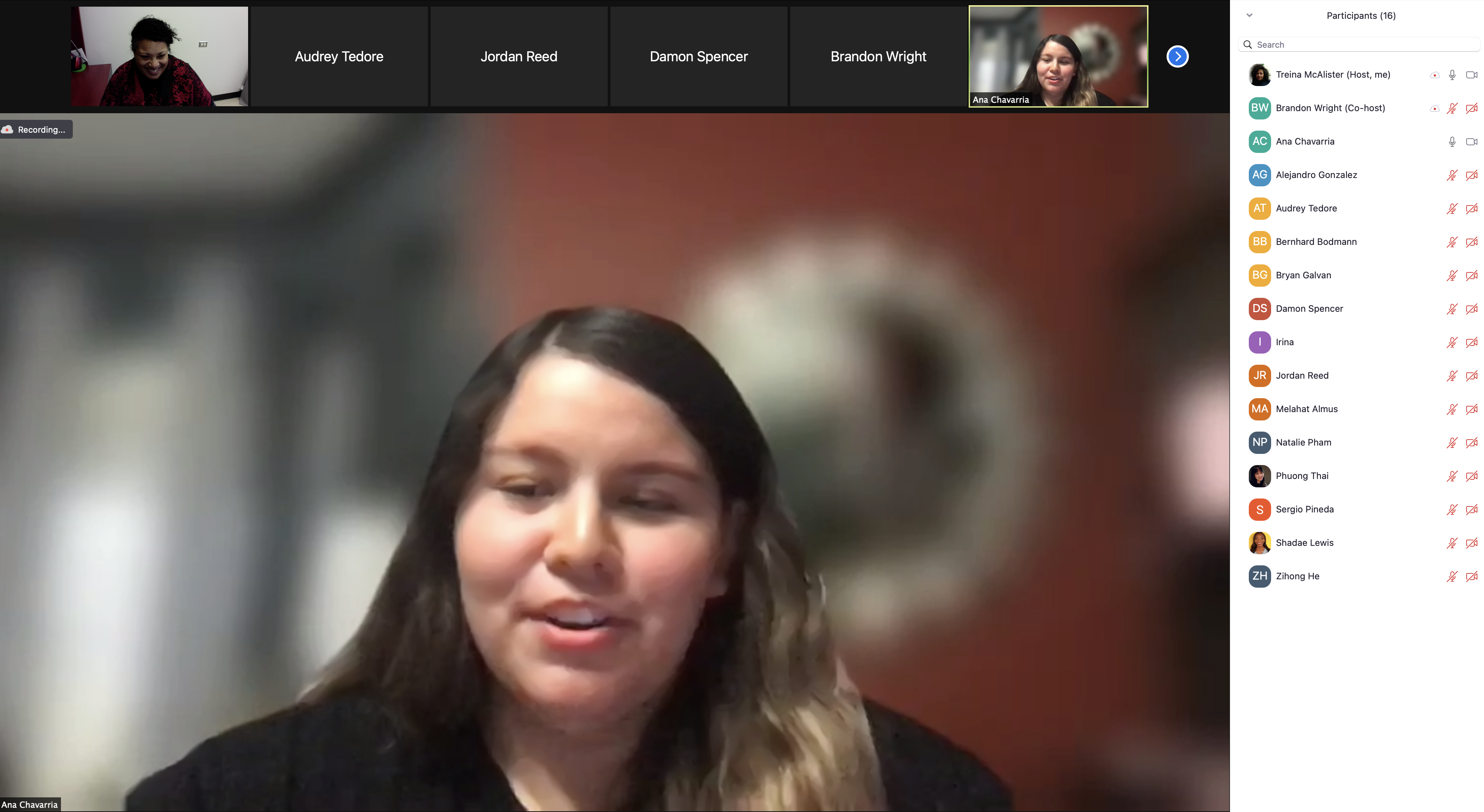 Certificates (PDF) 
---