Event Student-Led Since Its Founding in 1988
Each year, a new group of Department of Earth & Atmospheric Sciences (EAS) student volunteers organize and plan the annual EAS Student Research Conference at the University of Houston.
Due to the COVID pandemic, the conference was canceled in 2020. However, a 2021 Student Research Conference was held virtually on Friday, April 30, via Zoom. This was a first for the student-led conference, which was first held in 1988.
The event is designed for students to obtain experience in organizing a conference, practice their presentations skills, and share their research with faculty, EAS alumni, and industry experts.
This year's event had a virtual attendance of approximately 200 persons, including members of the EAS department, EAS alumni, and visitors from Houston-based oil and environmental industries. There were 47 presentations on Zoom with seven by EAS undergraduate students and 40 by M.S. and Ph.D. students in the fields of geology, geophysics, and atmospheric science. The talks and posters were judged by a team of 25 EAS faculty, EAS alumni, and industry experts.
A keynote talk was given by Dr. Ny Riavo Voarintsoa, assistant professor of geology, who recently joined the EAS department. Her 45-minute talk was entitled The Power of Geosciences in Predicting Past Climates.
The 2021 abstracts and conference program, along with information on conferences in past years, can be viewed here.
Thanks go to the UH College of Natural Sciences and Mathematics and to BP for their generous, financial contributions to this event.
Meeting Organizers
Hualing Zhang (Conference Chair)
Lucien Nana Yobo (Graduate Student Chair, Geology Representative)
Madeline Statkewicz (Atmospheric Science Representative, Content Creator)
Rachel Clark (Event Coordinator)
Sharif Morshed (Geophysics Representative)
Joseph McNease (Undergraduate Representative)
Dr. Peter Copeland (EAS Faculty Advisor)
Oral Presentation Awards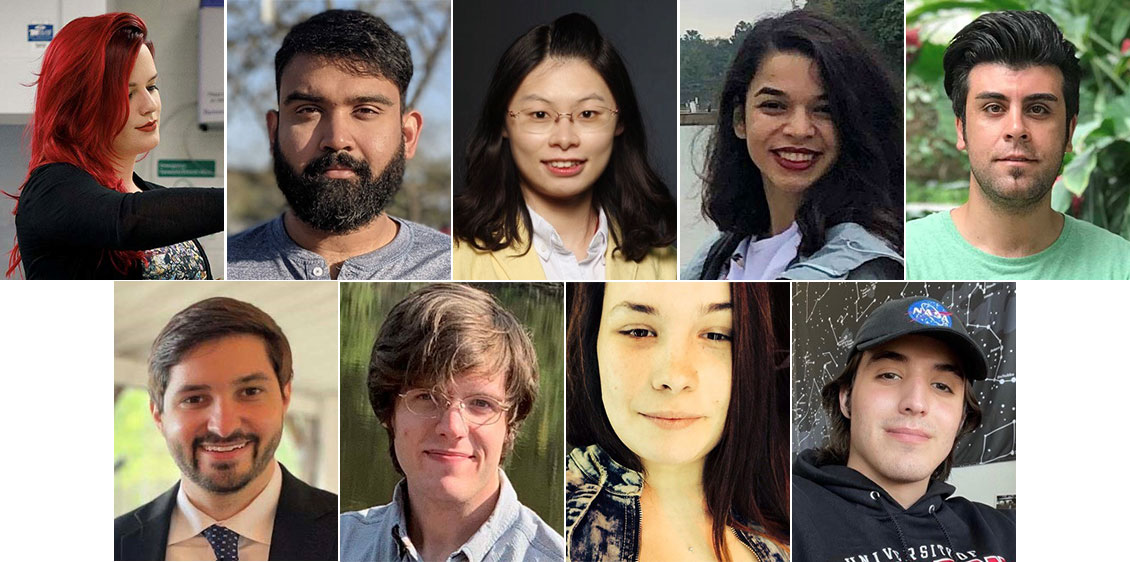 Advanced Ph.D. Students Judging Category
First Place ($850 prize): Stephanie Suarez: Pb and Rb-Sr isotope systematics of enriched components in Tissint
Second Place ($500 prize): Sriharsha Thoram: Updated bathymetry map of Tamu Massif, northwest Pacific: Implications on the ocean plateau formation at triple junction and post-shield volcanic activity
Third Place ($300 prize): Hualing Zhang: Integration of basin analysis and gravity modeling for the Sergipe-Alagoas rifted-passive margin, northeastern Brazil
M.S. and First Year Ph.D. Students Judging Category
First Place ($850 prize): Moloud Rahimzadeh Bajgiran: Applying cluster analysis to seismic tomography models: Uncovering the presence of compositional anomalies
Second Place ($500 prize): Mahmoudreza (Semko) Momeni: Developing a four-dimensional variational framework to refine estimates of ammonia emissions
Third Place ($300 prize): Ben Miller: Tectonic evolution of the Cenozoic Lesser Antilles volcanic arc
Undergraduate Students Judging Category
First Place ($850 prize): Kenneth Shipper: Kinematic framework of shear stress variations along the San Andreas fault system

Second Place ($500 prize): Mary Catherine Hambrick: Smear slide analysis to assess variability of 210Pb dates in sediment cores from offshore Thwaites Glacier, Antarctica
Third Place ($300 prize): Steven Ramirez: Quantifying subduction rates in the Pacific basin since the mid-Cretaceous (100 Ma)
Special Thanks to the Judging Panel
A special thanks to our EAS faculty judging coordinator, Dr. Daniel Hauptvogel, and the distinguished panel of 25 EAS faculty and industry judges who volunteered their time and expertise to judge the student oral presentations.
Ten EAS Faculty Judges: Daniel Hauptvogel, Bernhard Rappenglueck, Emily Beverly, Jinny Sisson, Martin Cassidy, Minako Righter, Ny Riavo Voarintsoa, Robert Stewart, Xun Jiang, Yunsoo Choi
Fifteen Industry and EAS Alumni Judges: Arpana Sarkar (Schlumberger), Caroline Wilkinson (Schlumberger), Courtney Anzalone (Schlumberger, EAS Alum) Fatemeh Afshar Ghahremani (Industry Consultant), Gary Guthrie (Industry Consultant), Gavin Menzel-Jones (Schlumberger), George Zhao (Industry Consultant), Kirstie Haynie (USGS, EAS Alum), Mehmet Tanis (Industry Consultant), Chirag Parekh (Schlumberger, EAS Alum), Rosemarie Geetan (BP, EAS Alum), Shawn Wright (Hess, EAS Alum), Weiguo Li (Industry Consultant, EAS Alum), Yi-An Li (EAS Staff, EAS Alum),Yiduo Liu (EAS Staff, EAS Alum)