Bernier Also Published Research in the Journal JGR Atmospheres
Since she was a child, University of Houston Earth and Atmospheric Sciences Ph.D. student Claudia Bernier has been interested in weather patterns of the world around us.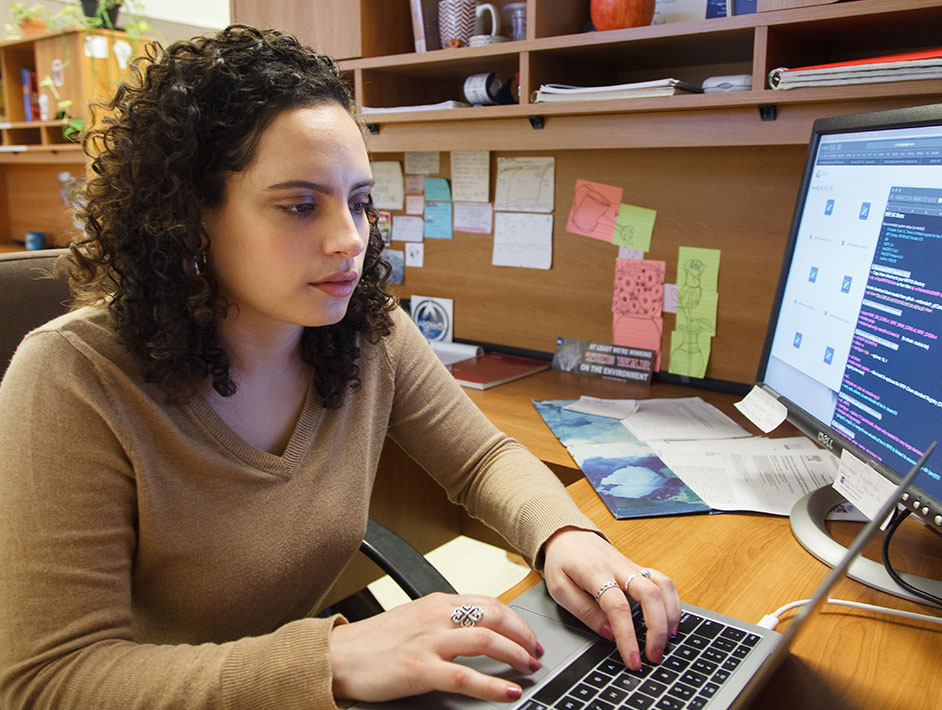 She remembers witnessing her first tornado as a young girl in Dallas.
"All my sisters were scared," she said. "My mom was scared. My dad was looking outside and telling us to stay inside. And I was like, 'I want to see what's going on!'"
From then on, she was fascinated by tornadoes and thunderstorms.
That fascination grew into scientific interest in meteorology, the atmosphere and air quality. Bernier is pursuing a Ph.D. in atmospheric sciences, under the leadership of her advisor, Yuxuan Wang, assistant professor of atmospheric chemistry at UH's College of Natural Sciences and Mathematics.
NASA STEM Fellowship
Bernier is researching ozone air quality over coastal environments. Her work garnered her a NASA STEM Fellowship at NASA's Langley Research Center. She is among 19 students selected nationally from a pool of 130 applications. The award is $165,000 over three years.
"I feel incredible gratitude," Bernier said. "When I got it, I was just super thankful, because it's really great to be working with NASA. Applying was a lot of hard work."
Bernier had never written a proposal, but Wang, her advisor, helped her.
"She's always been a great student," Wang said. "Always has this can-do attitude to take on any task. She is not afraid of learning new things and taking on challenges."
Starting this summer, she will travel to Langley to look at a suite of tropospheric ozone measurement data NASA has gathered around the Chesapeake Bay area. Bernier said she may use a clustering method to better understand the data. She will also be using air quality models to simulate ozone in these coastal regions and with the goal pinpointing any gaps within the model's forecasting ability.
JGR Atmospheres Publication
Bernier used a clustering method in a recent publication in the journal JGR Atmospheres. She used the method to group ozone data gathered throughout the day in the Houston region and linked that data to meteorological systems.
Through this clustering method, she was able to get a better understanding of why ozone is high in some data sets.
This was Bernier's first journal publication and at times, it was a challenge to get her research published. She was rejected twice before publishing her work in late 2019.
However, the rejections ultimately made the paper better.
"It has more of a point and a purpose now than it ever did from the beginning," she said. "I was relieved whenever we finally were able to get it done."
Impacting Everyday Life
Wang, who published the paper with Bernier, said the research they gathered provides a new angle for scientists to understand the meteorological patterns that lead to peak ozone for any given day.
It can help communities at large, too, Bernier said. It could help cities make sense of their own ozone data and ask questions such as, "What's leading to this? What's connecting to this? And hopefully from there do their own mitigation."
The research published in the paper also allowed Bernier to build a solid foundation that ultimately gave her an advantage when applying for the NASA STEM Fellowship, Wang said.
Bernier will spend the next three summers in Langley working with her NASA advisors Guillaume Gronoff and Timothy Berkoff. She plans on graduating from UH in December 2022 and wants to pursue research at a government organization – like NASA or NOAA.
Additional researchers in the JGR Atmospheres publication are Ruixue Lei, Jiajia Sun and Sing-Chun Wang from UH; Mark Estes (retired) from the Texas Commission on Environmental Quality; and Beixi Jia from the China Meteorological Administration.
- Rebeca Trejo, College of Natural Sciences and Mathematics