Saylor Brings Earth Science Outreach to Area Students

Presentations Set the Stage for Field Trips
When Joel Saylor, assistant professor in the Department of Earth and Atmospheric Sciences, joined the University of Houston, he started a tradition of providing outreach to area students.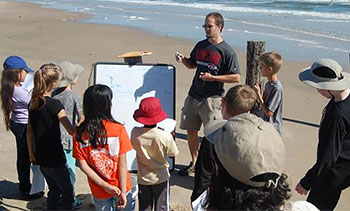 That tradition continued with recent introductory Earth Science classes at Western Academy. The presentations to two 6th grade classes set the stage for a field trip to central Texas planned with the school in the spring.
Saylor also led 4th through 6th grade homeschool students on a field trip exploring fluvial and coastal geology in the environs of Houston. The field trip engaged students and their parent teachers in activities designed to introduce Earth Science fundamentals as well as to provide resources for parents to draw on in future teaching.