EAS Ph.D. Student Selected for Houston Geological Society Outstanding Student Award

Awardees Receive a Plaque and $500 at October Meeting
Kurt Sundell, a second-year Ph.D. student working with Dr. Joel Saylor, was selected for a Houston Geological Society (HGS) Outstanding Student Award.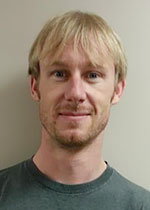 Each year, the HGS recognizes outstanding graduate students from Texas universities based on recommendations from faculty members for their outstanding academic achievements and contributions to geology. At the HGS General Dinner Meeting in October, awardees will receive a plaque and a $500 prize along with publication of their biography in the HGS Bulletin.
Sundell's M.S. thesis was completed at the University of Kansas where he studied basin development in the Himalayas. That work resulted in two publications in top geoscience journals. His Ph.D. study at UH currently focuses on intermontane basins in southern Peru in order to place constraints on the development of the Central Andean Plateau of South America.
In addition to Sundell, a graduate student from each of the following universities was recognized: Rice University, Sam Houston State University, Stephen F. Austin State University, Texas A&M University, and the University of Texas at Austin.