SEG Wavelets Meet and Greet:  The Tradition Continues

Fall Event Encourages Networking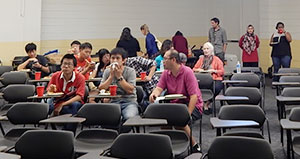 Following the success of the Spring Meet and Greet, SEG wavelets leadership team organized a gathering at the beginning of the fall semester on September 2 at Agnes Hall 104. Meet and Greet is an avenue where graduate students can exchange ideas about their research, and new students can get acquainted with other students in a casual setting.
More than 30 students, including GeoSociety and AAPG Wildcatters leadership, and faculty enjoyed food and beverages on a relaxing Friday afternoon.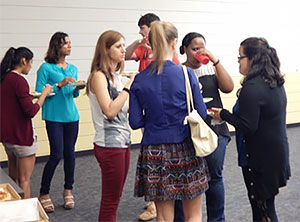 SEG Wavelets President Oyintari Aboro greeted the crowd and commented that "student participation, at all levels, is encouraged because not only is it an exercise in networking skills but will prepare students for the real world. This is a culture we should make a tradition in our department."
The crowd really enjoyed the gathering as it provided an opportunity to network and build relationships within the geoscience community. SEG Wavelets leadership team hopes this tradition continues and receives more support from the department and students.
- Azie Aziz on behalf of SEG Wavelets