Giving to Computer Science
Computer Science Excellence Fund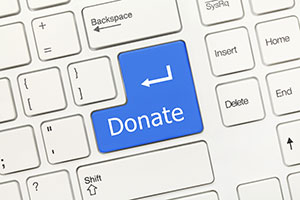 The Computer Science Excellence fund allows the department to have direct and immediate impact on UH undergraduate and graduate students, research, and outreach. These funds can be used for multiple activites and programs such as, but no limited to: student travel to competitions and conferences, classroom and research equipment, outreach activities, invited lectures, program support, student organization support, alumni activities, PhD research showcase, and other various events.
Your gift to this fund will allow the department chair to use the funds where they are needed most. Select Computer Science Excellence Fund from the menu on our online giving page under "NSM" and "Computer Science."
Computer Science Scholarship Fund

Scholarship support is often a deciding factor for an undergraduate or graduate student in selecting the University of Houston over another institution. This support helps students focus their energies on reaching their goal of an education by reducing their financial hardship. Operating scholarships provide one-time, immediate financial assistance for current and prospective students annually.
You may give one-time, monthly, quarterly or annually to support student operating scholarships. Our online giving page provides a mechanism for giving an operating gift by selecting Computer Science Scholarship from the menu under "NSM" and "Computer Science."
If you are interested in creating a permanent source of funding for a scholarship through an endowment, please contact Janis Parsley at parsleyj@uh.edu or 713-743-8375.
Games & Interactive Media Fund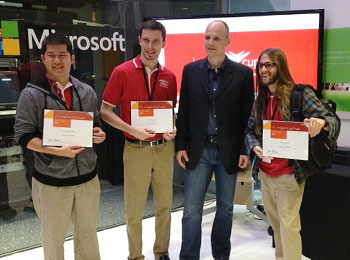 Two teams from UH were among 10 finalists chosen from thousands of America's brightest young computer science students to reach the final round of the 11th Annual Imagine Cup U.S. Finals this May. The event showcased teams from the three major competition categories – Games, Innovation and World Citizenship. For the fourth consecutive year, UH was the only school to have more than one team selected in the gaming category.
This category challenges students with creating a new game, changing a current genre or developing a new visual style of game using Microsoft platforms such as Windows PC, Windows Phone, Xbox, Indie Games or Kinect SDK. Both UH teams created new Windows Phone games. Only four gaming teams made it to the 2013 U.S. Finals.
We have accomplished much in a few years, but our students are in need of new lab space that is designated for a large number of students to work on their game development simultaneously, sharing ideas and leveraging resources.
If you would like to give to the Computer Science Games and Interactive Media Fund, select Computer Science Games and Interactive Fund from the menu on our online giving page under "NSM Computer Science."
Friends of Computer Science (FoCS)
The UH Friends of Computer Science (FoCS) program is a partnership program between the university and corporations. The program is designed to meet the needs of industry and give companies the opportunity to have a greater impact in the development of the computer science workforce. Corporate members of this program will have greater access to students, faculty resources and increased visibility within the university community. The UH Department of Computer Science is internationally recognized for its research in biomedical informatics, cyber-physical systems, data analytics, high performance computing, gaming, graphics, security and visualization. Graduates from the UHCS program are employed in industries across the economic spectrum, including technology, energy, health and finance.
If your company is interested in learning more about the FoCS program, please visit the FoCS page for details or contact Jonas Chin at jrchin@uh.edu or (713) 743-1850.